2023 Private SaaS Company Valuations
Long-time readers of our work know we have strived to shed an objective light on the opaque, confusing, and volatile practice of valuing private SaaS companies. As a provider of debt financing for private B2B SaaS companies since 2007, SaaS Capital has provided funding to more than 100 firms. This puts us in a unique position to witness equity raises and M&A events. Using this information, we published our first private SaaS valuation framework in 2016 and, as the market has evolved, we have iterated on the methodology.
In Q2 2022, SaaS Capital released the most recent update on how to value private SaaS companies. This data-driven methodology is based on a statistical analysis of over ten years of data. While there are dozens of other factors impacting valuation, the research resulted in a downloadable Excel model using three primary variables that drive valuations:
The current public market valuations.
Annual recurring revenue (ARR) growth rate.
Net revenue retention.
2023 Public SaaS Valuation Multiples
Public market valuations reflect real-time information and have high data integrity because they include many different companies and are based on audited financial statements. Public valuation data is the primary starting point for valuation analysis by both buyers and sellers.
We developed the SaaS Capital Index™ (SCI) to represent what we feel is the best profile of a B2B SaaS company. The revenue multiple is based on annualized current run-rate revenue, not trailing or projected revenue. We believe run-rate revenue is the most accurate and objective measure of the current scale of the business and, therefore, the best measure to be used for valuation purposes. The index excludes SaaS companies serving B2C customers and very small B2B companies with annual revenue per customer of less than $500. Companies targeting these end users have customer acquisition and retention dynamics that are significantly different than those of traditional B2B SaaS businesses. The SCI is updated monthly and free to download here. As of March 31, the SCI shows a median public valuation multiple of 7.1.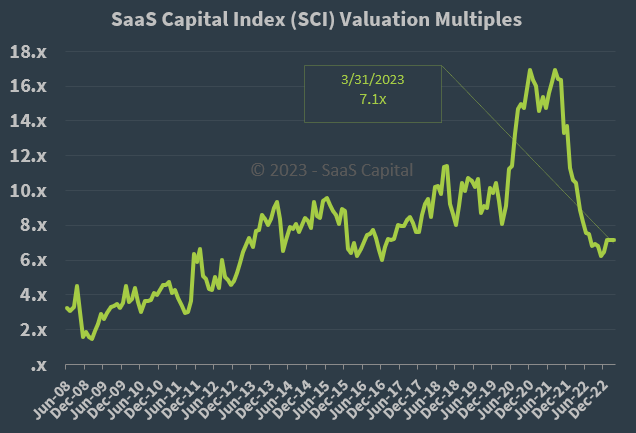 ARR Growth Rate
ARR growth rate is a crucial company-specific metric, and it's important to calculate it correctly, not merely to use a generalized estimate of "revenue." ARR Growth Rate should be annualized, actual, and trailing  (not "forecast" or "projected"). ARR Growth Rate is highly correlated with valuation multiples, although we can still make a better estimate by using it in combination with other factors.
Net Revenue Retention Rate (NRR)
Retention is an important quality-of-revenue metric that also has been shown to have a correlation with valuation. While it is related to growth, NRR contains more information about revenue quality, customer satisfaction, and pricing power than does growth rate alone.
2023 Private SaaS Company Valuation Multiples
SaaS Capital's recently completed 12th annual SaaS benchmarking survey showed overall median growth for private SaaS companies is 35% with median net revenue retention of 102%.
Using that data with the model from the white paper and the current SCI of 7.1, yields a predicted private SaaS company valuation multiple of 4.6x.
However, the survey also revealed that growth and net revenue retention varies by company size. Breaking the results down by company size reveals:
Companies with less than $1 million in ARR reported median growth of 51% with median net revenue retention of 98%, yielding a predicted ARR valuation multiple of 5.8x.
Companies with $1 million to $3 million in ARR reported median growth of 41% with median net revenue retention of 100%, yielding a predicted ARR valuation multiple of 5.1x.
Companies with $3 million to $5 million in ARR reported median growth of 35% with median net revenue retention of 102%, yielding a predicted ARR valuation multiple of 4.6x.
Companies with $5 million to $10 million in ARR reported median growth of 30% with median net revenue retention of 102%, yielding a predicted ARR valuation multiple of 4.2x.
Companies with $10 million to $20 million in ARR reported median growth of 35% with median net revenue retention of 104%, yielding a predicted ARR valuation multiple of 4.7x.
Companies with more than $20 million in ARR reported median growth of 27% with median net revenue retention of 102%, yielding a predicted ARR valuation multiple of 4.0x.
The table below summarizes the results.

Recent Observations
Rob Belcher, Managing Director, recently sent some thoughts to the SaaS Capital community* on the current market:
The median valuation multiple increased slightly to 7.2x current run-rate ARR. This is a far cry from the 16.9x of August 2021, but it is a full turn of ARR higher than the most recent low of 6.2x in November 2022.
November 2022 marked the lowest median ARR multiple since the SaaS-flash-crash of December 2016 (6.0x), which itself was the lowest multiple since Q1 2013 (5.8x) and the beginning of the nearly decade-long SaaS valuation expansion boom.
The standard deviation of company multiples, which stood at nearly 19 at one point in the recent bubble, is now down to 3.61 – last seen in mid-2018.
Interestingly, the high point for deviation came a full year before the high point for valuations. It was initially driven by a flood of new IPOs joining the index (late 2019 through late 2021) at valuations much higher than those of the companies already in the index. Prior to October 2019, the SCI comprised 48 companies. Forty-five companies subsequently joined the index in those 2 years. By mid-2021 two things had happened: 1) the sheer number of new, generally more highly valued companies (on a multiple basis, not market cap!) pulled the median multiple up and, 2) the broader market was just generally frothier, pulling up the valuations of all companies in the index. Since then the market has obviously cooled, but there also have been zero new IPOs to buoy the index up as well.
Besides the outlier of Agrify, which is shrinking dramatically (and on its way to a delisting from the NASDAQ), the lowest company growth rate in the SCI is -4%. That company is CS Disco and the only other shrinking company is Yext at -2%.
The median growth rate is 22% and the highest growth rate is 88%, achieved by Monday ($720 million in ARR, 9.5x valuation multiple).
Companies are definitely still burning cash. The median and mean GP Ratio for the SCI companies is only 8%! And twenty-five companies have a negative GP ratio! Most of these, although not all, are the more recently IPO'ed companies. Relatively few companies in the SCI pass the "rule of 40" muster today.
* Performance data as of 3/09/23 from an update sent to the SaaS Capital community. You can click here to join the community and receive actionable insights and benchmarking.