$83,334 and Beyond! 4 Takeaways From SaaStr Annual 2021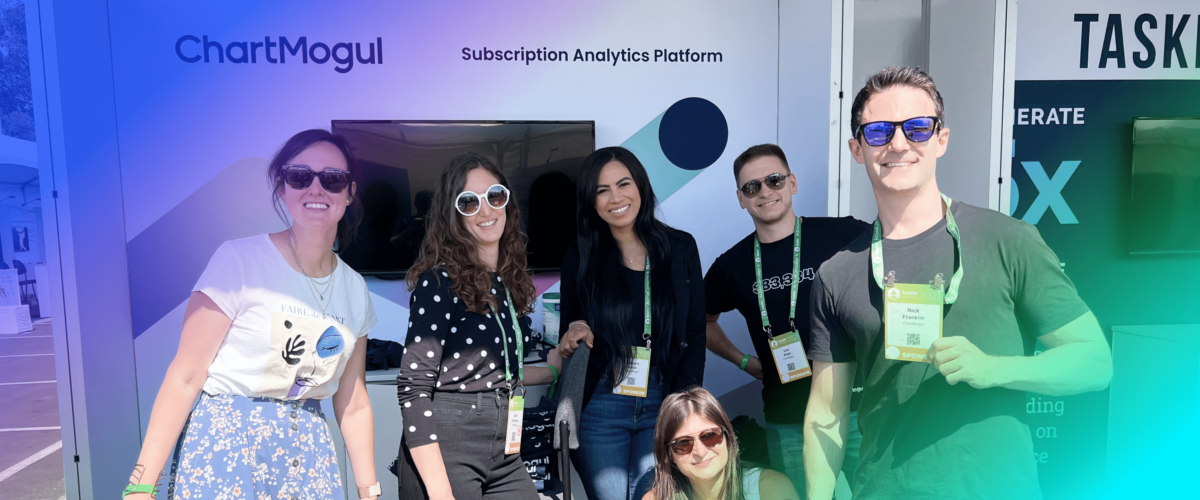 The decision to sponsor and attend SaaStr Annual 2021 with thousands of in-person participants was challenging to make this year. We're still in the middle of a pandemic, for one. And in the case of the ChartMogul team that has been entirely remote (with teams in practically every time zone), traveling to San Mateo requires a lot of coordination. 
But all challenges aside, we are incredibly grateful for how it turned out and what we learned in the process. We were able to meet the fantastic SaaS community, learn from inspiring businesses, and enjoy the in-person teamwork we've been operating without for so long. SaaStr 2021 was the most successful SaaStr we've had to date.
Here are our four main takeaways from the event. 
SaaS is a tightly-knit community
"You can make more friends in two months by becoming interested in other people than you can in two years by trying to get other people interested in you." – Dale Carnegie.
Selling software often means trying to have your voice heard online: content, emails, ads, demos, calls. The online world can be overwhelming. 
SaaStr allowed us to stop and listen. 
The in-person event allowed us to meet with peers, exchange ideas, celebrate success, and even commiserate. All of you in SaaS have a unique perspective that we want to learn from. There's nothing like an in-person conference to check in on customers, partners, and other SaaS enthusiasts. 
Highlights for us include getting the Mogul.io community together for dinner, another dinner with the SaaSync team that has been a fantastic integration partner, and hundreds of conversations with ChartMogul users and other SaaS businesses.
There are thousands of SaaS businesses out there. But at SaaStr, it feels like a tightly-knit community. If you want to be successful in business, you can't do it alone.
Revenue data is often a black box 
Most of the attendees at SaaStr remembered us from the sparkly $83,334 on our shirts. We've been asked: "Is it how much money your product can save me?" or "Is this how much MRR you're making?" The answer to both of these questions is no. Our goal is to help grow your business and the shirt symbolizes a $1M business. If you want to be a $1M business, $83,334 is the MRR you need to do so. 
To grow your business, revenue metrics should be top of mind. At SaaStr, we realized that not everyone has a reliable way to track subscription metrics. And if they do, their metrics are cosmetic and don't provide enough insight to base decisions on. After all, revenue data can be a complex thing to master and it is not always easy to have it readily available. We believe you should be able to track your MRR movements, get real-time MRR updates, and see the complete picture of how your subscriptions evolve over time. These insights allow you to make better decisions for your business.
At SaaStr we had many great conversations about growing SaaS businesses. We discussed formulating compensation plans, adjusting marketing spend, evaluating hiring plans, and exploring new growth levers. At the core of growth is understanding your subscription metrics. 
Team building was long overdue 
ChartMogul grew to 60 people in the last years but many of us never met in person. Even though we have 3 main locations (Berlin, Toronto, Seoul), we operate as a distributed team. 
Team building was long overdue! Even though it was just a small piece of the team that was able to join SaaStr, it made a big difference. We got to experience amazing teamwork in action and got through 3 days of working in the boiling sun together. 
Conference ROI is hard to calculate 
Sponsoring a conference is an expensive and time-consuming endeavor. The cost of the sponsorship itself, travel and accommodation for the team, time invested in planning, it all adds up to a significant sum. And if your sales cycle is long, it's hard to understand the impact right away.
Conference ROI is in many ways intangible. 
"Of course we measure leads generated and how those leads convert to sales pipeline and paying customers. But that alone doesn't represent the value of sponsoring a show. There's brand awareness, new hire recruitment, customer feedback, and employee engagement — all critical aspects of running a successful SaaS business." – Sara Archer, Director of Sales and Marketing
If you want to find out even more about our experience sponsoring a booth at SaaStr and how we define success, keep an eye out on our Twitter and the Slidebean YouTube channel.