Add Your MRR Movements to the Stripe Dashboard
We're teaming up with Stripe to launch the ChartMogul Stripe App. View your MRR, ARR, Subscribers, and MRR movements, whether you're on your Stripe or ChartMogul dashboard.
Your key metrics are probably spread between many tools and dashboards. Integrate ChartMogul with Stripe to view your key metrics without switching between dashboards.
Get the ChartMogul Stripe App to view your MRR, ARR, Subscribers, and MRR movements, on the Stripe homepage. On the customer page view MRR, ARR, Customer status, and MRR Movements of a particular customer. You can get the business context you need, whether you're on your Stripe or ChartMogul dashboard. 
To install the app, go to the Stripe App Marketplace.
View key metrics and detailed MRR movements on your Stripe homepage
Your monthly recurring revenue (MRR) moves every day. It's because of all the underlying dynamics of customers joining, upgrading, canceling, or downgrading. MRR movements are updates on the New Business, Expansion, Contraction, Churn, and Reactivation. Keep track of your MRR movements to stay up-to-date with your business growth. 
Now, you can view the following metrics on your Stripe homepage:
MRR
ARR
Subscribers
MRR Movements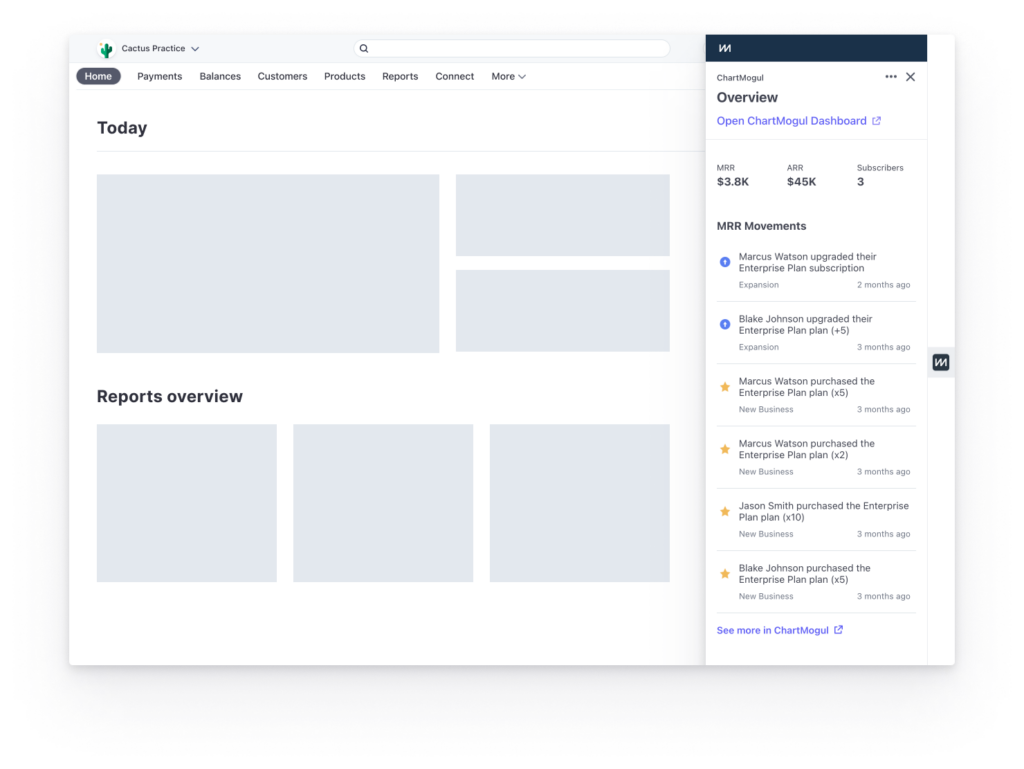 Your customers' MRR movements give you a more meaningful picture of your subscription business over simply looking at a list of transactions. – Nick Franklin, CEO, ChartMogul 
Gain more insights into a customer on the Stripe customer profile
On the Stripe customer profile, you can see the metrics associated with that customer: 
MRR
ARR
Customer status
MRR Movements
While you're on a particular customer page, the MRR, ARR, customer status, and MRR movements allow you a deep insight into this customer's activity. 
Has this customer recently upgraded their plan? Turn them into an advocate. 
Have they recently downgraded to a lower-tier plan? They might be at risk of churning!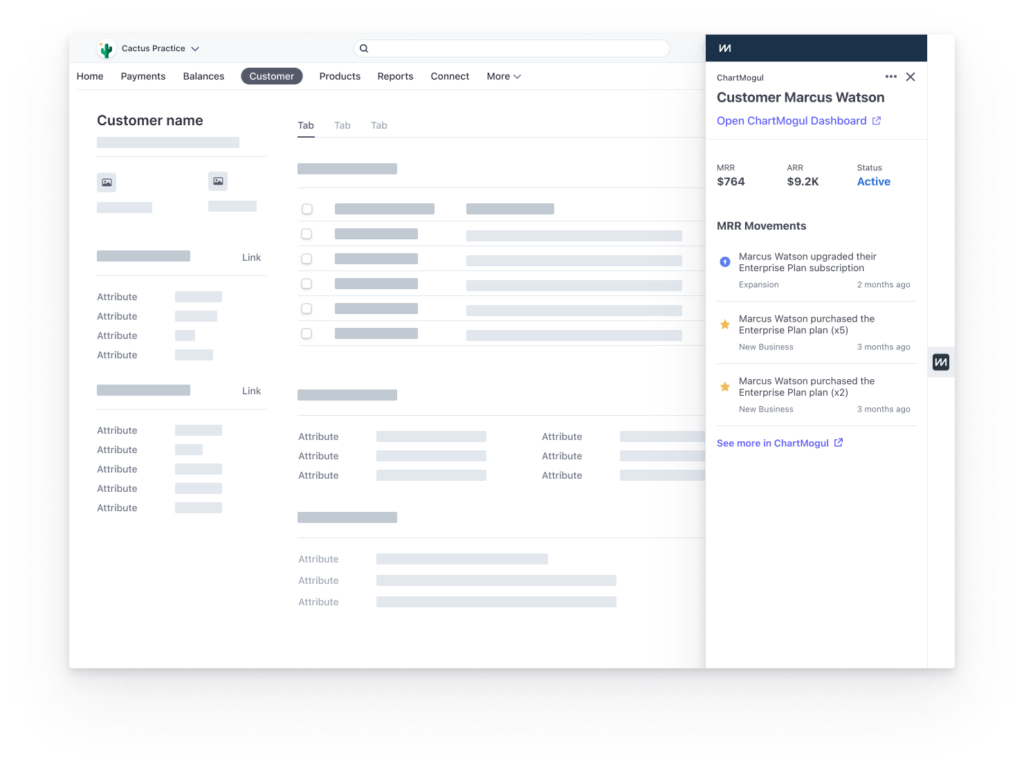 Compliment your Stripe data with ChartMogul metrics
You can gain a deep understanding of your business with accurate subscription metrics. Most organizations have multiple data sources for their billing data. For example, Stripe as the main billing platform and Google Play, App Store Connect, or a custom data source as additional data sources. In ChartMogul, you can see all of them in one place. 
ChartMogul provides numerous data settings that give you full control over how your metrics are calculated. You can:
Customize your churn rate formula 
Set when churn is recognized 
Choose how to handle free customers 
Decide how to handle past-due invoices 
Decide whether refunds should impact MRR or not
Group activities 
Go to Data Platform -> Subscription Analytics to review your data settings.
How do you track MRR movements?
Do you track your MRR movements on a daily basis? Tell us how. We'd love to hear from you.
We're hoping that this release will help you get a better understanding of your metrics without the need to switch between dashboards. To share your feedback on the ChartMogul integration with Stripe, send us a message at support@chartmogul.com.