Asset Management with Microsoft Dynamics 365 Supply Chain: Full Overview
Editor's note: Oleg provides an overview of Asset Management module for Microsoft Dynamics 365 Supply Chain Management, describes its major features, and explains its benefits to businesses that maintain a large pool of physical assets. If you would like to enhance your current supply chain software with asset management capabilities, ScienceSoft is ready to offer end-to-end Microsoft Dynamics 365 services to help you set up, customize, integrate, and support your Dynamics 365 solution.
Asset Management is a Microsoft Dynamics 365 Supply Chain Management module that helps manage and maintain physical (fixed and movable) assets and equipment throughout their lifecycle. By leveraging Dynamics 365 capabilities such as automation, IoT, mixed reality, AI, etc., this solution provides businesses with all the needed functionality to reduce operational costs while increasing asset uptime and productivity, optimizing asset maintenance, and improving incident response.
Asset Management
Asset arrangement. Within the module, assets can be sorted hierarchically or by functional locations and divided into sub-assets (e.g., spare parts). An asset bill of materials is set up to account for all the items used on an asset throughout its lifecycle.
Asset tracking involves assigning assets to functional locations (e.g., plants, warehouses, office buildings, etc.), which can be structured hierarchically and have sub-locations depending on business needs.
Costs tracking. Asset costs are linked to the location an asset is currently being used at. When assigned to or installed in a new functional location, the asset picks up the finance dimensions of that new location, which allows tracking asset costs automatically.
Asset event history records everything that has happened to an asset during its lifetime.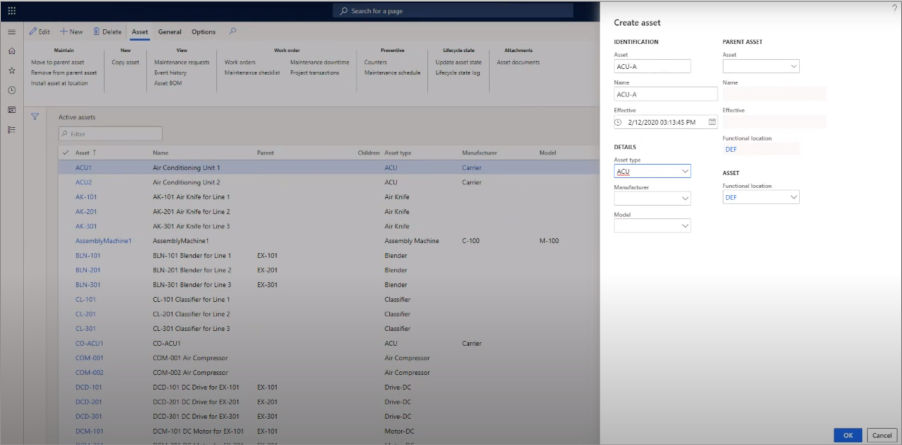 Asset Maintenance
Breakdown maintenance. Maintenance requests are used to inform a manager that an asset requires reactive maintenance in case of breakdown.
Preventive maintenance is a way to plan asset maintenance based on manufacturer recommendations. Asset Management provides means to enter technical parameters from a manufacturer's manual into the system and calculate the optimal maintenance date to schedule maintenance work.
Maintenance checklists contain a list of actions to be performed during asset maintenance or repair.
Maintenance rounds can be scheduled for assets requiring the same type of maintenance at regular intervals.
Work order management. Work orders are created to authorize, monitor, and manage asset repair and maintenance jobs and are accompanied by maintenance forecasts specifying expected work order hours, items, and expenses. With Asset Management, you can link a purchase order for parts and supplies needed to complete a work order and bill customers for maintenance works on customer-owned assets. Work order reports are available with details of specific actions performed.
Work order scheduling. Asset Management allows scheduling work orders for a specific date and time, setting up maintenance worker calendars, assigning preferred maintenance workers, and calculating workload for scheduled orders.
Maintenance budgets can be created and updated to overview the expected preventive maintenance costs.
Controls and reports help to calculate and track actual vs. budgeted maintenance costs, actual vs. budgeted work order hours, and the total number of asset faults. You can also establish asset KPIs and measure asset performance.
Warranty tracking. With Asset Management, it is possible to keep track of vendor warranties covering the purchased assets.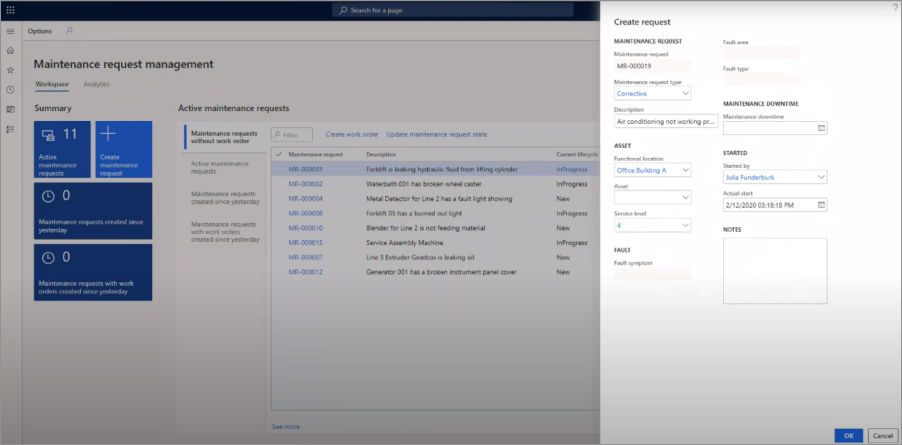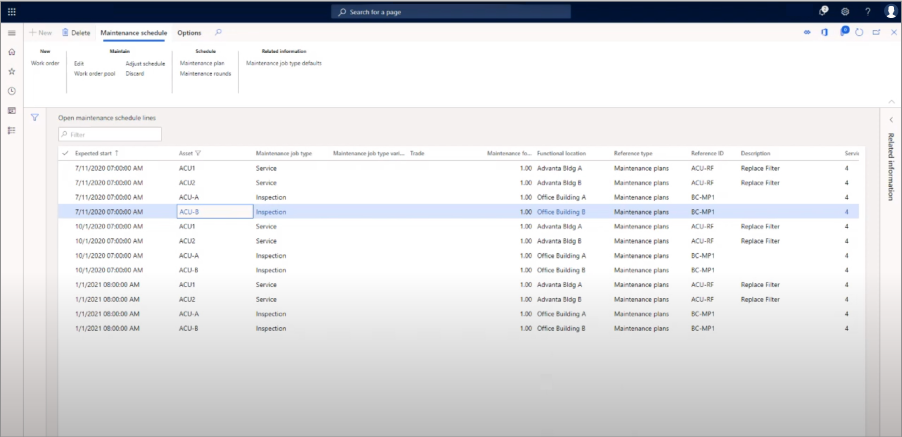 Since 2008, ScienceSoft provides consulting, implementation, and support services to help organizations in 30+ industries leverage full power of Microsoft Dynamics. We keep up with the latest tech trends and focus on IoT- and AI-powered smart automation to help our customers transform their asset management processes with robust, yet easy-to-handle solutions based on Dynamics 365.
Automated workflows. Asset Management automates asset management to reduce equipment downtime and risks caused by manual data entry errors — it also helps save operational costs and labor hours. Automated processes include asset tracking, maintenance scheduling based on predefined milestones or IoT-powered insights, and intelligent analytics-based reporting with trend analysis. Work orders, assignment of technical specialists, and spare parts management are also automated.
Near-real-time asset visibility. The module provides comprehensive and up-to-date information on asset location and status, maintenance schedule, types of maintenance jobs needed and tech specialists required, etc. Integration with Azure IoT Central provides means to receive IoT-driven real-time data on asset parameters and trigger prompt reactions if a specific parameter value (e.g., temperature) is exceeded.
Preventive capabilities driven by AI and ML help ensure stable and uninterrupted asset operation by encouraging maintenance of assets and equipment before malfunctions occur.
Extended asset lifetime is achieved due to regular asset condition monitoring and automated scheduling of proper maintenance operations. Reduced maintenance costs are made possible with optimized maintenance planning and proactive asset care.
Integration capabilities. Asset Management can be integrated with Microsoft Dynamics 365 Field Service, a business app that helps workers provide onsite services at customer locations. By combining both modules in their Dynamics solutions, businesses are able to effectively manage both internal and external assets. Another perspective integration is Microsoft Dynamics 365 Guides with HoloLens — a mixed reality solution that provides step-by-step asset maintenance instructions and guides tech specialists through their tasks performed on assets.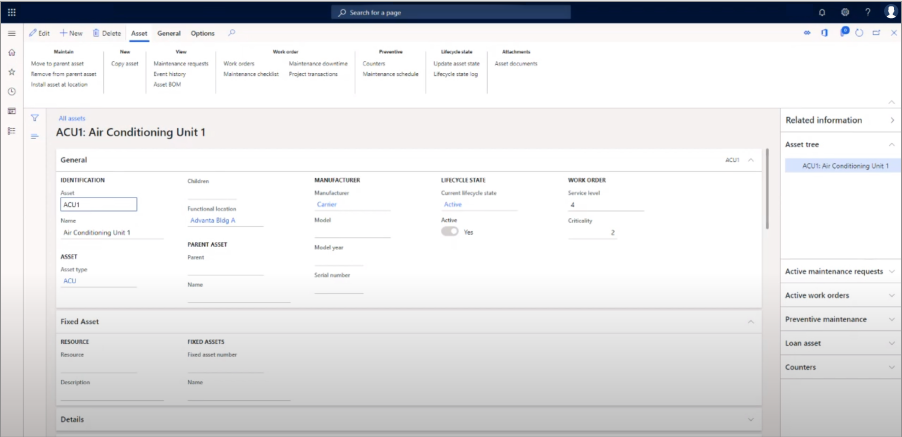 Build an Efficient Solution for Smooth Asset Management and Maintenance
Asset Management module of Microsoft Dynamics 365 Supply Chain Management is an effective tool that maximizes asset performance throughout its lifecycle by automating and optimizing asset management, maintenance, and repair operations. ScienceSoft can help you leverage its full potential by customizing it to your needs: if you are looking for a reliable advanced solution to help you handle your assets and save maintenance costs, do not hesitate to contact ScienceSoft's experts.
Microsoft Dynamics 365/CRM Consulting by ScienceSoft
Are you planning to implement Microsoft Dynamics 365 or experiencing troubles with your existing solution? Our experts are ready to address your challenge.