Boost Conversions With These Small Business Website Tips
No matter how big or small, every modern business needs a website – that includes yours. You don't need a pretty site that doesn't actually attract people or help convert them into customers. A small business website that's only visually pleasing can be fun, but it's a huge missed opportunity.
A great website should help you elevate your business to the next level. You can use it to increase sales, build brand awareness, market to your core audience, and position yourself as an expert. If you know what you're doing, you can achieve all of that with a single website!
In this article, we'll go over 12 ways to help your business website convert more visitors. We'll show you examples of these methods in action and discuss why they're effective. Let's get to it!
1. Make Your Website Responsive
We say a website is 'responsive' when it works well on mobile devices. This means the website displays in a way that is easy to navigate on smaller screens, and none of its core elements are difficult to interact with.
DreamHost Glossary
Responsive Design
Responsive design enables a website to adapt to the screen size of the device it is being viewed on. The website will therefore look differently on different devices.
Read More
Designing responsive websites is essential because most of your visitors are probably using mobile devices the majority of the time. We like to think that people will see our gorgeous web designs on big monitors, but the fact is, a lot of people use their mobile devices more than desktops.
Therefore, if your website isn't responsive, you risk alienating a significant portion of your audience. Luckily, making a website responsive doesn't require a lot of technical know-how. If you use software such as WordPress, you have access to themes that are responsive out of the box.
Here's an example of a WordPress website using one of the Content Management System's (CMS) latest official themes, Twenty-Twenty Three. This theme is mobile-friendly by default, so there's no excuse for why your site shouldn't look perfect on most mobile devices: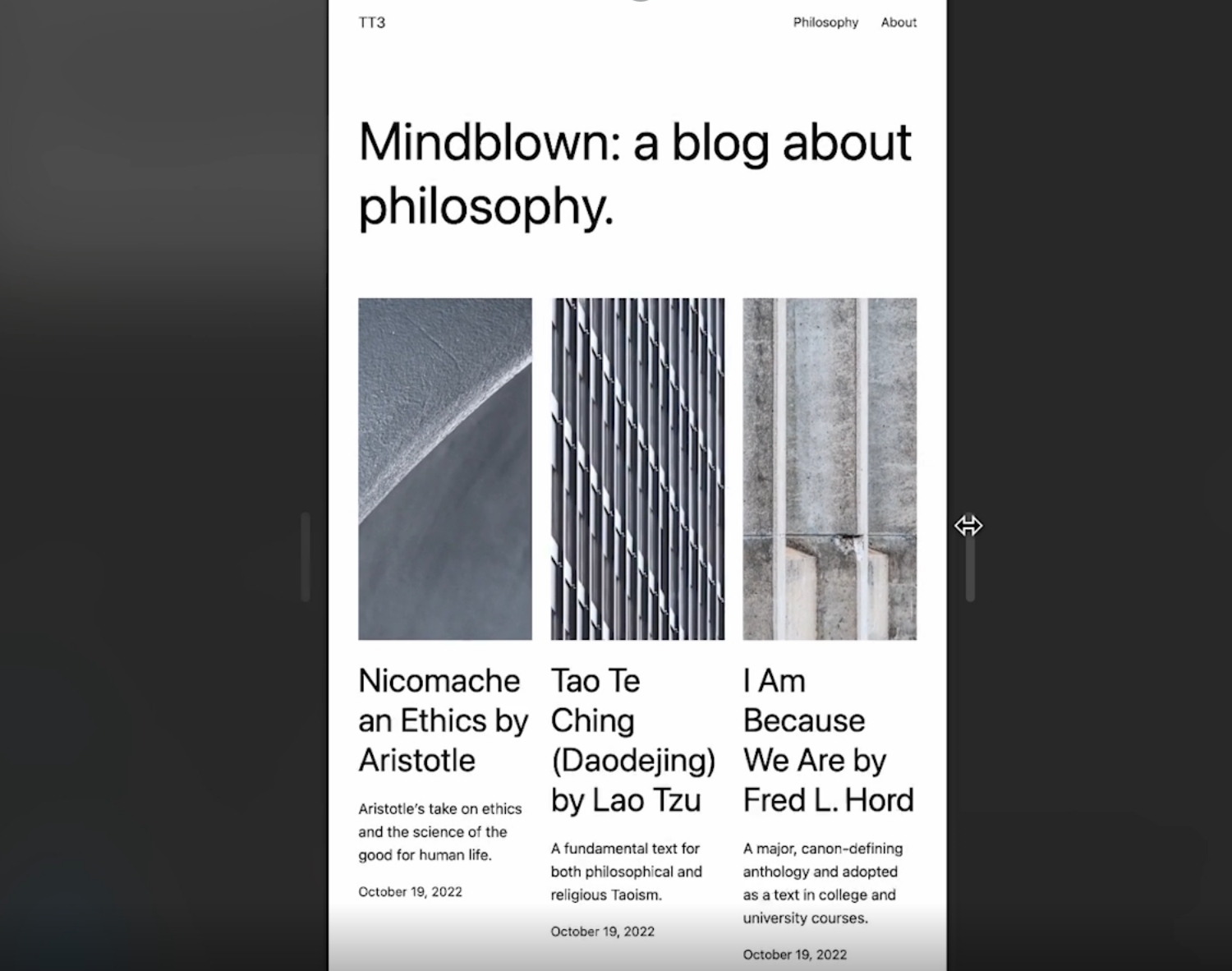 When looking for a WordPress theme, check out its demo or previews to see how it looks on a mobile device. If your current website doesn't look that good on mobile, consider changing themes to one that is more responsive.
2. Consider Readability
One aspect of website design that often gets overlooked is readability. That is to say, how easy it is to read your site's text. Most websites rely primarily on text to convey information, so readability is essential.
For example, if you make your fonts too small, they might be impossible to read on a mobile device unless you zoom in. Here's a quick example of how your website's text should look on mobile: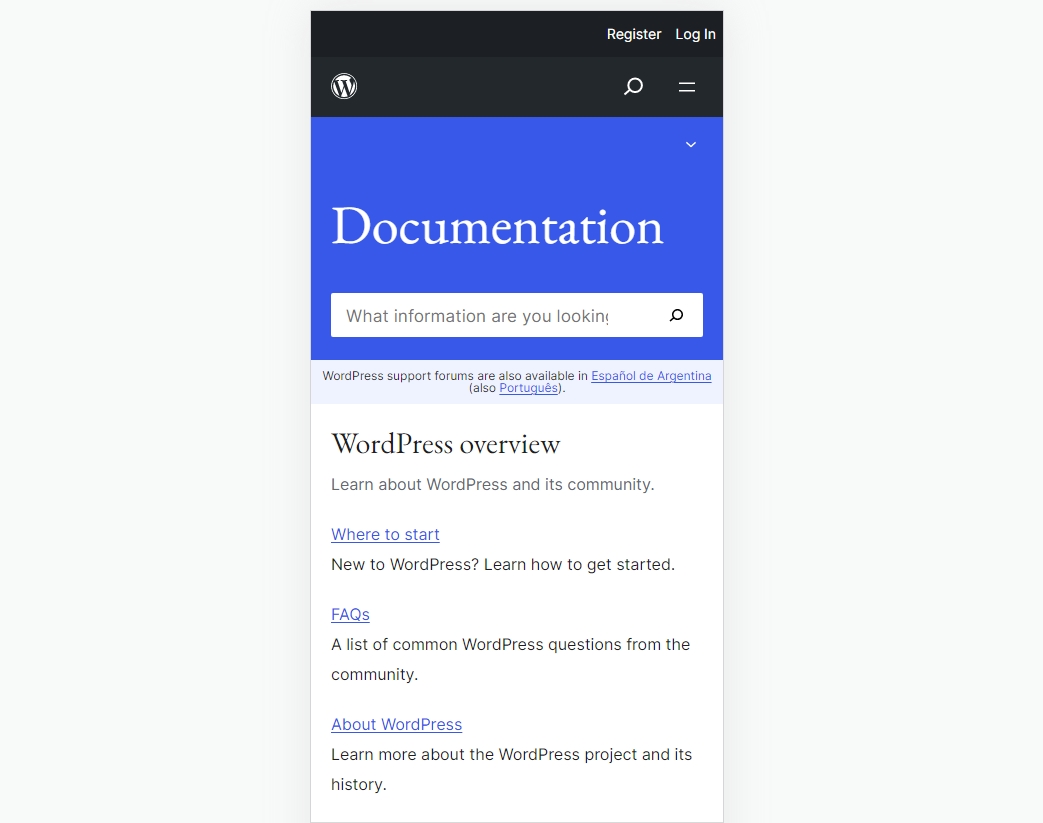 The same applies to larger screens. Make the text too small, and users will have a hard time deciphering it. On the other hand, make the font too big or use funky fonts, and the text will distract too much from the other elements on your website.
There's no hard-and-fast rule for which text sizes to use on a website. It depends on your design, but we recommend experimenting by asking other people if they have a hard time reading the text on your site.
On top of font sizes, you'll also need to consider colors. Sticking with black is fine in most cases, but depending on the background color, you might need to switch to other text colors from time to time. In these cases, we recommend picking contrasting colors for the text to stand out. This approach is common among Calls to Action (CTAs) because it helps them pop: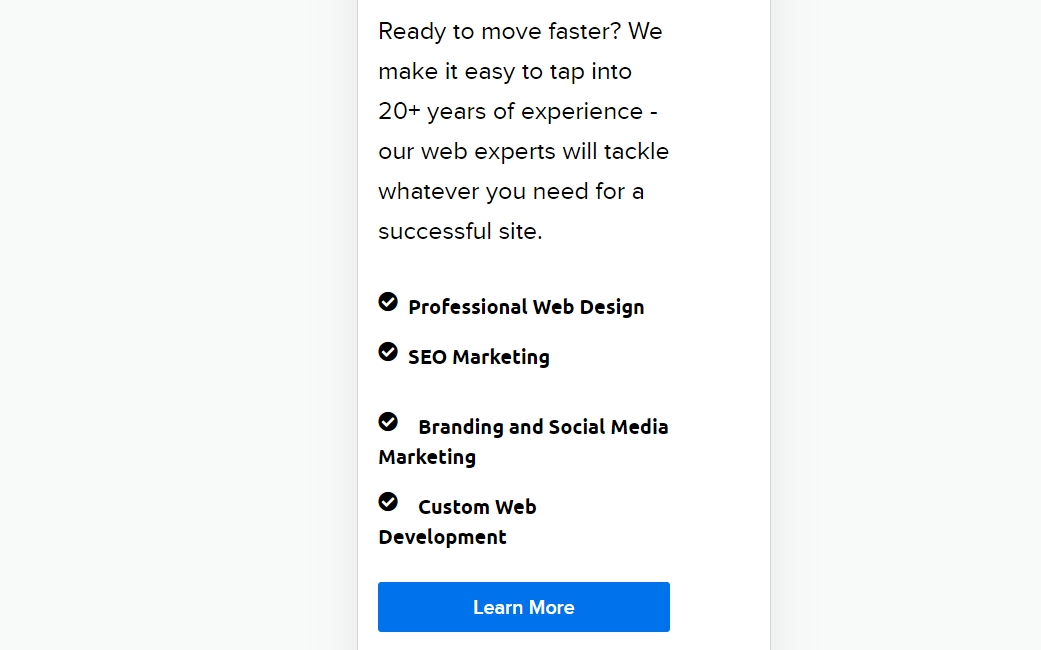 Keeping an eye on both of these factors will ensure that visitors don't have a hard time finding and reading offers on your website, and ultimately, that means you'll be able to secure more conversions.
Get Content Delivered Straight to Your Inbox
Subscribe to our blog and receive great content just like this delivered straight to your inbox.
3. Improve Your Website's Navigation
Your website's content might be amazing, but it can only be as effective as its navigation. If visitors have a hard time finding the content, offers, or products they want on a website, they're not going to have a good time.
A site's navigation comes down to two factors. The first is menus, and the second is internal links. Most sites have one main navigation menu at the top of every page and perhaps sidebars or footers containing links to less important pages:

In short, a site's navigation menu should be simple and include links to the most important pages for you and your users. Less important links can go elsewhere, such as in the content itself.
Every page and post offers multiple opportunities to use content to link to other pages on your site. For example, this post you're reading now contains several links to related articles from our library. Each of these links will help you learn more about a specific topic within the broader subject.
That simple tactic can help you increase visitors' time on your site, and the more time they spend on-site, the higher the chances they'll convert.
4. Put Contact Information Front and Center
Any business website needs to make it easy for visitors to find contact information, such as phone numbers, email addresses, opening hours, etc. If your site makes this information difficult to find, it'll frustrate visitors to no end: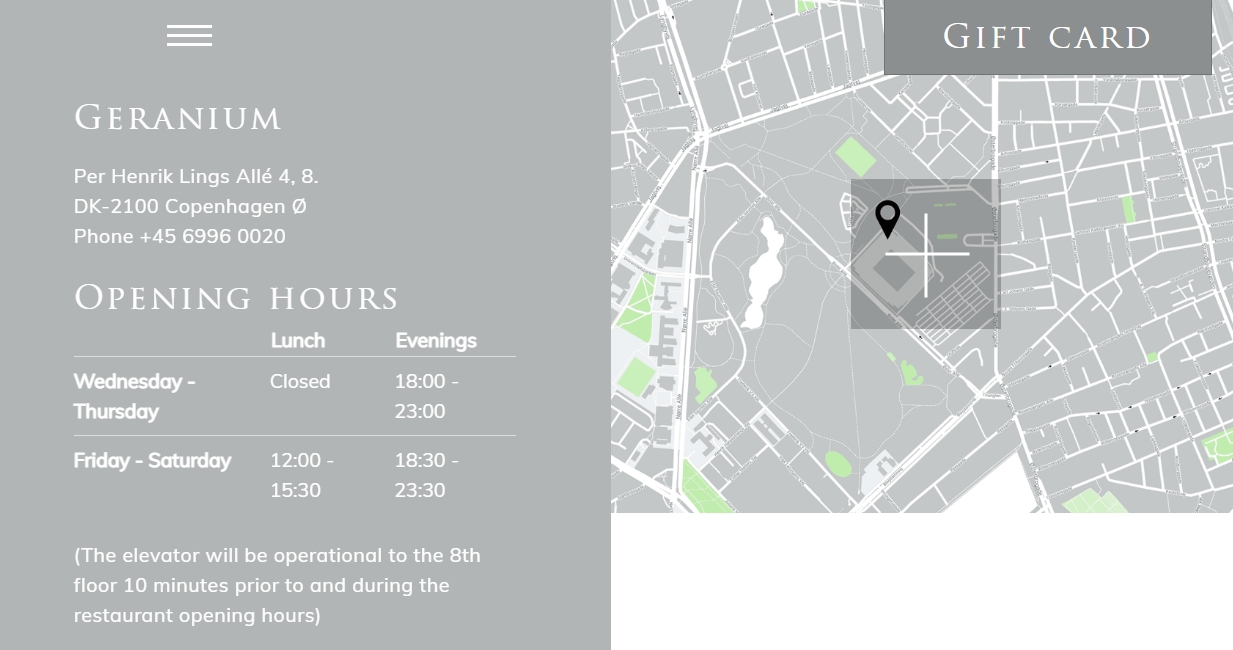 This applies even if all that information is available on local business listings such as Google Business Profile or on social media. If your website's primary goal is to get you more conversions, you'll want to include as much information as possible to help visitors decide whether to visit your business.
If your business doesn't have a physical storefront, you'll still want to make sure to include, at the very least, a contact email and links to your social media profiles: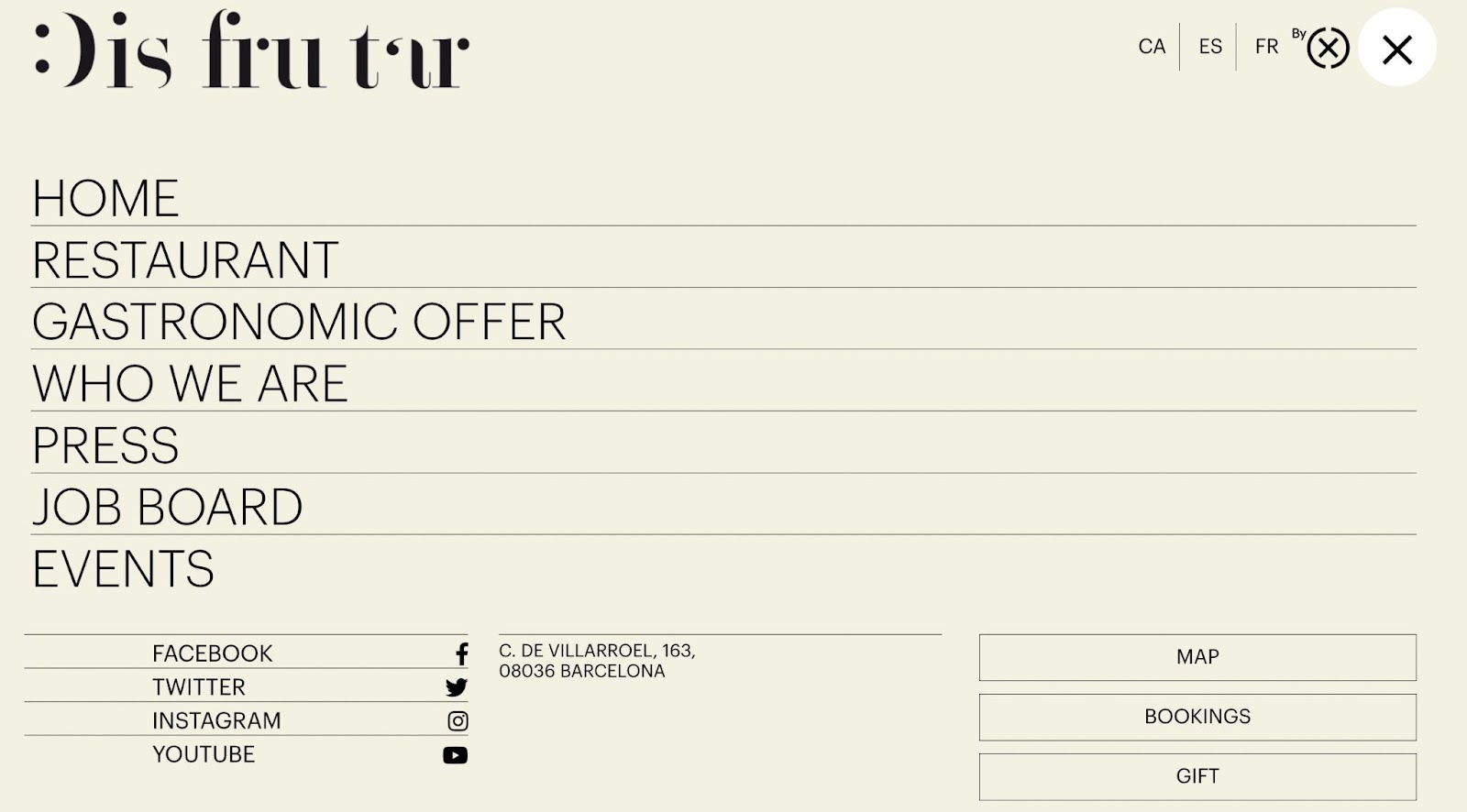 The more contact channels you include, the higher the chances that a visitor will decide to reach out, especially if they have a question. Once a user makes that first contact, it becomes much easier to get a conversion.
5. Set Up an Online Contact Form
Aside from publishing contact information on your site, you can go a step further and set up a basic contact form. This form enables users to email you without needing to log into an email client or copy and paste an email address.
Not only are contact forms easy to use, they're also incredibly customizable. If there's any information you want to collect from users, such as how they found out about your site, you can add custom fields to a contact form: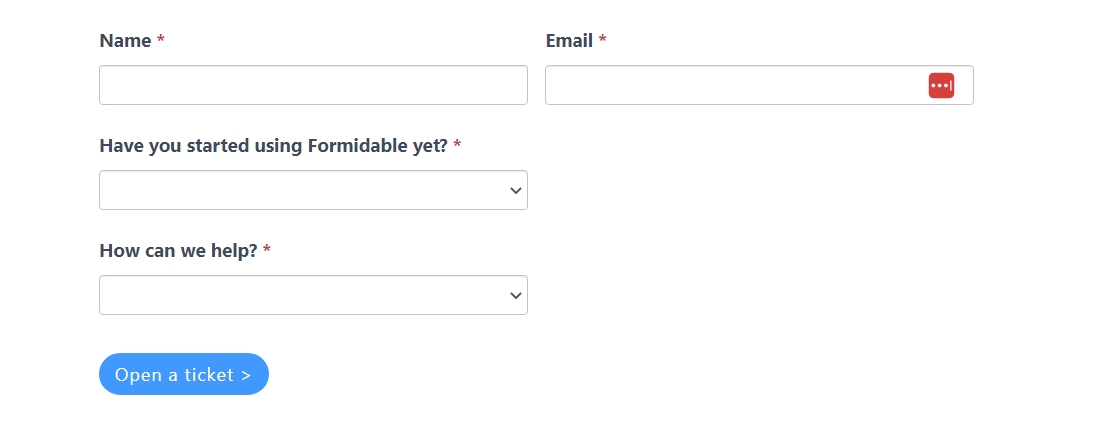 There are a lot of tools you can use to set up contact forms. If you use WordPress, you have access to form add-ons that extend the CMS. These will enable you to design any type of form you want, including options with custom fields. Here's a quick example of a stylish contact form to show you these elements don't need to look boring: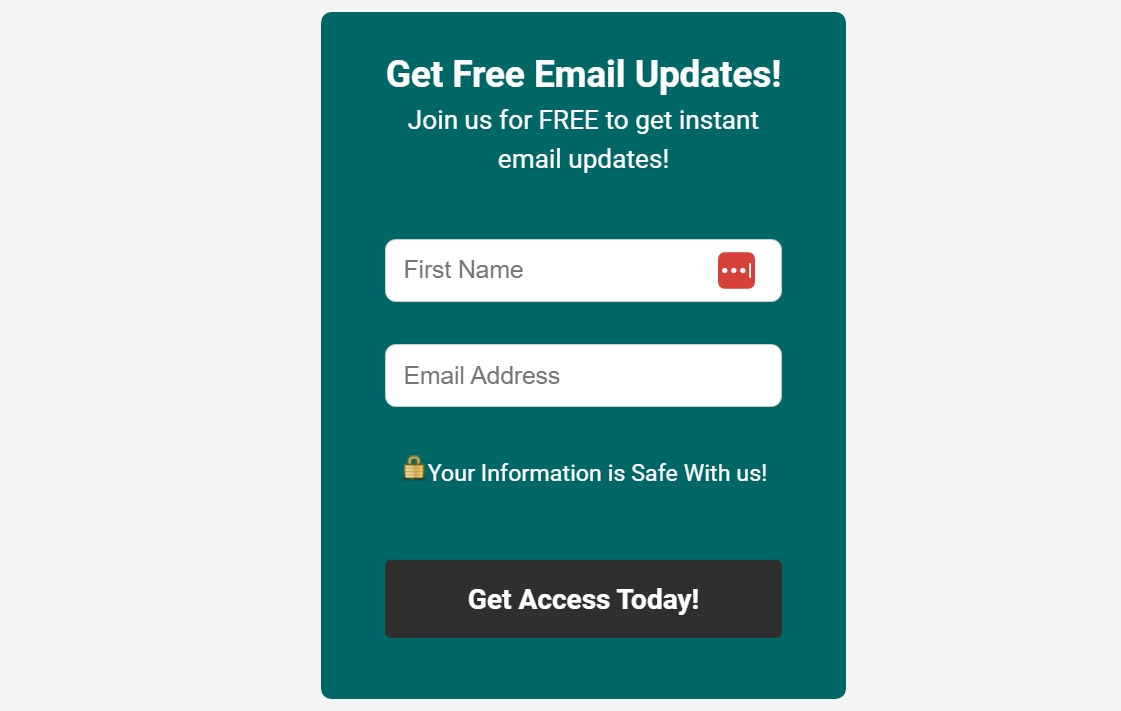 Contact forms can have their own pages depending on what their primary purpose is — If you want to collect leads for your business, you can include forms at the end of key landing pages. For more general queries, we recommend setting up a Contact Us page.
6. Showcase Positive Reviews
Most modern customers are used to looking for reviews online before committing to a product or a service. A recent study shows that over 99% of users look at some form of review when shopping online, which is a staggering statistic. Even for offline purchases, over 57% of potential customers look at online reviews beforehand!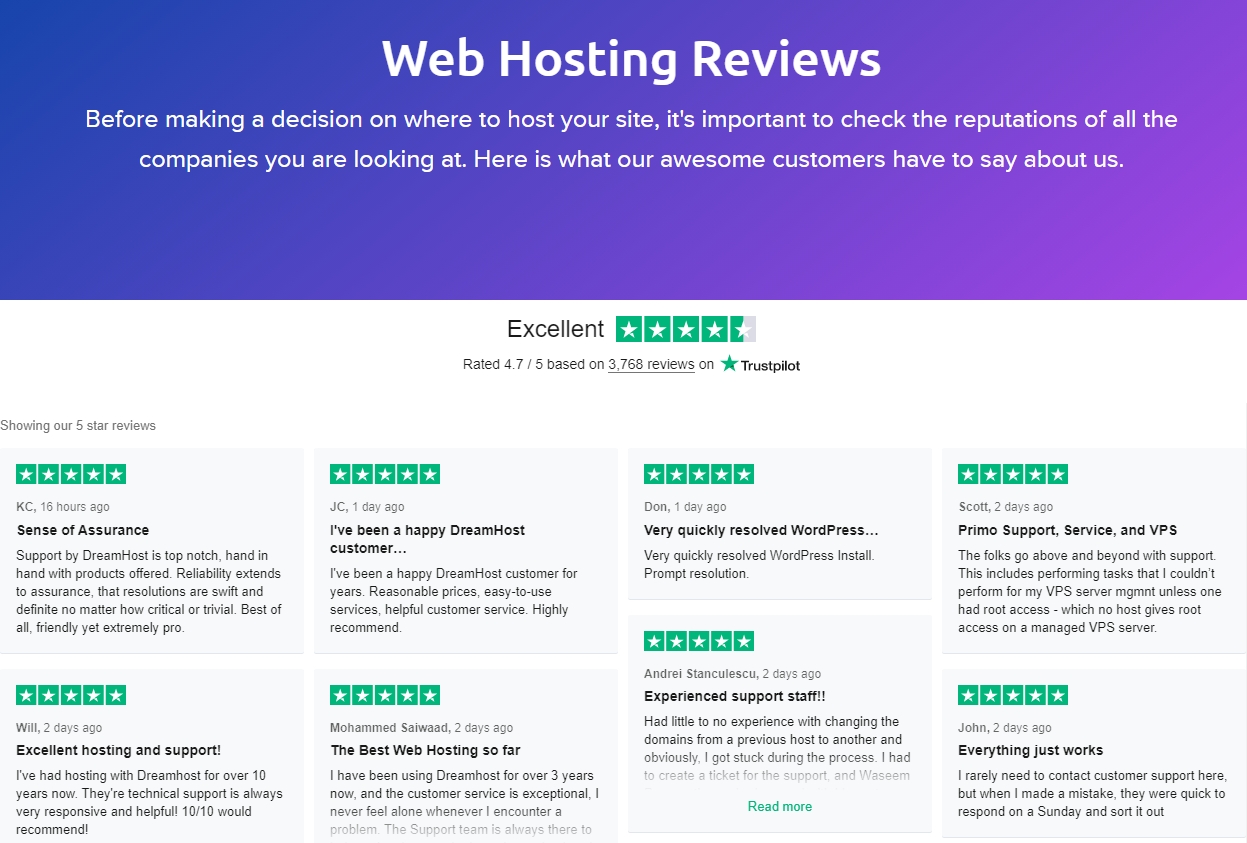 The fact is, if you're not asking customers for reviews and showcasing them, you're missing out on a significant number of sales. A lot of users might see a lack of reviews as an indicator that your business is new or that it's untrustworthy.
Naturally, no business gets only perfect reviews, but what you can and should be doing is highlighting the best customer reviews on your website. Those that show your products and services in the best light and provide additional information that new customers might be interested in: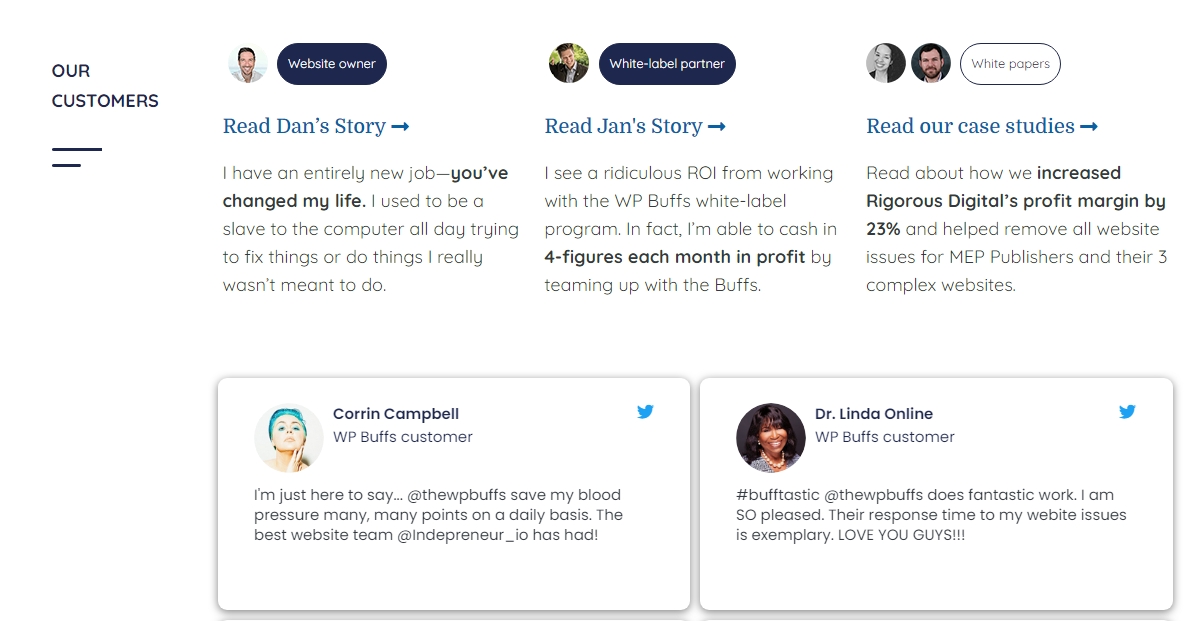 As for placement, if your website has product or service pages, they should include individual reviews. We also recommend showcasing standout reviews on your site's main page to help establish trust with new visitors.
7. Keep Your Website Updated
This tip is pretty straightforward. Visitors don't like outdated websites, so you should update yours constantly. It's that simple.
The term 'outdated' can have a lot of meanings. For example, if you visit a website and it looks like it was designed in the early 2000s, it can scare a lot of users away, even if the design is a deliberate choice.
Likewise, if a visitor opens your blog and sees that you haven't published any new blog posts in the past few months, they might assume the website has been abandoned. A business with an abandoned website doesn't seem trustworthy, so those visitors might look at your competitors instead.
Moreover, as time passes, the information on your site might become inaccurate. To avoid these issues, we recommend going through your site periodically to see if any of its elements or pages need a refresh. While at it, make sure to publish new content often, so users will know the website remains active.
8. Publish Industry-Related Blog Posts
Building trust with your visitors is critical to converting them into customers. One of the best ways to use a website to build trust is by publishing content that can help those users. Our favorite medium for that kind of content is blogging (which should be evident).
By blogging, we mean publishing in-depth content that answers questions that you might have. The idea is that by empowering your users with knowledge and sharing your expertise, you'll show them they can trust you enough to do business and buy your products or services.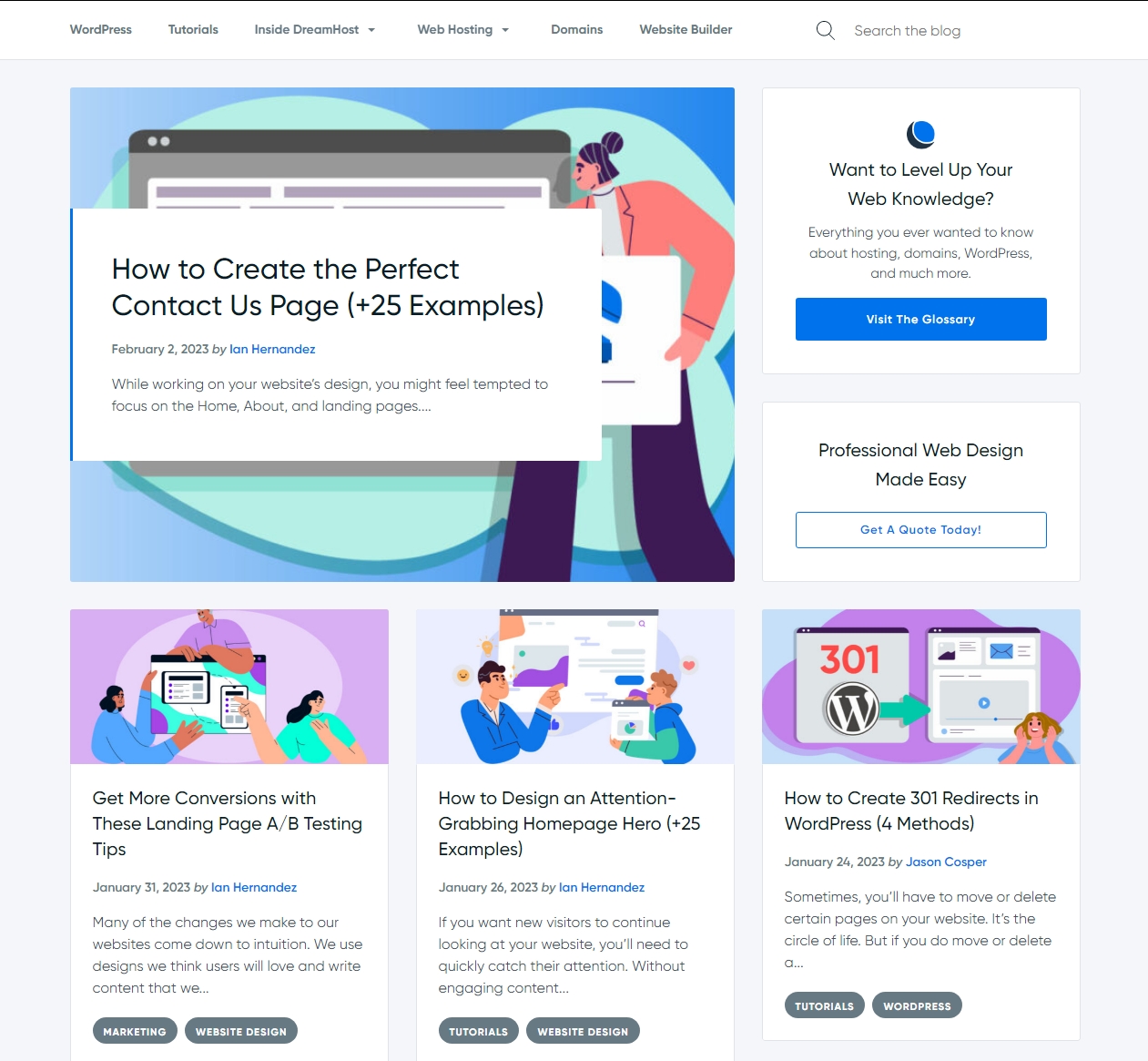 To be fair, not every business niche is a good fit for blogging, and you might not have the time to do it consistently. But consider that blogging can also help you when it comes to getting more traffic in the first place.
Writing blog posts that target popular searches for your business niche means you might appear in the search results for those queries. The more searches your content appears in, the more visitors your site can get and the more chances you have of getting conversions.
9. Don't Use SEO Shortcuts
Talking about how blog content can help you rank on search engines brings us to Search Engine Optimization (SEO). SEO is the collection of practices that website owners use to help their content appear in search engines for targeted queries in the best possible rankings.
The fact is, SEO is hard. Best practices change constantly with search algorithm updates, and what worked a few years ago can get your website buried in the rankings now. In other words, there's no magic formula when it comes to SEO.
If you try to game the system using 'black-hat' SEO techniques such as keyword 'stuffing,' buying backlinks, abusing structured data, etc – chances are your website will be penalized for it. You might get a short-term boost in rankings, but you'll pay for it in the long run.
The only SEO strategy that works for most websites is to learn the fundamentals and practice them over a long period of time. If you publish content that answers users' questions, is well-structured, and targets popular searches, you will get organic traffic. It might take a while to get as much traffic as you'd like, but that's normal in today's internet landscape.
10. Set Up an Email List for Your Customers
If you're not taking advantage of email lists, you're missing out on one of the most powerful marketing channels at your disposal. When someone signs up for an email list, they're basically saying "You're free to send me marketing emails when you choose to".
With emails, you don't need to print flyers or physically mail them. Instead, you just design a campaign and send it. Email marketing platforms even enable you to create emails and schedule them ahead of time, as well as monitor their performance metrics.
All you need to get started is to sign up for an email marketing platform and add a signup form to your website. Signup forms can come in many shapes and sizes, including chat bubbles:

The same goes for email signup forms. They can be simple, as in the example above, or they can offer incentives to increase the number of signups. One common tactic businesses use is to offer some type of freebie, such as access to exclusive discounts or even e-books: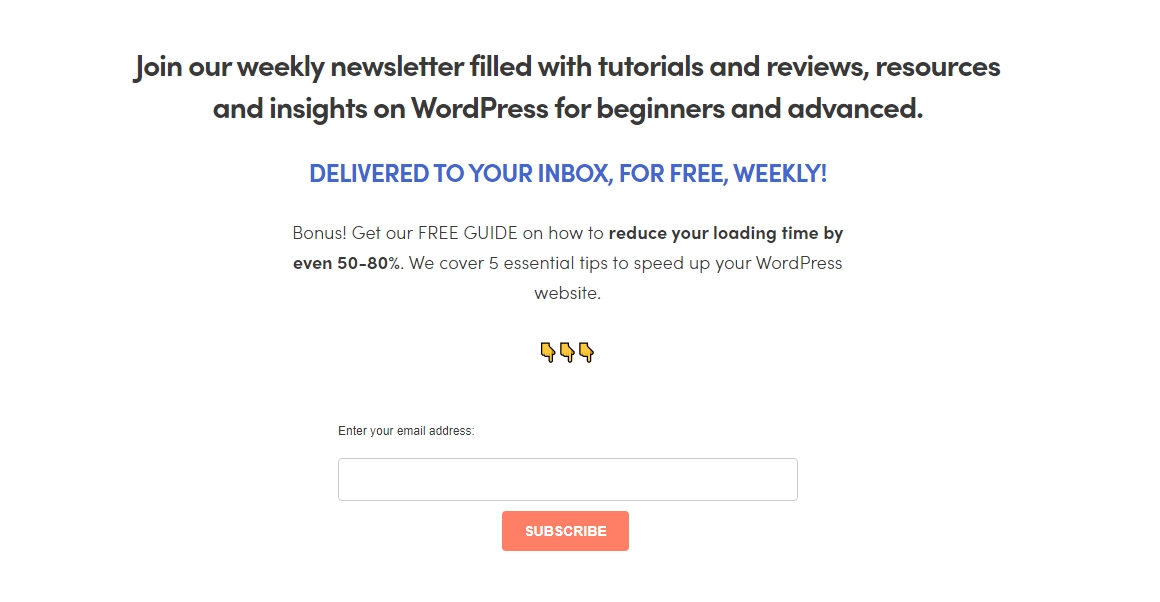 An email list also enables you to collect a list of your 'core' audience. These users are much more likely to return to the website and make future purchases as long as they keep opening your emails. The larger your email list, the more people you might convert every time you send a new email.
11. Promote Your Website on Social Media
Social media can be just as important for your business as having a website. Having a social media presence means you engage with followers, post new content often, and send followers to your website.
This way, your audience is constantly reminded that you, well, exist. On top of that, cultivating a consistent online presence can help keep your customers up-to-date on everything from events to promotions.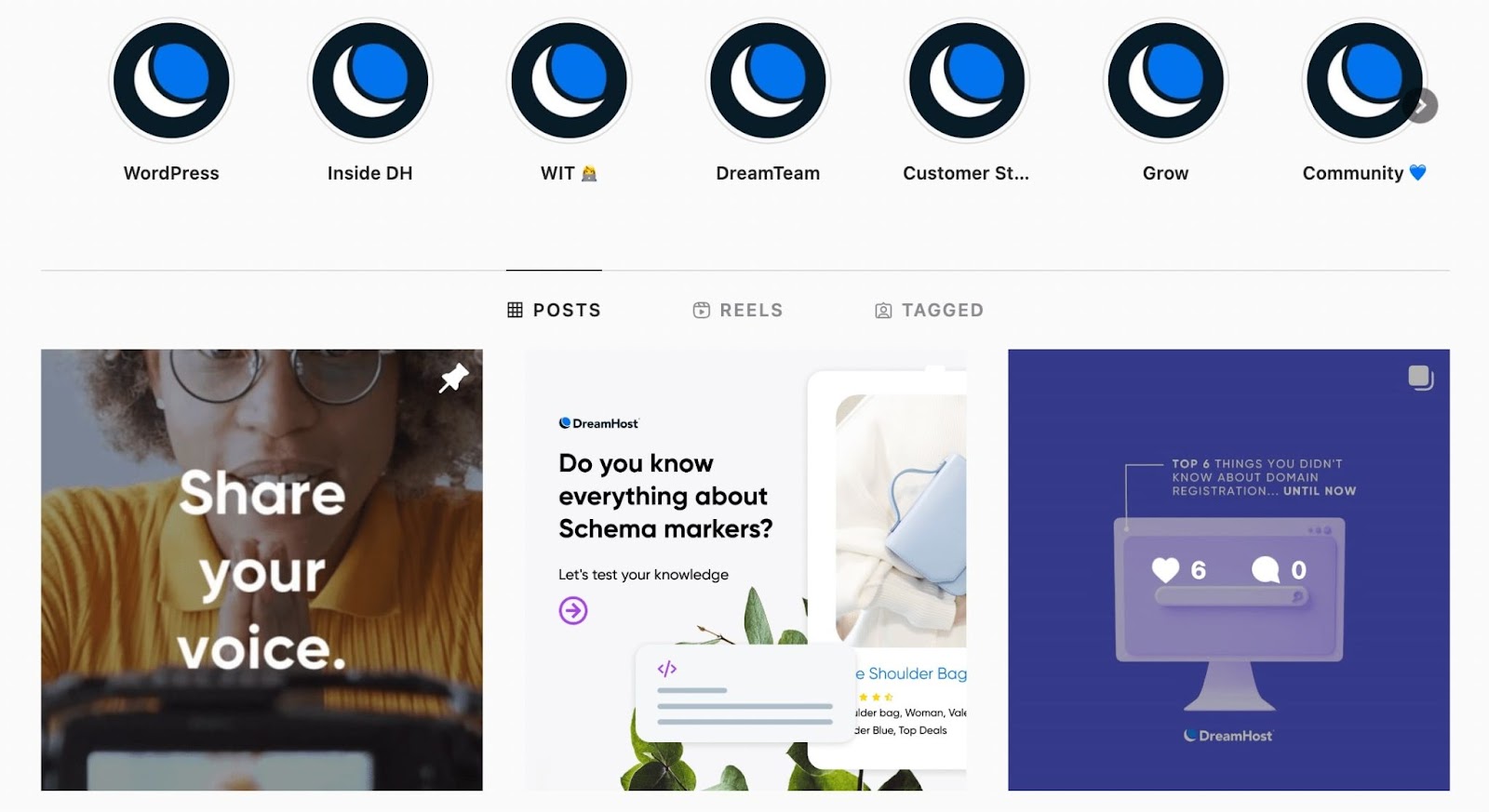 Take restaurants – any restaurant worth its salt will have a website including information about the venue, photos, and maybe even an online menu. However, most users will probably look up the restaurant's social media accounts first.
In most cases, social media accounts and websites feed off each other. Some users prefer checking a website for offers or news, whereas others like getting updates from social media.
If your business doesn't have a strong online presence, we recommend focusing on one or two social media platforms at the most to begin with. Consider who your buyer personas are and what social channels they're most likely to use. Those are the ones you should be focusing on.
12. Optimize Your Website's Performance
If there's one thing that users don't like, it's a slow-loading website. When your website takes several seconds to load, it's going to scare a lot of visitors away. That's hard-earned traffic from SEO, social media, and email marketing that you're losing because of a lack of technical optimizations.
There are a lot of factors that can slow down a website. For instance, you might be using a poor hosting service or getting too much traffic for your current server's capacity. Additionally, having too many unoptimized images (or other media files) can significantly impact your site's speed.
Optimizing a website's performance means reducing loading times as much as possible. Ideally, most pages should load in under two seconds. For most users, that's almost instantaneous, which is exactly what they want.
Achieving those speeds isn't out of the question, especially if you know how to optimize a website and you use a great web hosting service!
Convert More Website Visitors Today
The goal of most websites is to get conversions. For a business website, conversions can be sales, customer signups, getting new leads, etc. And having a website enables you to do all that, but only if it's optimized. That means creating the best possible user experience and incentivizing visitors to convert.
Many conversions come down to trust while providing offers that give customers real value. If you have a strong brand, but your offers aren't enticing, you'll struggle to get conversions and vice versa. Still, you can bolster a strong product with a robust website. You'll want to try out a few (or all) of the strategies we outlined above, such as improving your site's navigation, prioritizing SEO, leveraging forms, and more.
If you're working on a new website and you don't have the time or experience to take on the task alone, don't worry. At DreamHost, we offer custom web design services to help you build a website that meets your business needs! This way, you can rest assured knowing that your website will maximize possible conversions at all times.
Let Us Help You Convert More Website Visitors
Our designers will create a gorgeous website from scratch to perfectly match your brand.