Features, Pricing, Support & More
Today, we will have an in-depth PackageX Mailroom review – one of the best mailroom management solutions available in the market.
Mail automation brings many worthwhile benefits. Not only is it less time-consuming but it also makes package delivering and receiving secure as well as effortless.
Businesses need to get their hands on the best mailroom software available to ensure all their package deliveries and mail correspondence is done smoothly.
Why Do You Need Mailroom Management?
Before we start this PackageX Mailroom review, let's first understand why we need such software. You see, as a business owner, your business growth also means an increase in responsibilities.
You obviously need to take steps to ensure that all operating to expedite procedures are running smoothly.
Traditional mailrooms require a lot of time as manual sorting, filtration, and distribution of every package consume a lot of your employee's additional time.
Not only does it impact the overall productivity, but also slows down their efficiency. Mailroom management software provides you a cost-effective solution to this problem.
With mailroom management software, you can expect mailroom automation, security, traceability, and fast delivery to recipients.
What is PackageX Mailroom?
PackageX Mailroom is a powerful software that allows organizations to manage their mailrooms efficiently. It is a scalable and user-friendly application that can cater to various industries.
The reason that makes PackageX so popular is its use of OCR. With a powerful scanner that uses your smartphone's camera to scan package labels, Mailroom ensures the automation of most mailroom operations.
Since PackageX Mailroom is cloud-based, you recipients can be notified about their mail on the go.
Solutions such as this also allow you to take action on your mail anywhere any time. So, whether your employees are traveling or are on a vacation, important packages don't get lost.
The best part? PackageX Mailroom management software works for several industries. Ideal for hospitals, universities, resorts, co-working spaces, hotels, warehouses, and other industrial hubs, this software brings companies an excellent end-user experience.
It is a SaaS-based solution that automates mundane package handling tasks to ensure that deliveries are never delayed or lost.
Let's take a closer look at what this mailroom management solution has to offer.
PackageX Mailroom Review (2023) – Mailroom Management Software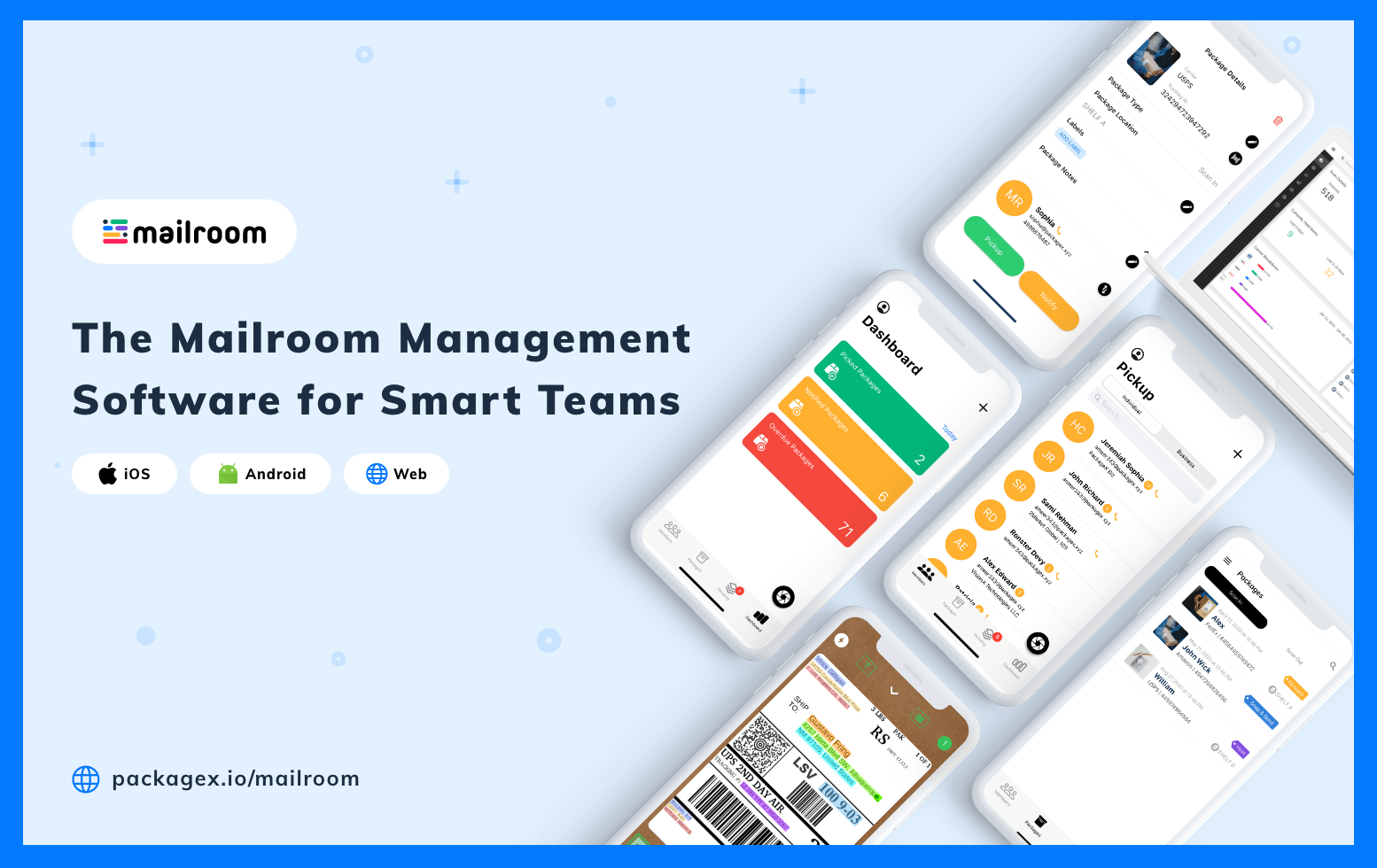 1. Pricing
PlanPricingFeaturesStarter$159 per location/month or$142 per location/month (billed annually)
Manage up to 400 deliveries
For a single mailroom administrator
Email notifications for recipients
Email support only (24-hour response time)
Basic$249 per location/month or$225 per location/month (billed annually)
Everything in Starter, plus:
Manage up to 2,000 deliveries
Admin access for 6 mailroom staff
Co-branded email notifications for recipients
Custom package labels for sorting
Email support only (12-hour response time)
Premium$499 per location/month or$475 per location/month (billed annually)
Everything in Basic, plus:
Manage up to 7,000 deliveries
Admin access for 10 mailroom staff
SMS and email notifications for recipients
Mailroom Connect: remote mail management
Email support only (4-hour response time)
EnterpriseContact Sales for pricing information
Everything in Premium, plus:
Unlimited deliveries and mailroom staff
Custom integrations via API and Webhooks
Email support (2-hour response time)
The dedicated customer success manager
Every pricing plan offers a certain limit on features aimed at addressing the needs of various mailrooms and the scope of their operations.
For instance, the Premium plan is about automating mailroom operations for your business whereas the Enterprise plan offers a customized experience best suited for large organizations.
🌟 Customers
Many popular businesses such as Xerox, Richemont, PMG, Montana State University, and Mercy College are already happy customers.
But for our PackageX Mailroom review, we have handpicked some customer success stories for you. Let's have a look:
Delaware Valley University
Delaware Valley University (DelVal) is a non-profit university holding strength of about 2,500 students. For them, package deliveries for the students became a big problem.
This problem grew as the population of students grew by 20% per academic year. To solve this, PackageX mailroom's inbound management solution is being utilized.
Read the full case study by clicking here.
WeWork
WeWork is a popular US-based commercial real estate company that specifies provides flexible shared workspaces to startups. This company primarily generates its revenue by renting office spaces.
The rental model has led to exponential growth in long-term lease contracts which also means that WeWork has to deal with a greater number of packages and mails daily.
They have implemented PackageX mailroom services to continue a smooth flow of work for the enterprises using their renting model.
Read the full case study by clicking here.
2. Features and Functionality
PackageX is definitely a smart package and mail management software that is working with a combination of computer vision, machine learning, and artificial intelligence, to automate the process of last-yard delivery of mail and packages.
It is not only ideal for corporate mailrooms but also office buildings, as well as residential communities.
This software is extremely popular due to its intelligence, adaptive, and secure working which doesn't even require specialized equipment. Let's discuss more the features and functionalities of PackageX Mailroom management software.
2.1. Digital Mailroom
PackageX mailroom's foremost feature is the digital mailroom itself.  Mailroom by PackageX allows recipients to request actions on their mails and packages remotely. There are four call-to-actions (CTAs) available:
Scan and Send – Complete automation of the mailroom allows users to scan and send their mails with just one click. No manual data entry is required and a notification is sent immediately to the recipient.
Forward Package – If a recipient is unavailable and their package arrives, they can request for the package to be forwarded to a different address.
Hold Package – The recipient can also request the operator to withhold some important package or mail until their return. It is particularly important as usually such packages hold great significance for the recipient.
Discard Package – Recipients can also choose to discard their packages if they are no longer required.
2.2. Contactless Proof of Pickup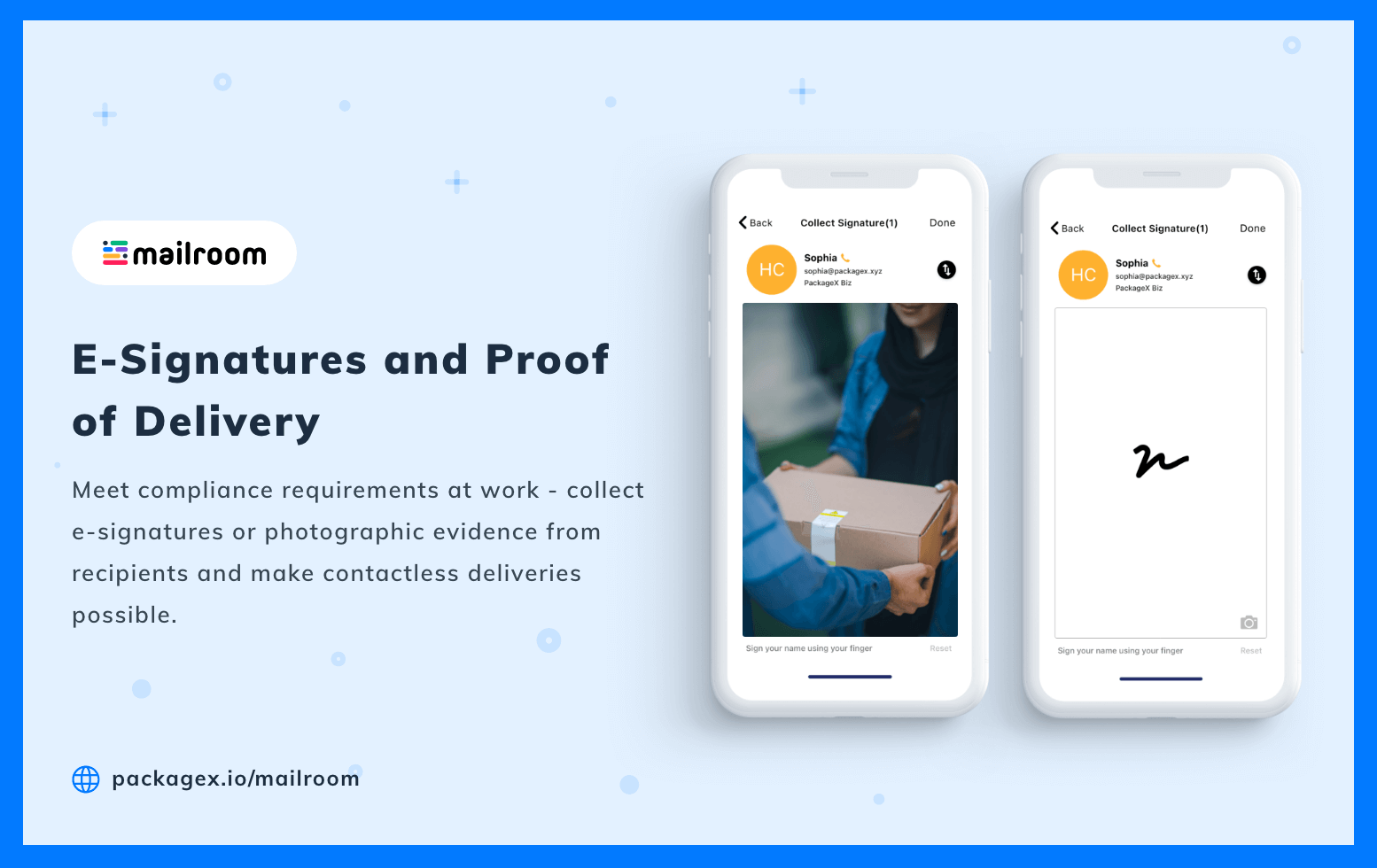 This is the most important feature a delivery service requires today. Mailroom management software, like PackageX, is replacing manual processes which reduces the need for contact between people along with the entire delivery flow.
With COVID-19 around as an active threat, PackageX offers a contactless delivery solution to keep staff and recipients safe. With PackageX, there is no need for the recipient to touch any pen or digital device.
The delivery person can simply snap a photo of the receiver, or get their ID for confirmation.
This mailroom by PackageX, in particular, uses OCR technology which allows delivery staff to take photos of recipients instead of having to sign.
By OCR technology, we mean that the recipient's signatures can be extracted via image files using data processing. So, this allows staff to ensure contactless pickup with proof.
To make this happen seamlessly, PackageX has first ensured full control over its delivery logistics. Next, visibility has been ensured. The company allows recipients to track the location and process of their packages before arrival.
This not only ensures visibility and transparency but also allows recipients to know when their packages are expected to arrive so they can be ready.
2.3. Inbound and Outbound Tracking
Any organization operating in this era requires constant management of document flow, be it inbound or outbound. PackageX mailroom understands how crucial it is to have these documents integrated with day-to-day business.
Therefore, this mailroom offers a smooth movement of packages and documents smoothly – even in large volumes.
PackageX mailroom specializes in automating complex processes which involve receiving or sorting or inbound mail. It is also excellent for saving precious time.
Thanks to the correct mailroom management components, PackageX offers your organization inbound and outbound package tracking in real-time. This is done via satellite service which extends from the in-house mail processing.
2.4. Powerful Mailroom Analytics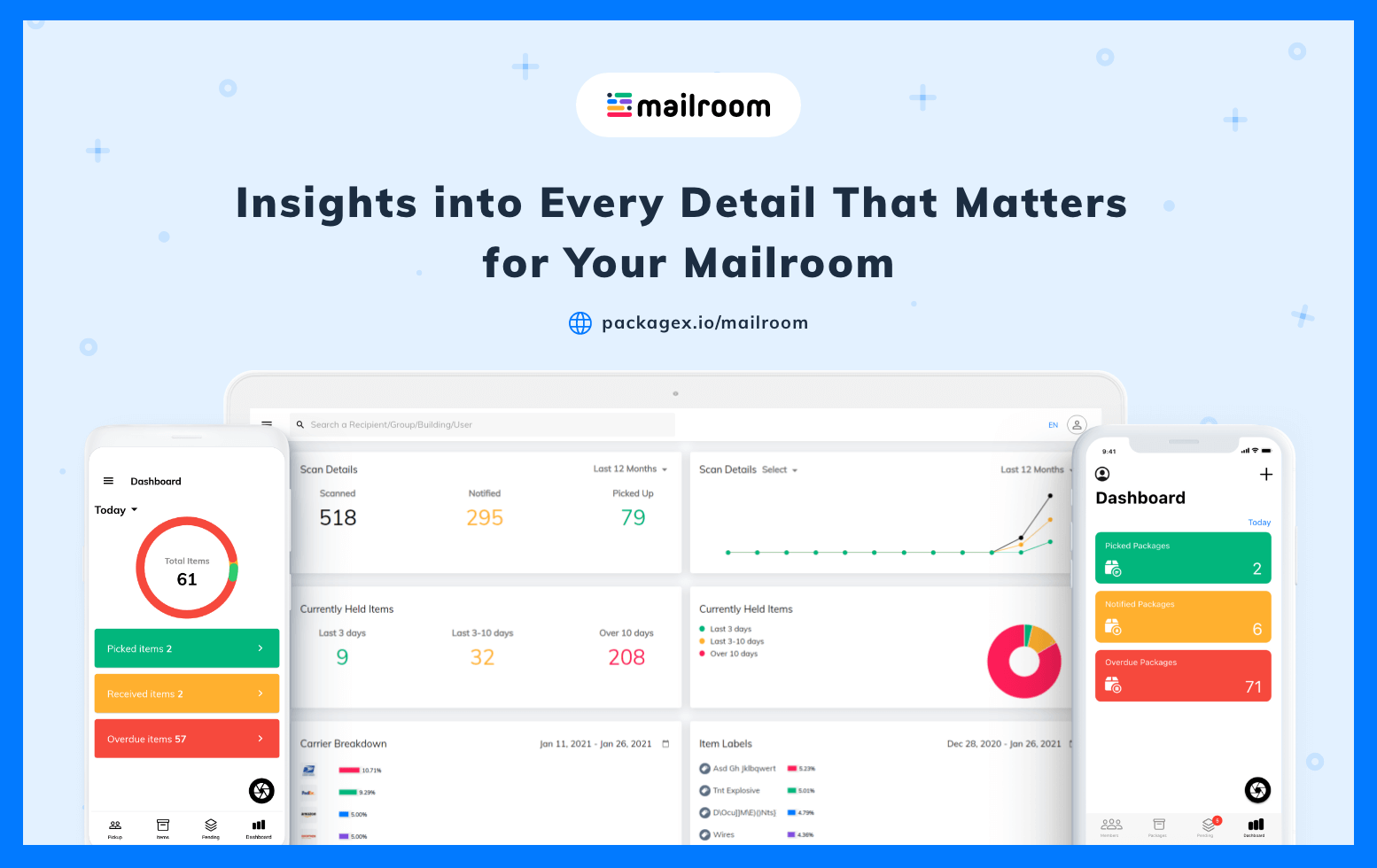 In terms of reporting, the PackageX Mailroom dashboard reports details of packages on hand, how long they have been in your facilities, and data about trends in deliveries, right on the dashboard.
This is available with data analytics which is crucial for timely, accurate decision-making.
By providing robust data analytics, PackageX ensures that your package and documents are managed effectively. The analytics engines allow for teams to collaborate effectively which in turn generates actionable insights for future usage.
This complete dashboard reporting data can also be exported in different formats for use.
2.5. Package Barcode Scanning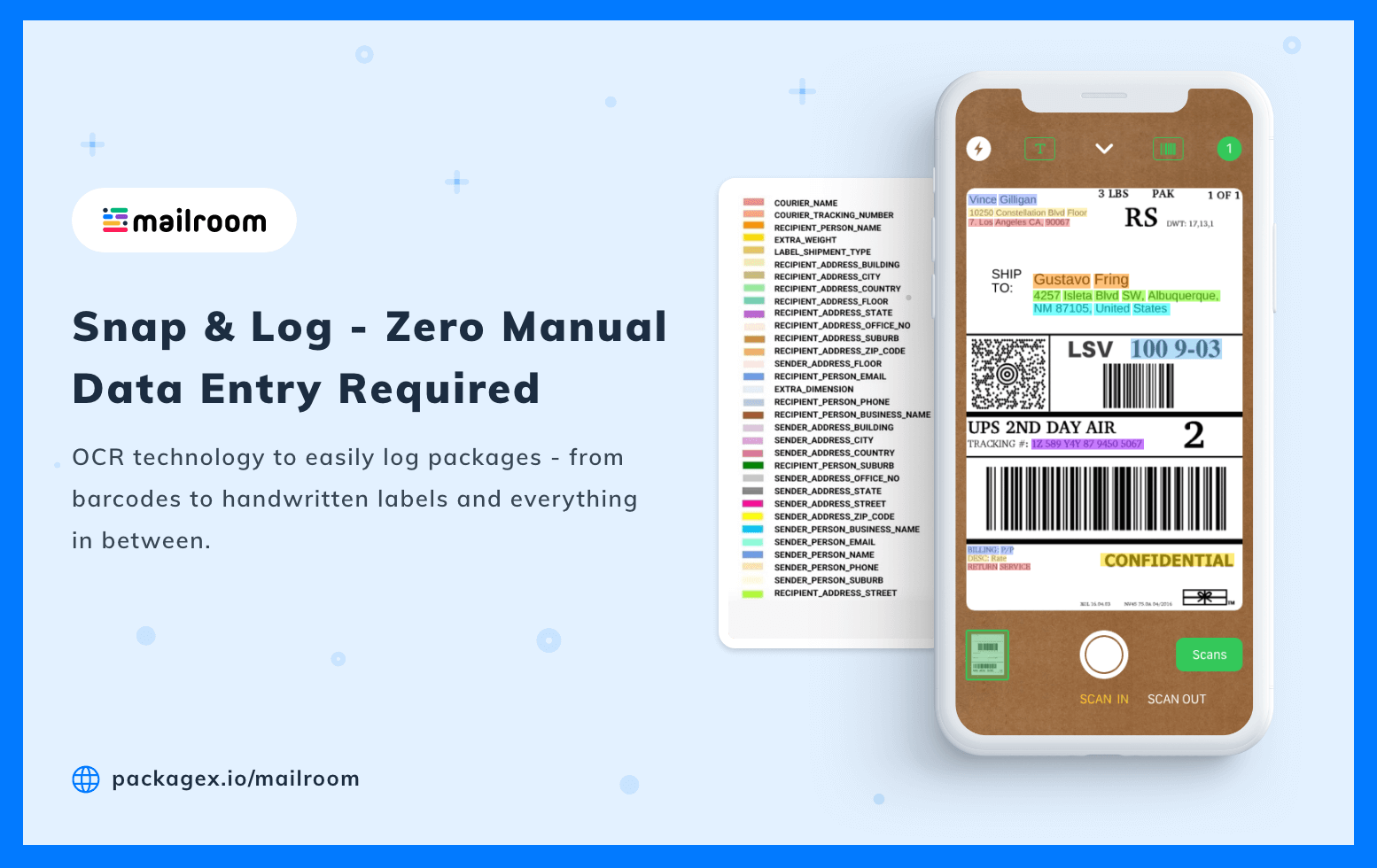 PackageX offers package scanning for university mailrooms, apartment offices, and even corporate mailrooms. This enables recipients and staff to log packages in and out conveniently online.
Recipients can be notified automatically via email or text message, as well as capture signature proof of pickup/delivery, for real accountability.
The OCR technology at PackageX is what sets it apart from all. It enables a phone's camera to identify the package owner by taking a picture of the package's barcode.
These details are saved in the database so that there is no need for tracking individual package owners. Thus, via package scanning, the process is digitalized and made much faster.
Doing so eliminates the need for traditional data entry and thus saves time and additional costs. The package scanning also allows users to store the information for later use.
2.5.1. Successive Package Scanning
The system also has an option available for successive scanning. Therefore, there is no need for taking breaks between scans. In case there is an error, the software notifies you about it along with relevant details, and helps you make corrections through smart suggestions.
2.5.2. Smart Duplicate Management
There is also a system in place for duplicate scans. The smart duplicate management ensures that no package is scanned multiple times in the directory. It results in avoiding double scan problems.
2.6. Reminders and Notifications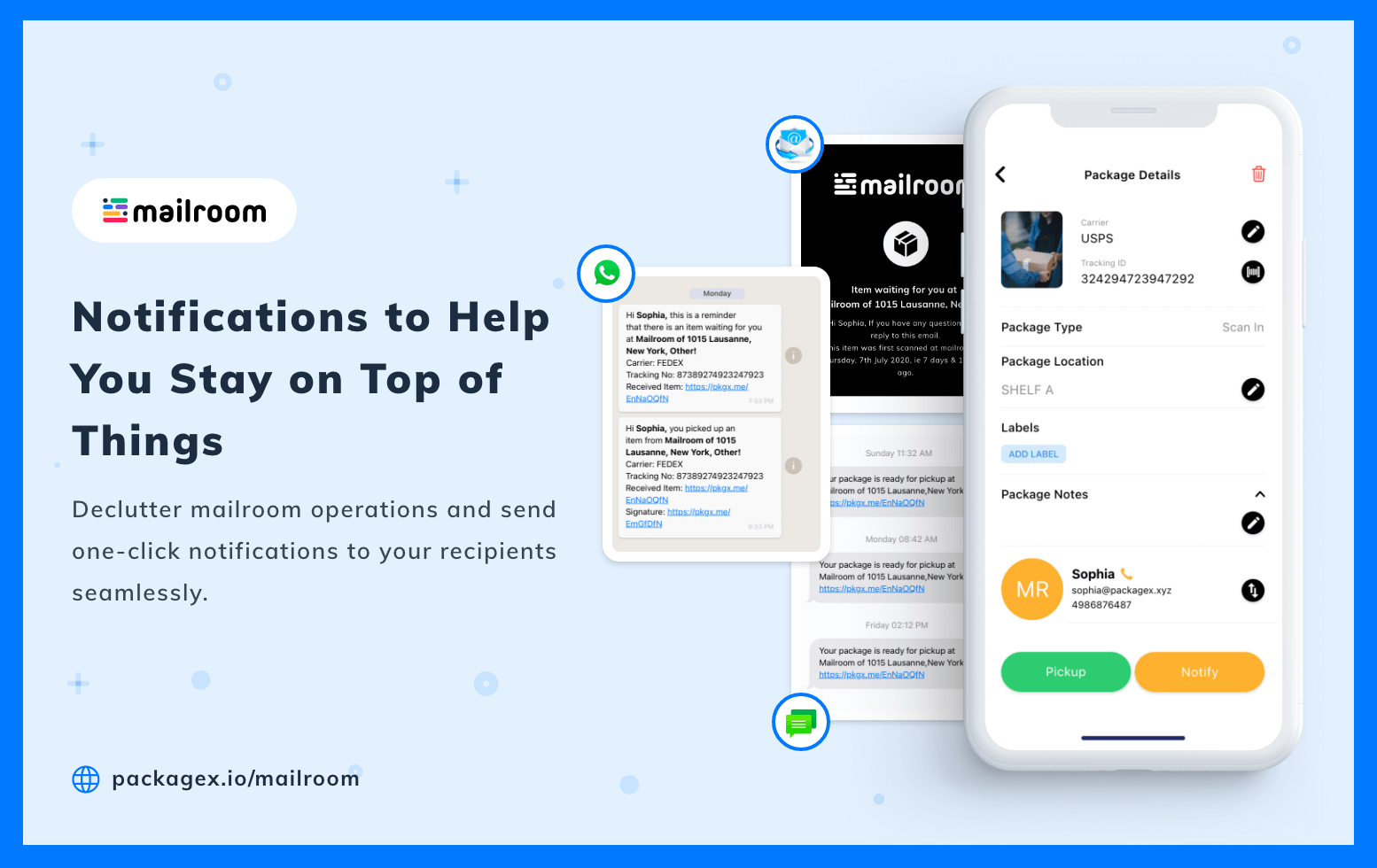 Reminders and notifications are a crucial part of any efficient mailroom management software. PackageX, in particular, allows package recipients as well as owners to be automatically informed of the current package statuses.
For instance, they receive an alert when their package is scanned, processed, and throughout transit. This ensures a transparent, visible flow of work.
2.6.1. Photo Notification
The software also offers a photo notification which is sent to the recipient along with a description of the item. When a package arrives, the recipient can choose the option of contactless delivery. This is especially useful now in times of pandemics.
2.7. Email Customization
Another interesting feature of PackageX is its email customization option. Organizations can customize their email subject line, use a bolder or larger text, underline or highlight content, and fully customize the email body. The platinum plan also includes co-branding options.
Now email customization is specifically important because it helps companies stand out within their audience's inbox with highly targeted and tailored content.
At present, studies are showing that personalized subject lines are 26% more likely to be opened than those without. This obviously also impacts the conversion rate. Therefore, customized email options are very important, especially for larger organizations.
2.8. Mailroom Staff Portal
2.8.1. Comprehensive Dashboard
When you sign in to the PackageX mailroom portal, the first and foremost page appear in front of the Dashboard. The dashboard page has been comprehensively designed to offer a detailed summary of day-to-day working within the organization.
Not only does it hold details of scanned, notified, and picked items, but also offers a complete timeline of work progress of up to the last 12 months. It also includes information on currently held items for over 10 days.
2.8.2. Item Inventory
The inventory of items allows organizations to search their package by name, email, or tracking number. When searched for, the item appears with all relevant details as the current location, status, and scan type.
3. User Experience
For any business to succeed, user experience is a priority. About 88% of people are less likely to return to a website after a bad user experience! Therefore, Mailroom by PackageX has carefully designed their portal keeping their customers in view.
The website is built keeping task success rate, user error rate, and system usability scale. As we are aware that the target market of PackageX mailroom isn't limited to IT field individuals, the layout has been kept very easy to understand.
Design
The user interface of PackageX mailroom has been designed with a great focus on aesthetics while keeping all important functionalities at the forefront. The users can independently navigate through the dashboard and check for all desired information.
It can be seen that overall a black, blue, white theme has been used for the dashboard. This makes the content easily readable and elements can be recognized clearly between one another.
In case any point is unclear, the support button is available on the sidebar menu for offering further information.
Mobile Apps
Apps are a crucial part of any software being offered today. So when it comes to the application in review, PackageX Mailroom has both android and iOS applications available.
The PackageX Mailroom mobile app is compatible with iPad, iPod, and iPhone SE onwards models. It is compatible with devices that have a rear-facing camera and access to the Google or Apple Play Store.
The mobile applications offer all this software's standard features. The most important feature is that the batch scan for packages is available.
Mailroom for Android
The Android app for PackageX Mailroom is being voted as an innovative solution for handling packages.
It is compatible with Android version 5.0 and above. The Android app will allow you to keep track of every item that enters or leaves your mailroom, at all times.
Mailroom for iOS
The iOS app for PackageX Mailroom is compatible with iOS version 13.0 and later. This application supports many languages, such as English, Portuguese, Dutch, Indonesian, and more.
Integrations
PackageX Mailroom has API available for developers. This API can be used to integrate the digital mailroom with other applications. The API is available directly at the portal where users can access it to integrate PackageX with any other software.
It offers you an API key and a client ID which can be used to build the link.
The API page also includes the quota information which specifies the number of calls and quota remaining. A database of buildings is also available along with the specific codes. This particular page is for use of developers only.
4. Security
Every PackageX Mailroom review confirms that this company takes client security very seriously. Therefore, all data uploaded or processed on the application is encrypted at all times.
The secure data encryption keeps your mail and package information completely confidential and private. Since PackageX is a completely automated solution so it involves no human interaction whatsoever – which adds to the privacy and security of your data.
All PackageX Mailroom web-based applications are secured via SSL certification. This means that your organization's data is secured by Transport Layer Security protocol which not only encrypts the data online but offers a three key layer protection.
HTTPS on all pages of PackageX Mailroom ensures that data integrity is maintained. Hence data cannot be corrupted or modified during the transfer. Apart from all these measures, PackageX Mailroom also generates reports and timely alerts for any security breaches.
More information on security for the PackageX Mailroom platform can be found by clicking here.
Customer Support