How Much Uptime Should You Aim for With Shared Hosting Services?
User experience can make or break your website's success. Whether you sell products, write a blog or provide services, your audience's interactions with your website are one of the most important indicators of whether they keep coming back or say, "so long" as they hit up your competitors who give them a better experience.
When website visitors have a bad experience, 88% of them are likely to give the site another chance. If 53% of consumers bounce from a mobile site that takes longer than three seconds to load, imagine how many of them click away if the website is down? Your web host's job is to ensure your site has as much uptime as possible. Downtime results in lost traffic, potentially losing customers and income. Before you sign up with a hosting company, make sure you check its uptime guarantee.
What Does Your Web Host Do?
Your web host is responsible for much of the activity that keeps your website online, though not all of it! Though web hosts usually offer a variety of services, their primary function is storing and transmitting data for their customers. These may seem simple tasks, but the processes are really quite complicated.
Web hosting requires a combination of hardware, software, and technical functions to maintain smooth operations. Any component can run into trouble, especially if the system isn't capable of keeping up with the traffic it handles. A responsible web host ensures it stays up to date with all necessary measures to keep its systems up and running, continually monitoring the system for performance and security.
What Is Uptime?
When you're talking about your website, uptime is the amount of time your site is up and running, available for viewers to visit, enjoy, engage and maybe even spend money. Keeping your site running is partly your responsibility. However, if your web host's server goes down, that is the host's territory.
Web hosting uptime refers to the percentage of time a web host's servers are online. A company's uptime track record is a good indication of how reliable the service is. The higher the uptime percentage, the less time your website is down through no fault of your own.
Calculating Uptime
Translating uptime percentages into real-time numbers is a bit tricky. The percentages companies provide are averages you can break down into daily, weekly, monthly or annual calculations.
To convert the figures given into numbers that matter to your website traffic, you choose a timeframe and then apply a simple calculation, dividing the time the servers were up and running by the total amount of time. Let's look at some common uptime percentages web hosting companies offer to find out how to translate them into the amount of time your website goes down,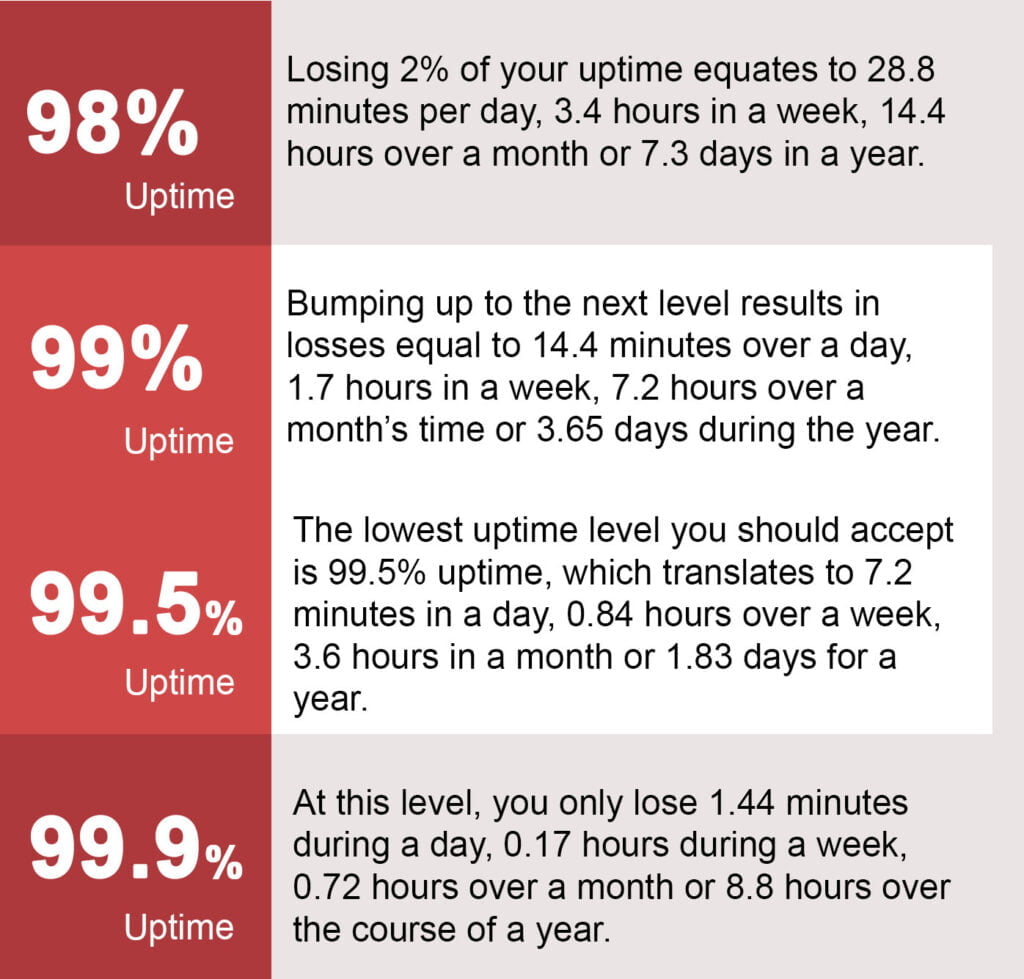 Though the differences between these uptime percentages seem small, it's clear that they translate into significant differences in the amount of time your audience can't access your website.
Understanding Why Server Downtime Occurs
The reality is that servers go down occasionally. There is no way a hosting company can guarantee that its servers will remain up and running 100% of the time. One reason a web hosting company's servers go down is so the company can perform maintenance. Often, planned downtime such as this is not calculated in a company's uptime performance.
Servers can also crash if there is a power outage at the servers' location. A reliable web host has redundant power sources to prevent downtime when one power source fails. At KnownHost, we utilize redundant power on multiple levels, from our equipment to our datacenters.
Network and hardware issues can also cause the servers to go offline. We minimize the risk with more redundancy. We have multiple sources for our networks as well as our routers, switches, and uplinks. We don't believe in taking shortcuts that jeopardize your website and business for any length of time.
What Is an Uptime Guarantee?
A company's uptime guarantee is the percentage of time it guarantees its servers will be up and running. Not all web hosts have an uptime guarantee, but most do. The guarantee doesn't mean you won't experience outages. However, if you do, and the outages last longer than the stated guarantee, the company generally reimburses you for the time your site was offline due to server issues.
If your website goes down, it's important to investigate why. The error code is a primary indicator that the issue is with the server and not due to a problem on your end. A 502 or 503 message indicates a server problem. Document downtime, including how long it lasts, so you can request reimbursement from your web host.
Make sure you read and understand your web host's guarantee. You should be able to find all the details in your service agreement, including what constitutes downtime and what you need to do to get reimbursed when the company doesn't meet its stated guarantee.
What Is the Ideal Uptime?
When looking for a web hosting company, you should eliminate any of them that don't guarantee at least a 99.9% uptime. Ideally, you should aim for 99.99% uptime in real-world user experience. Many companies offer guarantees for percentages they often don't match in the real world. Unfortunately, they also usually won't pay for the time your site is down because their servers are offline unless you report it.
If your site goes down, you may not know about it unless you have a service that tracks when the server is offline. If a company offers a 99.99% uptime guarantee but requires you to report the outage and how long it lasted before you're reimbursed for the downtime, the company may not lose much if its servers go down. On the other hand, you could lose traffic, new leads, sales and repeat customers.
At KnownHost, our customers get the benefit of uptime realities that outreach our uptime guarantee. For the past 10 years, our average uptime has been higher than 99.99% each and every day. That uptime percentage translates to less than an hour over the course of a year.
What Company Has the Most Reliable Uptime Rates?
KnownHost repeatedly outperforms our competitors in real-world uptime experiences. Our performance is unparalleled, and we take pride in our services. Whether you choose a shared or dedicated hosting plan, you can count on the same superior uptime experience. Contact us today to discover what plan best fits your needs.