How to Use Amazon in China in 2022
If you've tried and failed at using Amazon Prime in China, don't cancel your membership just yet!
You can listen to Amazon Music and watch Amazon Prime Video from China even if they appear to be blocked, and here's how…
All you have to do to stream content that is typically out of reach in China is to use a reputable VPN service.
A VPN (Virtual Private Network) allows you to connect to a server in a remote location, in this case, outside of China.
When you connect to your VPN server, your actual IP address and location are hidden, and your traffic is encrypted and undetectable by your ISP or by China's authorities.
Once you connect to a server in a place where Amazon is permitted, like the USA, it will appear that you are actually located in the USA, placing you in the location of your VPN server instead of your real coordinates.
Keep on reading to find out more!
Is Amazon Blocked In China?
While it may seem that Amazon is totally out of reach in China, it actually isn't.
In most cases, China's blocks have to do with its intensely strict Great Firewall that sets out to block outside information and influences.
Although it is a challenge to use Amazon from China, in this case, it has more to do with Amazon than with China.
Historically, Amazon actually operated in China, but it shut down a few years ago in 2019 after too much competition in China.
So, at the moment, the main reason it is hard to use Amazon in China is because of Amazon's geo-blocks on the content on its platform.
Even if you are a US resident who has signed up for Amazon in the USA, if you travel to China, you won't be able to stream Prime Video or enjoy Prime Music.
But, while a lot of Amazon content has been restricted in China, there are ways of getting around these restrictions to access your account as if you are in the US; The most simple and effective way is to use a VPN (Virtual Private Network).
Bypassing Amazon Geo-Restrictions In China With A VPN
Many services, including Amazon, geo-restrict user access in particular countries.
The reason for these country restrictions is that content, like Prime Video content, music, or other services, is subject to licensing agreements, so it is only accessible from countries with active licenses.
Prime Video and other streaming services are unable to gain licensing rights in China, so Prime Video fans are unable to use these services in China, often getting a frustrating error message like this:
"Sorry! This content is not available in your country."
There is a solution to these Internet restrictions in China, though.
If you use a reliable VPN, like SwitchVPN, you can use the Internet freely even from China.
SwitchVPN is one of the very few VPNs that has consistently been able to break through the Great Firewall of China, allowing citizens and tourists in China to stream and surf content around the globe, even if it isn't licensed for distribution in China.
How To Choose The Best VPN For Unblocking Amazon In China
It is very important to keep in mind that not every VPN will work at unblocking Amazon in China! In fact, surprisingly few will be able to.
For the best chance at getting Amazon in China, look for these important features.
Servers in the USA to unblock Amazon as if you are actually on US soil.
Money-back guarantee so you can test it out in China before being locked into a VPN plan.
Military-grade encryption for online security and total privacy on the Internet.
Available across devices so you can use Amazon from your Windows, Mac, iOS, or Android.
A Kill Switch to kill the Internet if your encrypted VPN connection cuts out so you are not left exposed online.
Fast speeds to ensure that you will be able to stream, surf, listen or browse on Amazon without annoying buffering or interruptions.
Servers optimized for China and/or servers in Hong Kong for fast local connections from China on other geo-restricted sites.
Easy installation and setup so even the novices among us can figure out how to use the VPN.
Unlimited bandwidth is important to stream your content for as long as you choose, without being capped.
If you use the wrong VPN, like a free one, or one that does not make bypassing blocks in China its mission, it is highly unlikely that you will be able to unblock your Amazon account on the Internet in China.
In fact, using the wrong service may also be putting yourself at risk online, as you will be exposed to the Chinese authorities, who will see that you are accessing banned sites.
How To Unblock Amazon In China With SwitchVPN
To unblock Amazon using a reliable VPN service, like SwitchVPN, follow these simple steps:
Subscribe to a SwitchVPN plan.
Download and install your VPN software to your device from the Google Play Store or Apple App Store.
Choose a VPN server in a country that permits Prime Video, like the USA.
Now, go ahead and open up Amazon or Prime Video from China!
Easy, right?
SwitchVPN is one of the only VPNs on the market that makes it its mission to get through China's blocks.
SwichVPN's super-fast server network offers over 250 servers in more than 43 locations around the globe, including plenty located in the US.
It offers AES 256-bit encryption, a strict no-logs policy, and compatibility with macOS, Windows, iOS, Android, and Linux devices.
If you want to test it out, SwitchVPN offers a 3-day trial offer for just $1, but you can also subscribe for an annual plan for just $3.99 per month, connect as many as 3 devices at a time, and get your money back within 30 days if you decide to cancel your plan.
If you have a larger family, you can opt for a family-friendly plan for $5.99 per month, which allows you to connect twice as many devices to your single subscription (6 devices), and also offers you a 30-day money-back guarantee.
Benefits Of Using Amazon In China
There are many benefits to using Amazon when you are in China, and here are some of them:
1. Save on supplementary platforms like Netflix or Spotify:
If you are able to access Amazon Music and Amazon Prime Video from China, you can cut out some of your other subscriptions, like Netflix or Spotify, as there s plenty of overlapping content!
2. Free Books:
If you are traveling to or moving to China and want to access English books, you can use Amazon's digital library to choose from a huge range of books or magazines that you can change up monthly.
3. Catch NFL Games:
One simple way to watch NFL footage in China is to use Amazon. This won't give you access to every single game, but if you want to catch weekly football, this is a good option!
4. Give Gifts from Abroad:
If you are living in a country far from your friends and family, you can use Amazon Prime to sent gifts on holidays and birthdays from across the world.
Other Websites Blocked By The Chinese Government
If you are living in China, chances are the website you access regularly from your home country is inaccessible.
Here is a shortlist of some of the sites and apps unavailable on Chinese soil:
Thankfully, using VPN software in China will help you access these services the same way it will help you reach Prime Video.
Amazon In China: Conclusion
If you are visiting or living in China, a VPN is definitely the way to go!
SwitchVPN offers unlimited bandwidth, top privacy and security features, secure protocols including OpenVPN, and extremely helpful customer support. In fact, the minute you open the SwitchVPN page, the customer support bubble pops open asking: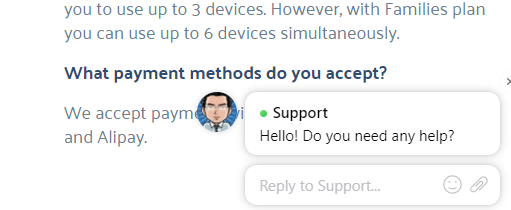 "Hello! Do you need any help?"
If you are thinking of using Amazon from any location and especially places like China, it is a good idea to make sure you use a VPN that has readily-available help, like this one!
Like I mentioned above, there are very few VPNs that will be successful at helping you bypass censorship restrictions in China, so give SwitchVPN a try.
You can test out your SwitchVPN plan in China for up to 30 days with a money-back guarantee, so there is no reason to wait!