Hustler's Guide to Monetizing Your Website (21 Ideas)
Wouldn't earning a little extra money from your website be fantastic? You put all this work into a website, and you deserve to have it work for you! Monetizing your website can give you a form of passive income, allowing you to make money with little time and effort – But it's important to know the ins and outs of monetization to help you achieve your goals.
Fortunately, there are plenty of ways you can monetize your website. Whether you're just starting out or you're a seasoned pro, you're sure to find an option that suits you. For example, you could turn your site into a membership platform, sell digital products, or become an affiliate marketer.
In this post, we'll take a look at why you should consider monetizing your site. Then, we'll discuss 21 exciting monetization ideas to choose from. Let's get started!
Why Monetize Your Website?
You might already know that monetizing your site enables you to unlock revenue from your content. Still, you also probably know that this tends to generate irregular earnings.
The good news is that with the right methods, you can actually turn your website into a consistent passive income stream. Plus, you can mix and match different methods to further stabilize your earnings.
One of the best parts about passive income is that once it's set up, it requires very little time and effort to maintain. Therefore, it's an excellent route if you're looking to achieve a better work-life balance.
On top of that, the money that you make from your website can easily cover the costs associated with running your site. So, rather than cutting into a portion of your salary, you'll be able to pay for web hosting, premium plugins, and more, with the money you make.
In fact, you might currently be managing your website on a strict budget, forced to use poor-quality hosting and sub par themes. But, once you get started with monetization, you can finally upgrade your existing plans, setting you on the right track to grow your website.
It's also good to keep in mind that not all of the advantages are money-oriented. For instance, monetization can organically create opportunities to diversify the way visitors engage with your content. For instance, you can offer more value and more ways to get involved with your site via memberships, consultations, or webinars.
Get Content Delivered Straight to Your Inbox
Subscribe to our blog and receive great content just like this delivered straight to your inbox.
When to Consider Monetizing Your Website
Lots of small online businesses begin as a side hustle: a way to make some money while exploring your passion. But, eventually, if you find an audience and your idea gains traction, you might seriously consider turning your hobby into a profitable business.
However, timing is key. You may not see the best results if you start too early. With that in mind, here are some clear signs that you're ready to monetize your website:
Niche. Having a clear, focused niche for your content is crucial if you want to successfully monetize it. If readers can't find the same information elsewhere, your material will likely become popular.
Traffic. The success of certain monetization strategies relies on high-traffic numbers. So, if your website is too new, you might want to wait till you're more established and are gaining more visitors.
Engagement. Some techniques are better suited to a loyal audience rather than a large one. Do you receive regular comments? Shares? Likes? This shows that readers care about your website and take it seriously.
Schedule. If you've adopted a structured approach to your website or blog (rather than posting when you feel like it), you might be ready for monetization. For example, you might schedule posts at the same day and time every week. This is critical since your audience will come to trust you when you share content consistently.
If you're not hitting the mark with any of these factors, then it might be best to keep publishing content and work on growing your audience before turning towards monetization.
The Hustler's Guide to Monetizing Your Website (21 Ideas)
Now that you know whether monetization is a viable option for your site, let's take a look at twenty-one ideas to inspire your efforts!
1. Become an Affiliate Marketer
Affiliate marketing involves a mutually beneficial relationship between your website and different companies. In exchange for a commission, you promote their products or services.
Rather than relying on traditional ads, companies distribute affiliate links for you to include in your content. You get your own unique link (as does every affiliate working with the brand) and generally, the link leads to a particular product that you've been asked to promote.
This method is a great option for blogs since it can be easy to implement your affiliate links naturally within posts and comments. However, it can also be a good option if you have a YouTube channel since you can utilize the description box: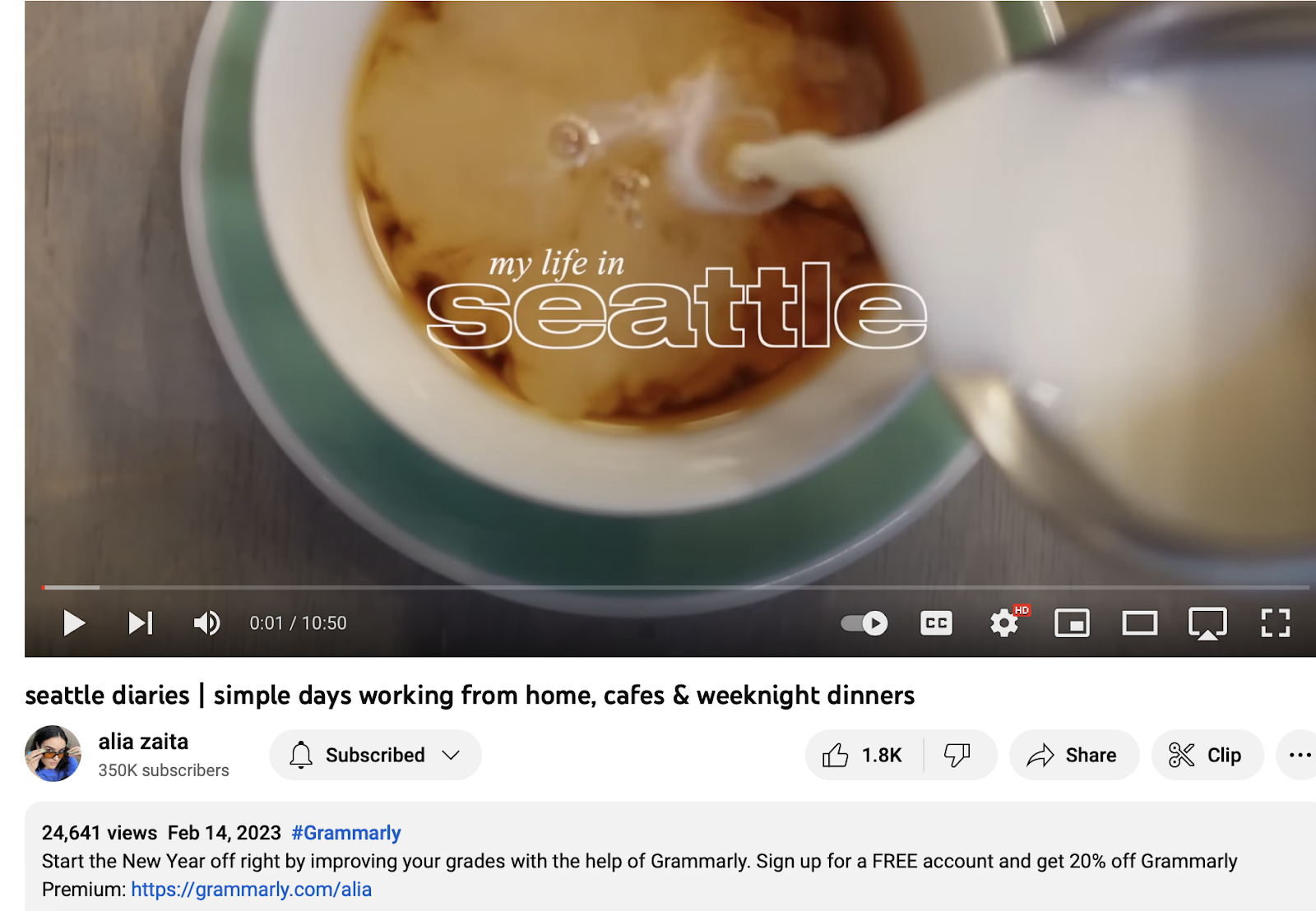 Details vary depending on the program you join, but you'll get an attractive deal with the DreamHost affiliate program. It takes just two minutes to sign up and you can earn up to $200 for every referral you make:

You'll have the most success with affiliate marketing if your website has a large amount of traffic. However, you can also use tools like ThirstyAffiliates to help you manage your programs, easily add links, and view analytics to improve your efforts.
2. Use Google AdSense
Google AdSense is an ad network that provides a quick way to monetize your site. While it involves displaying ads on your pages, it's much more user-friendly than selling ads yourself.
Thanks to Google's advanced algorithm, this tool allows you to present tailored ads to your visitors. Since these are more relevant to your users, they tend to be less frustrating: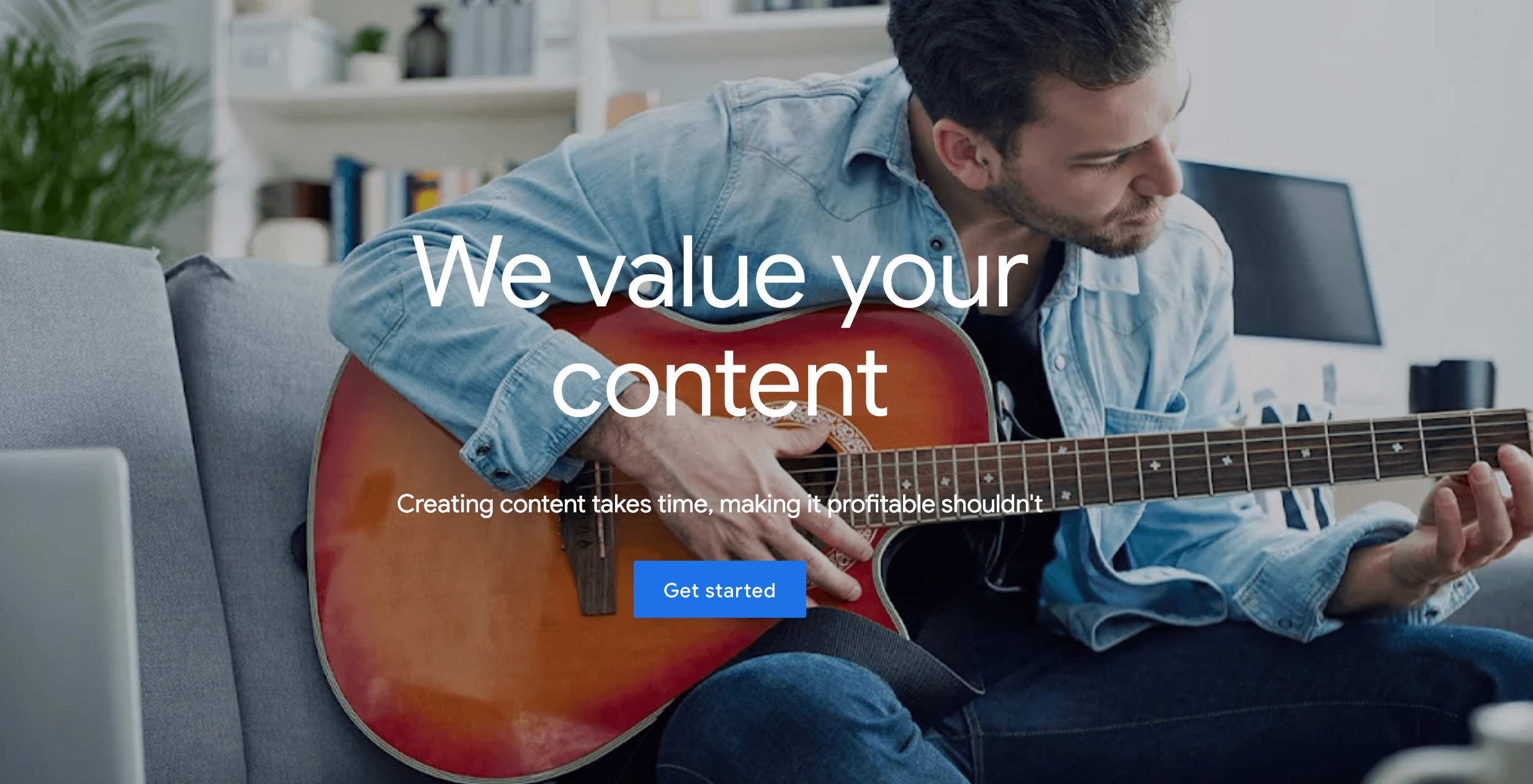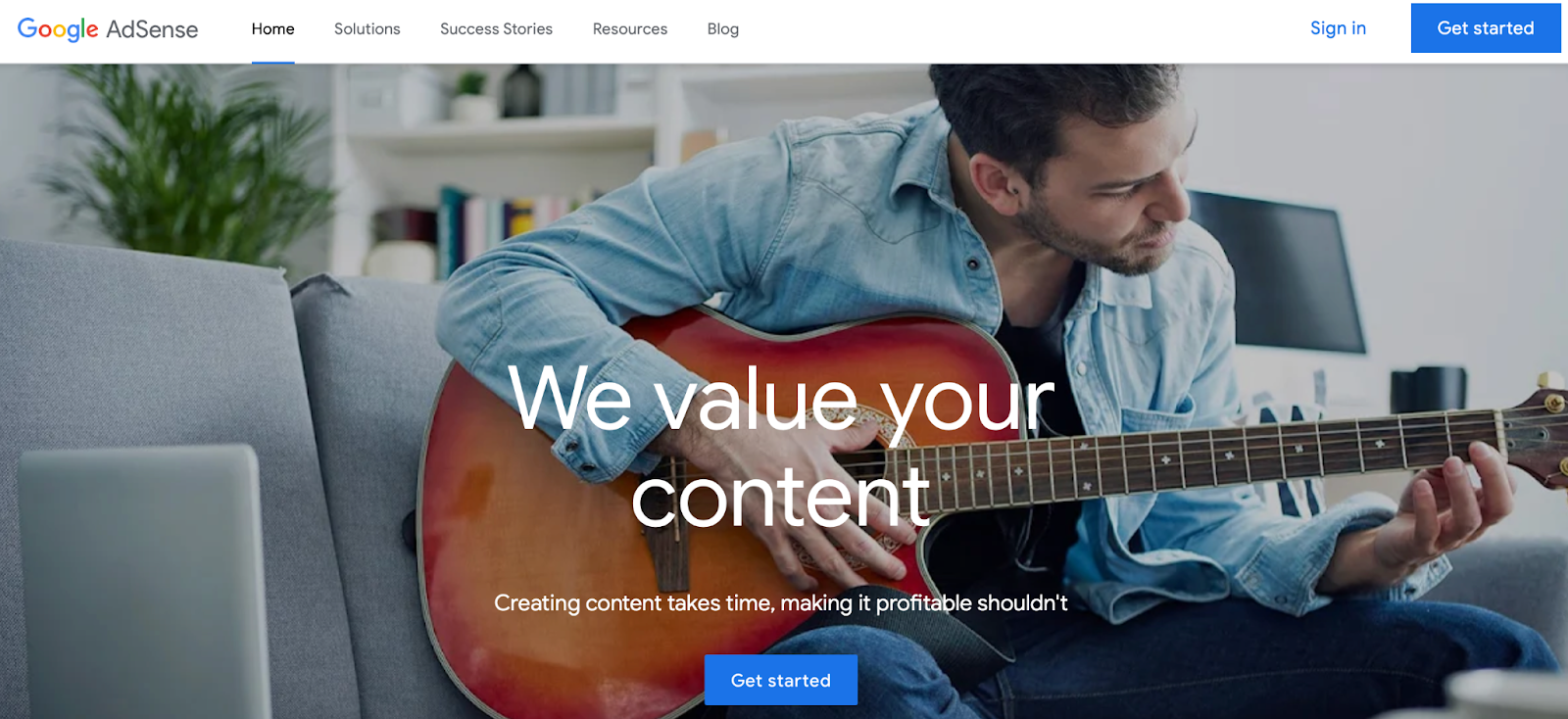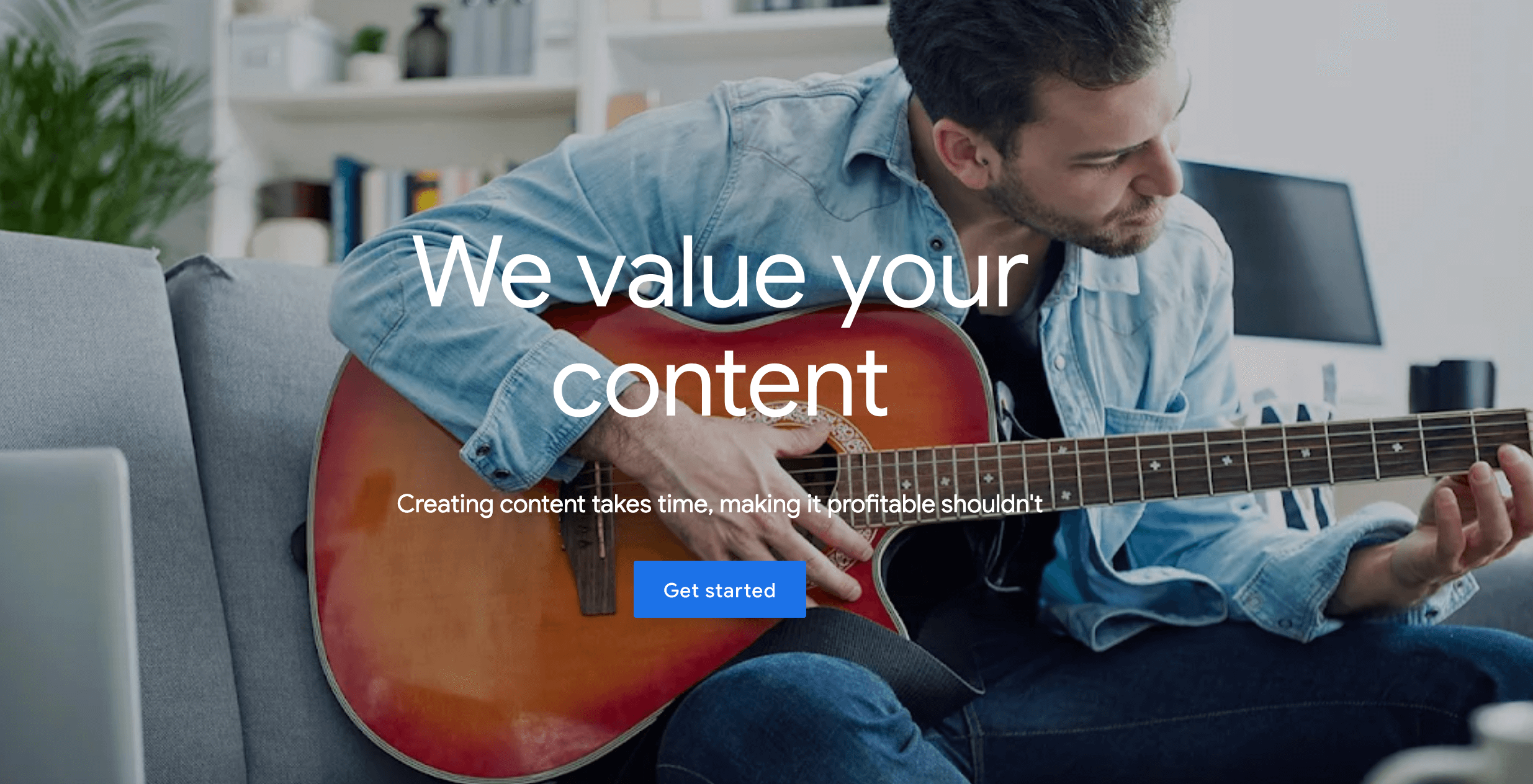 The network matches advertisers that want to promote their business with publishers that have ad space to sell. Typically, you'll be matched with brands that share a similar niche or audience to your website.
Then, every time a reader clicks on one of your ads, you'll make a cut of whatever the advertiser pays Google. It's important to note that you might not make as much money as you would by doing this yourself, but it requires much less effort. Plus, Google's ads are less disruptive to your User Experience (UX).
To get started, you'll need to create a Google account. You might already have one if you use tools like Drive, Docs, or Gmail. Then, you'll fill in a quick form about your website.
Additionally, if you're not sure about the best placements for your ads, you can always opt for auto ads. This way, Google chooses the best locations for your ads automatically.
3. Sell Ads on Your Site
Selling ads on your website requires a lot more time and effort than using an ad network. However, it also means you can reap bigger rewards since there's no middleman taking a cut of the profits.
Instead, you'll go directly to the advertiser, giving you more control over the brands you work with and the ads you run. Plus, it enables you to set your own price and determine how long the ads will appear: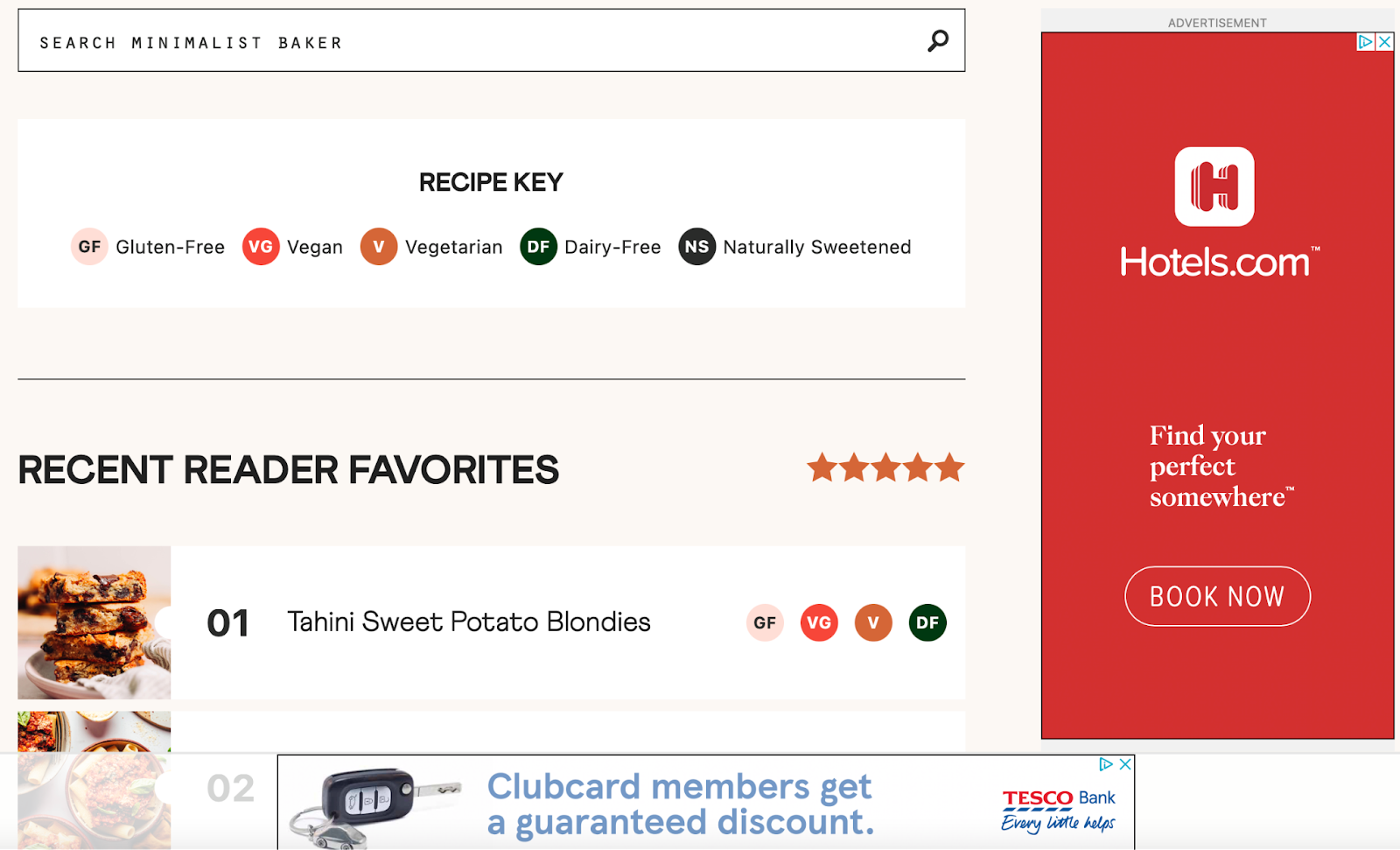 However, with this method, you'll need to be comfortable handling the negotiations yourself. What's more, it requires you to catch the eye of advertisers. Factors that can make you seem more appealing include high traffic numbers, competitive pricing, and a sought-after niche.
To get started, you'll need to find advertisers that you want to work with. Then, you'll need to give them a reason to work with you. Once your site grows and you have a larger sphere of influence, this strategy becomes easier. In fact, quite often, brands can end up reaching out to you.
4. Publish Sponsored Posts
Sponsored posts offer another monetization method that's based around partnerships. However, it's much less aggressive than presenting ads on your site.
You'll still need to join forces with other blogs or companies. But, rather than promoting these brands directly, you'll publish content on your blog that features their products or services. This tends to feel more natural for some publishers, rather than taking a hard-sell approach.
There are also different ways that you can execute this strategy. For instance, the brand can create the content and hand it to you for publication. Or, you can create the content yourself. In which case, you can charge a lot more.
The sorts of posts you can create include roundups, product reviews, tutorials, etc: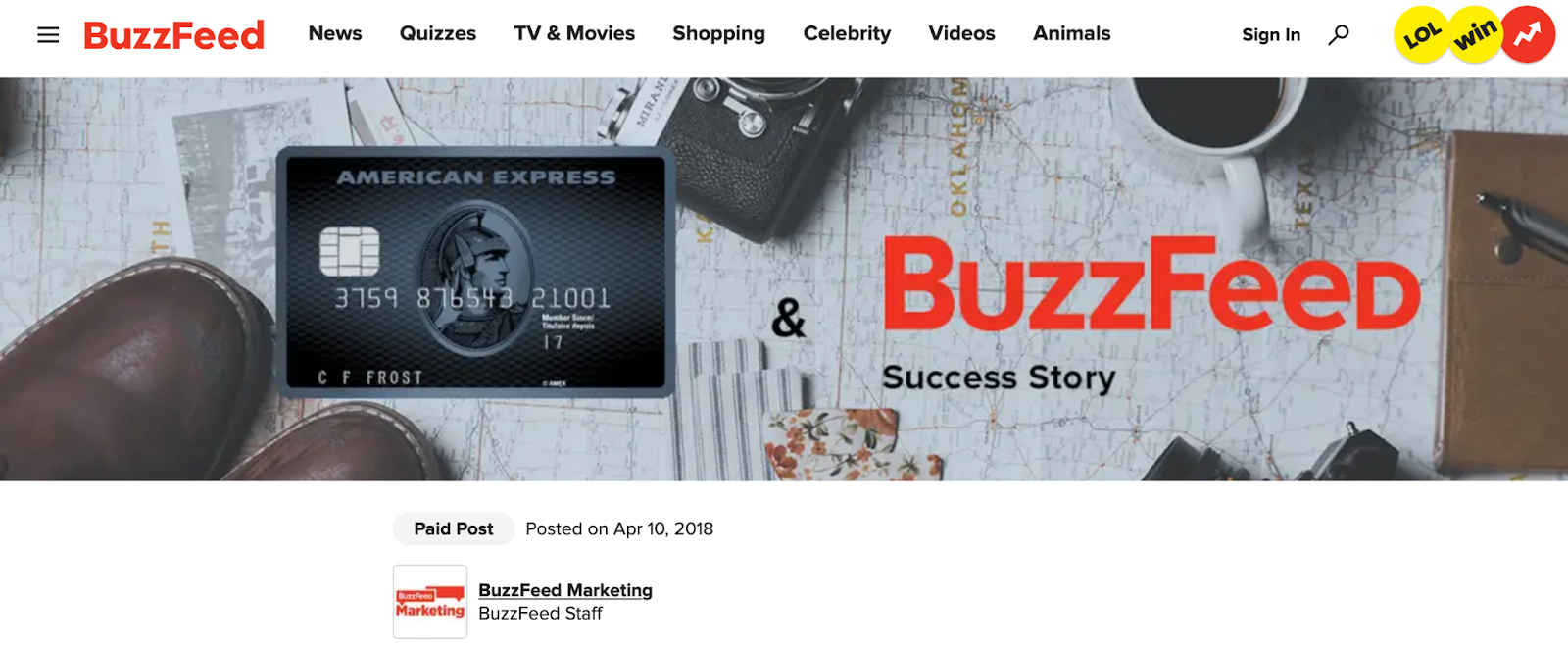 However, there are some key factors to consider before getting started with this method. For starters, you'll need to make sure you adhere to the Federal Trade Commission's rules regarding disclosure. As such, it's important to be transparent about any posts that are sponsored.
You can reach out directly to companies or blogs that you want to work with. Or, you can register with a site like PayPerPost:

PayPerPost is a directory that enables sponsors and bloggers to connect with one another. All you need to do is fill out a quick form to get listed in the directory.
5. Become an Influencer
If you already have a strong social media presence, one of the easiest ways to monetize your website is to become an influencer. However, strong doesn't necessarily mean big. In fact, micro-influencers have as little as 1000 followers.
Micro-influencers are an attractive option for brands since they are a lot cheaper than partnering with more established creators. Plus, quite often, micro-influencers occupy a more specific niche which can be appealing to sponsors.
For instance, Gvantsa Ivanishvili is a fashion influencer with just 14.9k followers. But, thanks to her minimalistic style and clean content, she's acquired a loyal and engaged audience: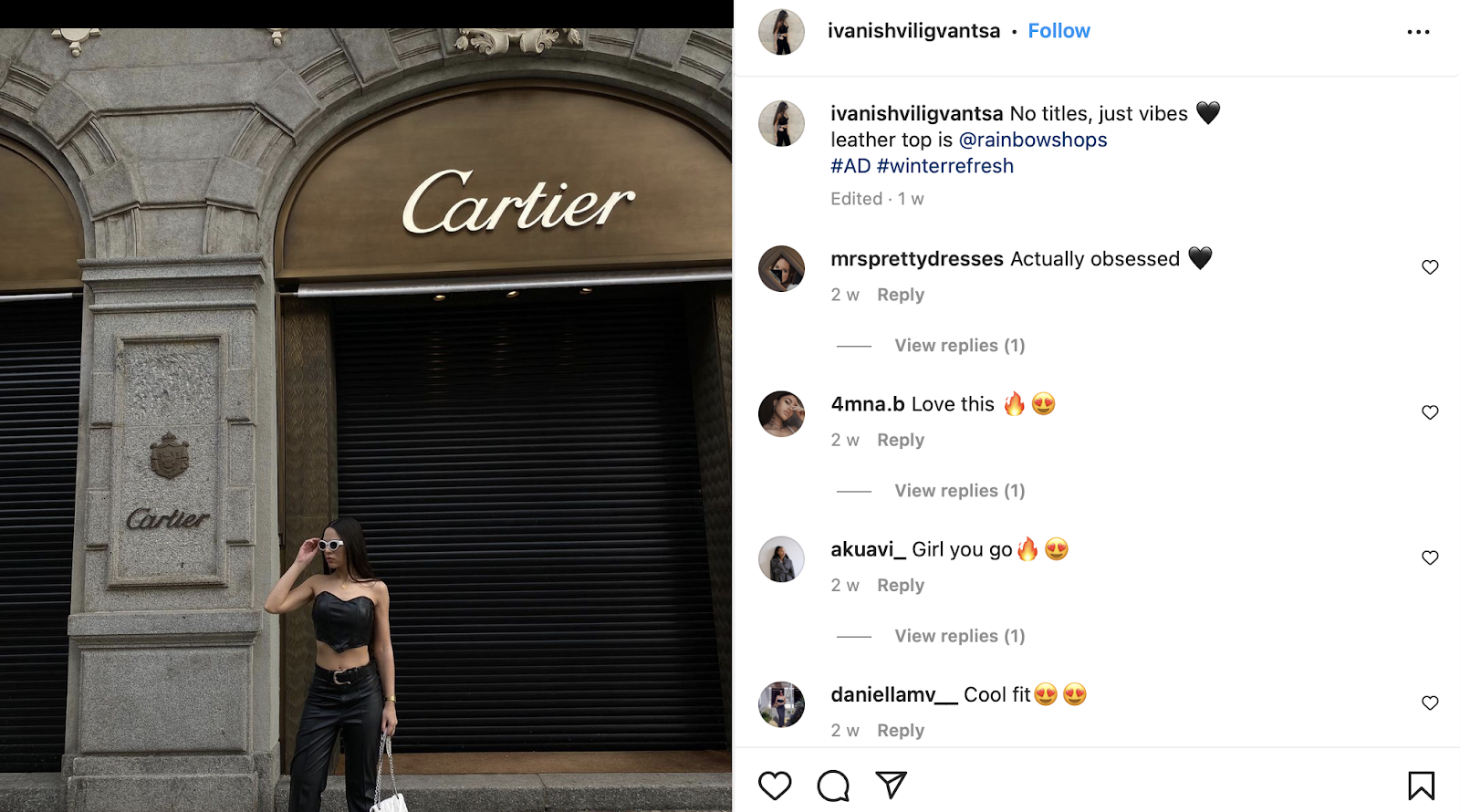 If your following is small, it will generally be up to you to strike up negotiations with brands. However, as your influence extends, companies can end up flocking to you.
Influencing works a bit like affiliate marketing, but it's largely based on social sites like Instagram and TikTok. Similar to affiliate marketing, you'll recommend products and services in exchange for a fee. But, pricing tends to be more flexible, working on a case-by-case basis.
Typically, you'll be paid a commission as you would with affiliate links or ads. Eventually though, you could be given a contract for your efforts. This can bolster a long-term partnership, enabling you to generate a more stable income: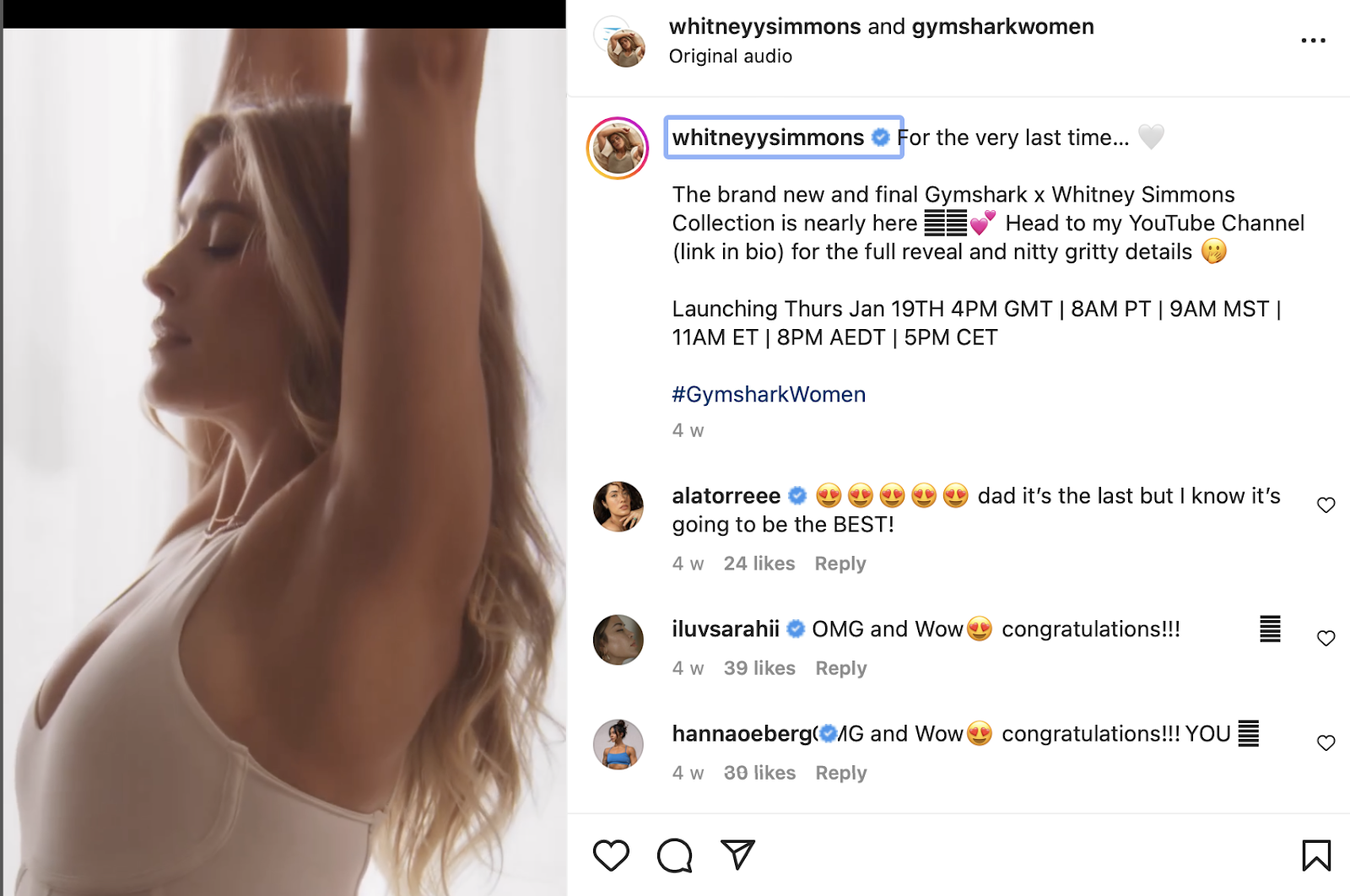 To get started, you can reach out to companies or apply to a site like Famecast. You'll also need to work on building your network and engaging with your audience to build loyalty.
6. Sell Physical Products
If you make physical products yourself, or you have the potential to start doing so, you can monetize your website by selling your work. Think about the types of custom gifts you find on marketplaces like Etsy. Thanks to the level of personalization, these tend to be a big hit: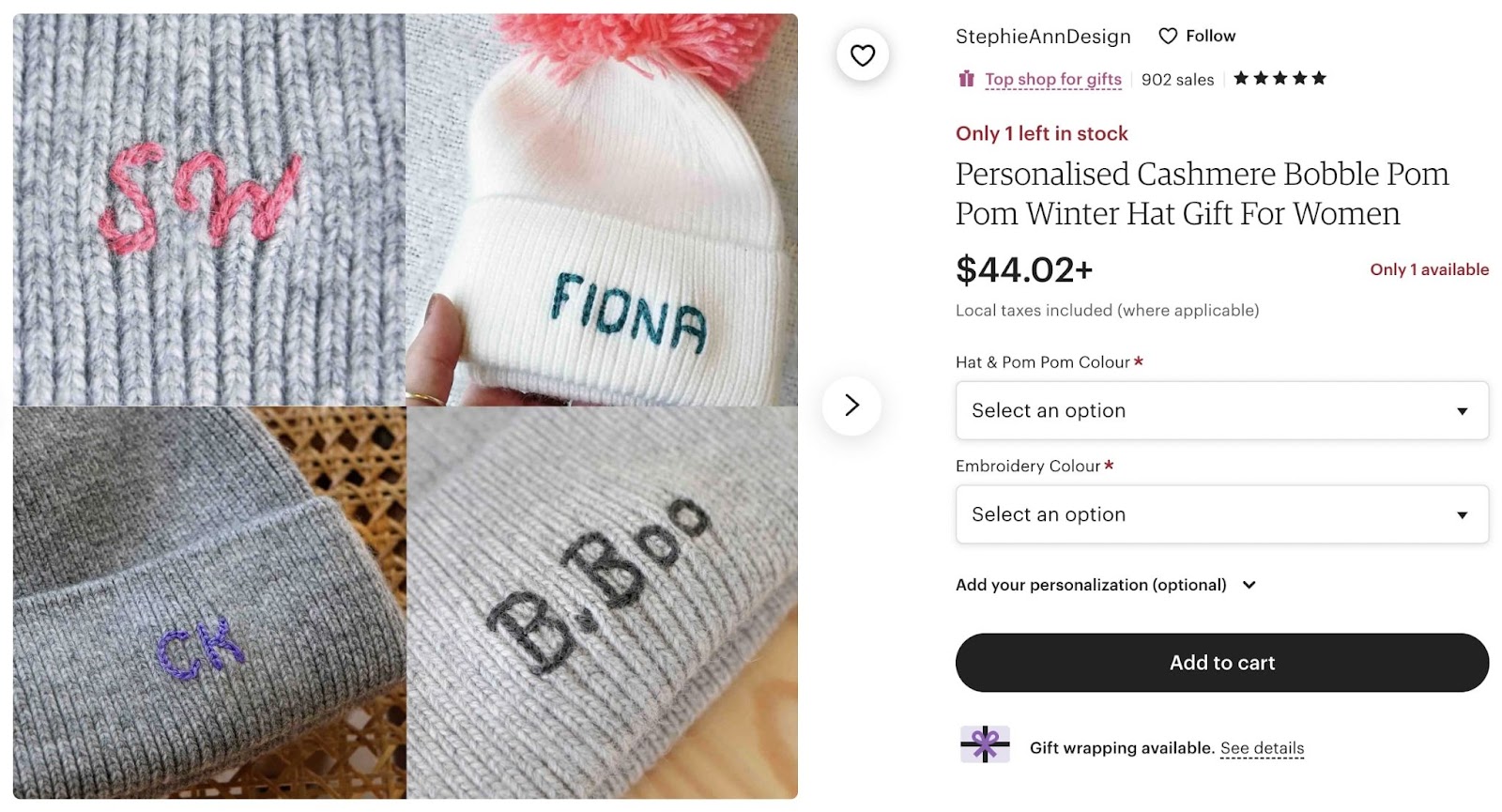 However, with these types of marketplaces, you can end up paying hefty commission prices. Instead, you can get started with WordPress and then install WooCommerce to transform your website into an online store. Then, you can accept payments by integrating your store with a payment gateway like PayPal.
You can sell anything from hand-made goods like ceramic mugs or leather accessories to personalized greeting cards. Or, if you don't have the creative skills to get going yourself, you can always resell products you've purchased from a supplier.
7. Sell Digital Products
Digital products are easy to sell since they don't require inventory space or shipping costs. This makes it less expensive for you to get started with this monetization method. Better yet, digital products are usually downloaded by users, so they are instantly accessible.
When it comes to digital products, there are plenty of options for you to choose from, depending on your area of expertise. For example, you might be a personal trainer. In which case, you could sell workout guides. For creative professions, you can sell photographs, sheet music, or illustrations:

If this is an option for you, the best news is that it's super simple to get started. Once you've set up your website with WordPress, you can add a plugin like Easy Digital Downloads to store and sell your digital files.
8. Create Licenses for Your Digital Products
In addition to selling digital products, you can also sell the license agreement for each of your products. The license determines what the customer can and can't do with the product since the item contains your intellectual property.
You can use different licenses for different products, or match licenses to specific pricing levels. For instance, you might offer a lower price for a license that's only valid for non-commercial usage. However, it's generally best to consult a legal professional when deciding on licensing.
9. Offer a Coaching or Consultation Service
If you have expertise in a specific area, you can offer a coaching or consultation service to monetize your website. For instance, you might be a thought leader, industry expert, or influencer.
This is an excellent venture if you enjoy engaging with people one-on-one. Your coaching or consultation service can be done in-person. But, you can also leverage virtual sessions to reach more people, regardless of their location: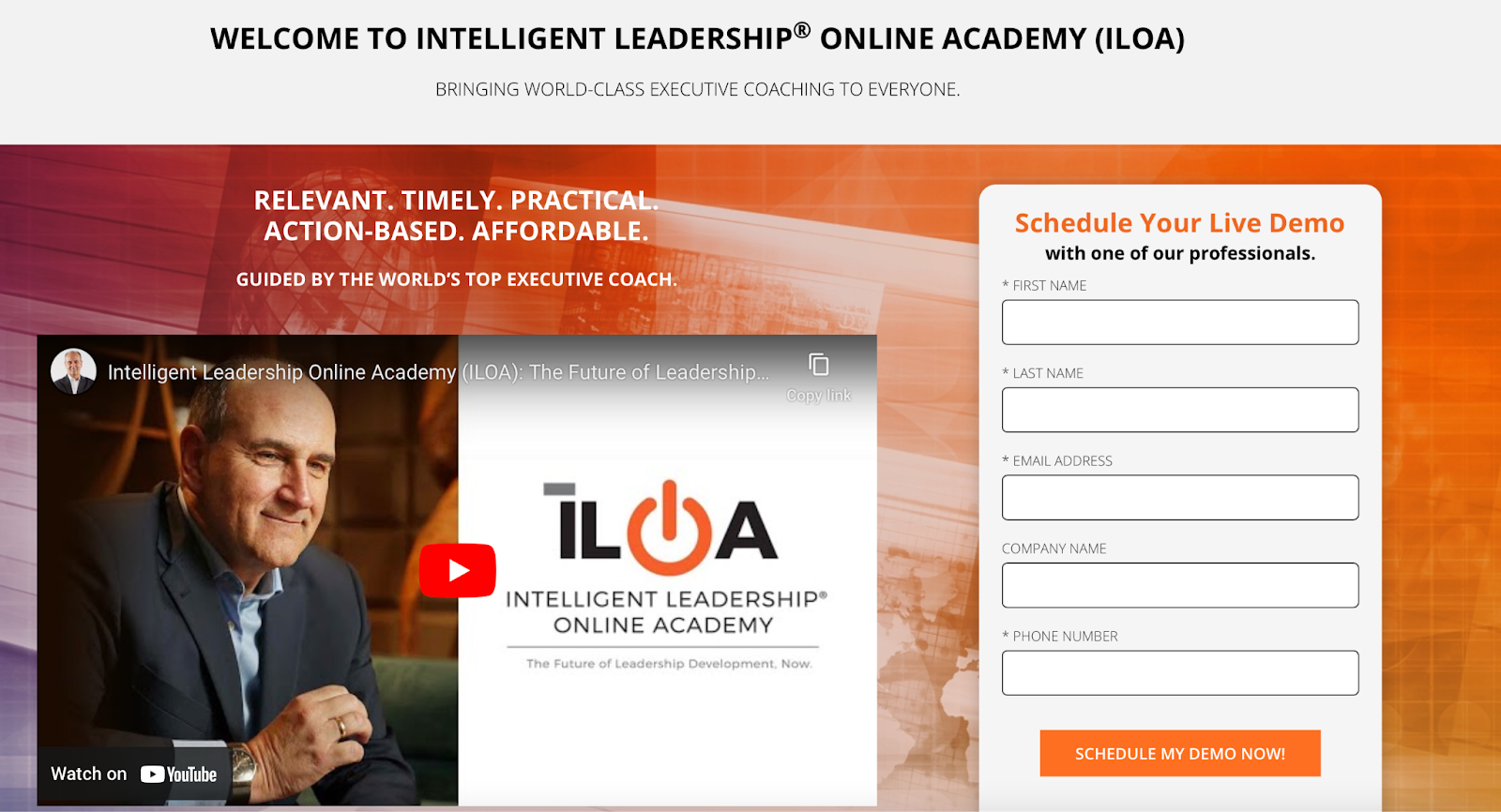 It's important to be aware that this method requires more ongoing time and effort than other options such as passive income streams. Therefore, it's a good fit if you want to ease into starting your own business, with the goal of eventually making it your full-time job.
What's more, you'll need to be able to promote your services effectively. That's why it can be useful to set up landing pages for each of your services while utilizing social media to market your offerings. Additionally, you can add a scheduling plugin to your website like Booking Calendar to enable visitors to schedule appointments easily.
10. Create an Online Course
Another effective way to monetize your website is to create an online course. Since COVID-19, distance learning and online education has become increasingly popular.
It's probably no surprise that nearly 46% of students in U.S. public institutions were enrolled exclusively in distance education courses in 2020. Now, it's projected that over 902 million users worldwide will be seeking officially accredited degrees and certificates online by 2027.
Offering online courses is a great idea if you possess a particular expertise that you want to share. For example, you might be a successful expat, thriving far from home. In which case, you could create a course teaching others how to achieve the same success: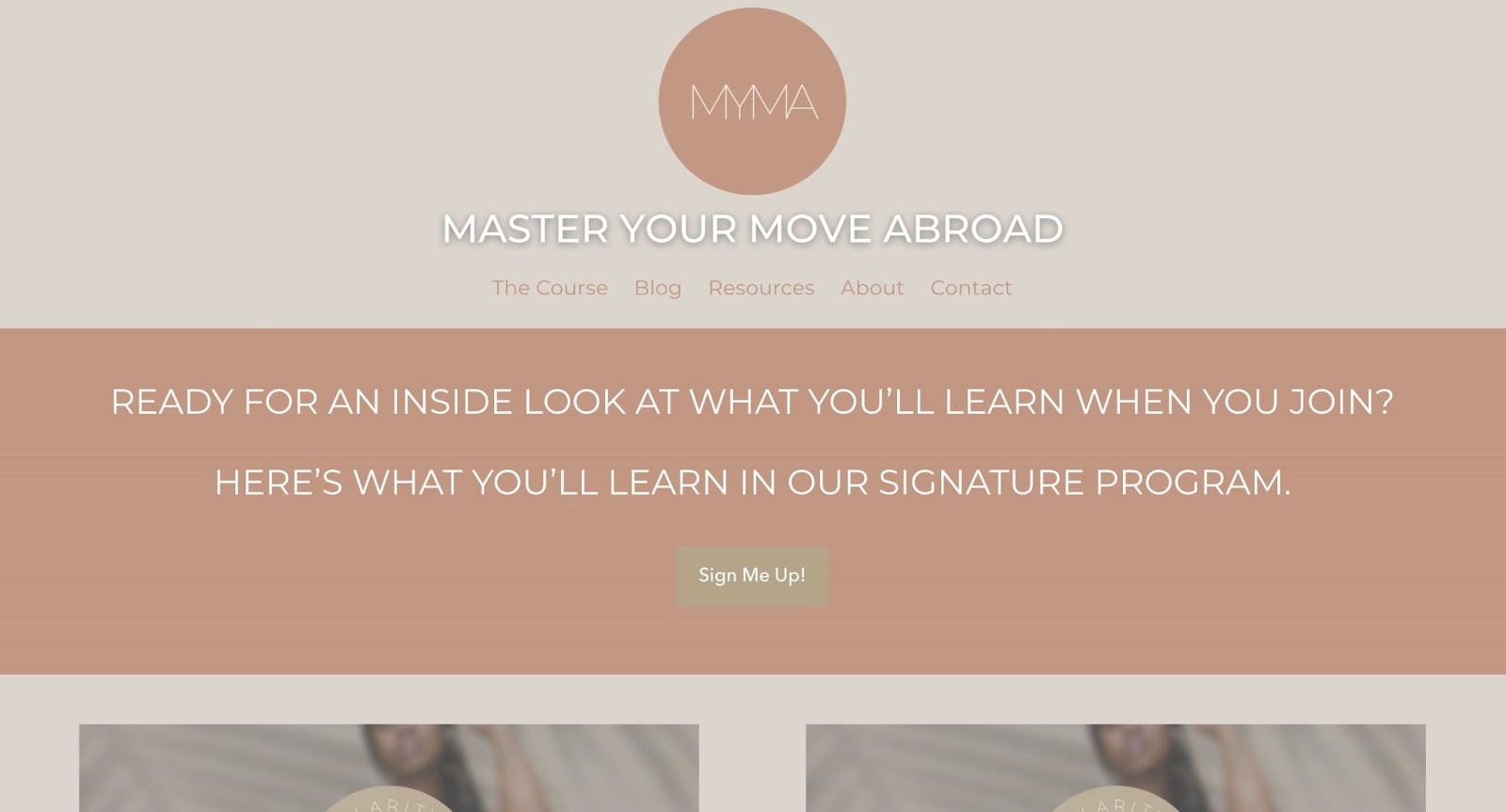 Alternatively, you might be an entrepreneur with the knowledge to help others achieve six figures with a startup. However, you can also create short fun courses. For instance, you might help people learn a language or teach people a craft like knitting or sculpting.
What's great about creating an online course is that you can also combine this method with other ideas in this guide. For example, you can add your affiliate links within your course materials and include ads within your content.
To get started, you can add a Learning Management System (LMS) plugin like MemberPress Courses to WordPress. This tool enables you to set up your courses, integrate a payment gateway, and protect your content with unique membership access controls.
11. Launch a Webinar
If you'd prefer to connect with your audience on a more personal level, then you can create a webinar to monetize your website. This way, you can organize and host virtual summits that can be delivered as recorded or live webinars.
This is a great option if you enjoy having lots of control over your schedule, since you're able to leverage specific times of the year when you need an income boost. Plus, it's a very flexible option.
For instance, your online event can be anything from a mini conference to a workshop: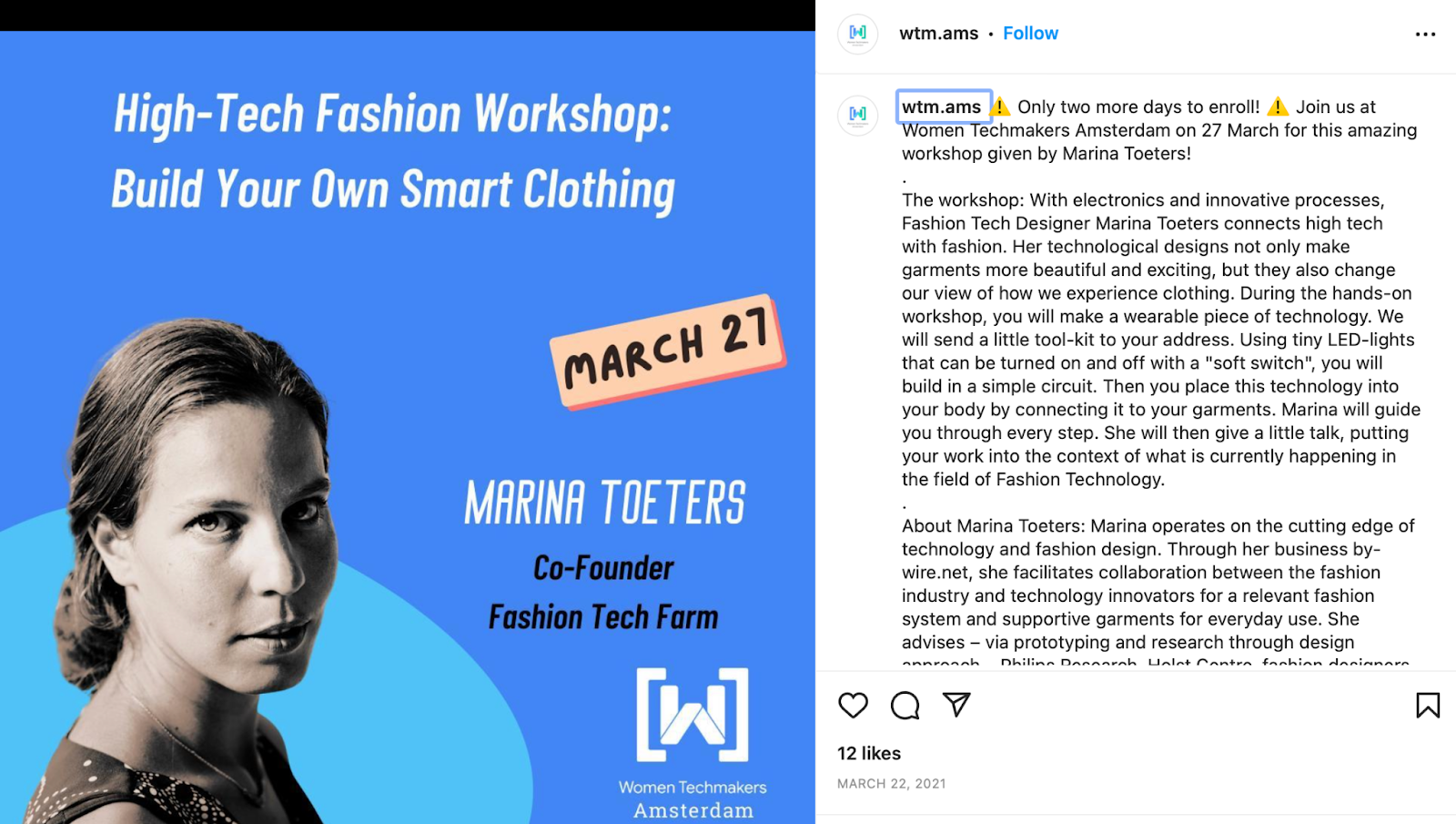 You can either charge visitors to join your webinar, or if you run a membership site, you might offer it to your members for free.
To get started, you'll need to embed a list of upcoming events on your pages. Then, you can add a registration form where users can sign up with their names and email addresses. It's super easy to coordinate your website with your webinar using a tool like WP GoToWebinar.
12. Start a Podcast
Starting a podcast is an exciting way to monetize your website. Podcasts have recently become very popular, and they're even expected to gain further traction. Here are some statistics to motivate your future venture:
82 million people listened to podcasts in 2021, with an estimated projection of 100 million listeners by 2024
Only 22% of people were aware of podcasting in 2006 but this figure rose to 79% in 2022
A podcast is also a great add-on to other platforms like blogs since you can repurpose your written material as podcast episodes. Plus, podcasts lend themselves well to video content that you might publish on YouTube or TikTok.
To get started, you can join a podcast network or list your podcast in directories like Spotify and Apple:

Alternatively, you're able to create your own podcast website with a tool like Podcastpage to gain complete creative control over your content.
Then, once you've established your podcast and are attracting sufficient listeners, you can utilize other monetization methods in this guide. For example, you can create a podcast membership site, include ads within your episodes, and publish sponsored content.
13. Create a YouTube Channel
Since YouTube has been around for a fairly long time, you might not think this is a viable method to monetize your website. However, the number of YouTube users has been continually increasing and is estimated to reach a new peak of 1.1 billion users in 2028.
Creating a YouTube channel is a great choice if you enjoy connecting with your audience and producing video content over text-based material. Plus, there are multiple ways to earn money through YouTube such as subscriptions, advertising revenue, and affiliate marketing: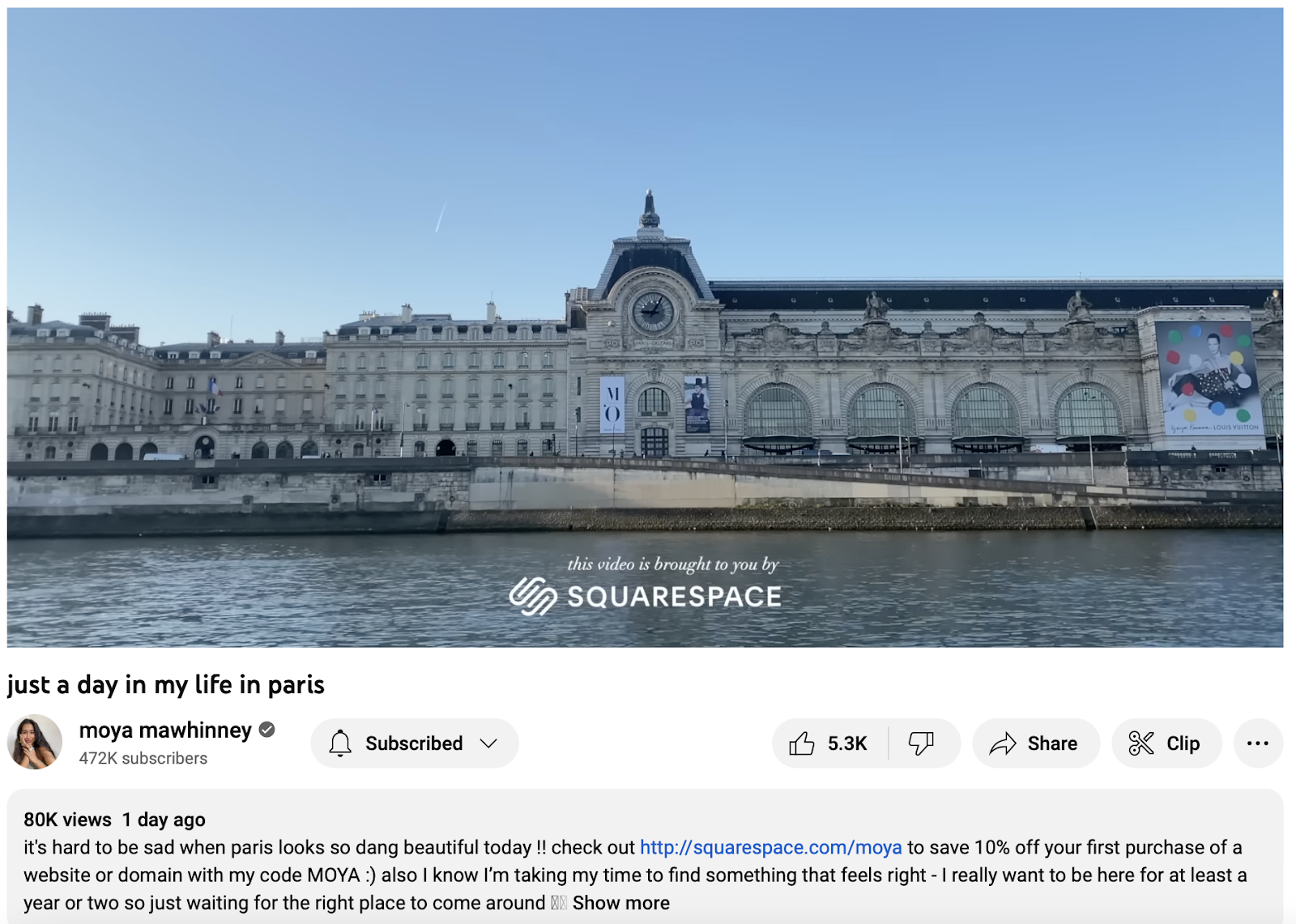 The YouTube Partner Program is a great place to start with your research. If you can't apply for the program, you can still use YouTube to direct visitors between your channel and your website.
Additionally, you don't need to spring for expensive equipment. In fact, it can be best to get started shooting videos with your phone before deciding whether this is an avenue you'd like to explore further.
14. Accept Donations
One of the simplest ways to monetize your site is to ask readers for donations. It's not necessarily the best way to earn lots of money, but you might make enough to cover ongoing costs like web hosting, premium themes, and plugins.
This strategy works best for high traffic sites because even if people don't donate a lot, it can add up to a sizable amount. If you feel uncomfortable asking visitors to donate to your site, it can help to share information about what the money will go towards.
For instance, an artist might collect donations to put towards an exhibition. Or, a musician may collect payments to subsidize touring costs.
Better yet, there are plenty of ways to get started. You can either start a crowdfunding campaign and promote it on social media. Or, you can install a donations plugin like GiveWP.
Lastly, you might prefer the more manual route, implementing donation buttons on your site using a plugin like Buy Now Plus. Then, you can integrate your site with a payment gateway such as PayPal.
15. Create a Membership Website
A membership website is an excellent option if you want to unlock revenue from your site without using ads or partnering with companies. Plus, it's a very flexible solution.
For instance, you might choose to paywall all of your content, making it exclusively available to users with a membership. Or, you can make your website accessible to everyone and then 'gate keep' your best content like blog posts, courses, or recipes:

Typically, it can be useful to offer at least some content to non-paying visitors. This way, users can get a preview of the value that your membership plans offer.
Then, you can provide various membership options to suit different budgets. For example, you can offer a basic option with access to a handful of resources. Meanwhile, your premium plan can provide additional perks for a higher price.
To get started, you can use a plugin like MemberPress to add to your WordPress website. This is an effective way to protect your content with membership rules so that only logged-in users or users with a specific membership can access your content.
16. Set Up a Swag Shop
Setting up a swag shop is a fun, creative way to monetize your site. It involves selling physical products (usually) that feature your brand name and/or logo. As such, it works best for individuals or brands with a loyal fanbase.
When choosing products to sell, it's helpful to consider your niche and audience. For instance, a serious profession like a law firm might opt for coffee mugs or stationary. Meanwhile, individuals in the creative sector might prefer to sell clothing items or phone cases: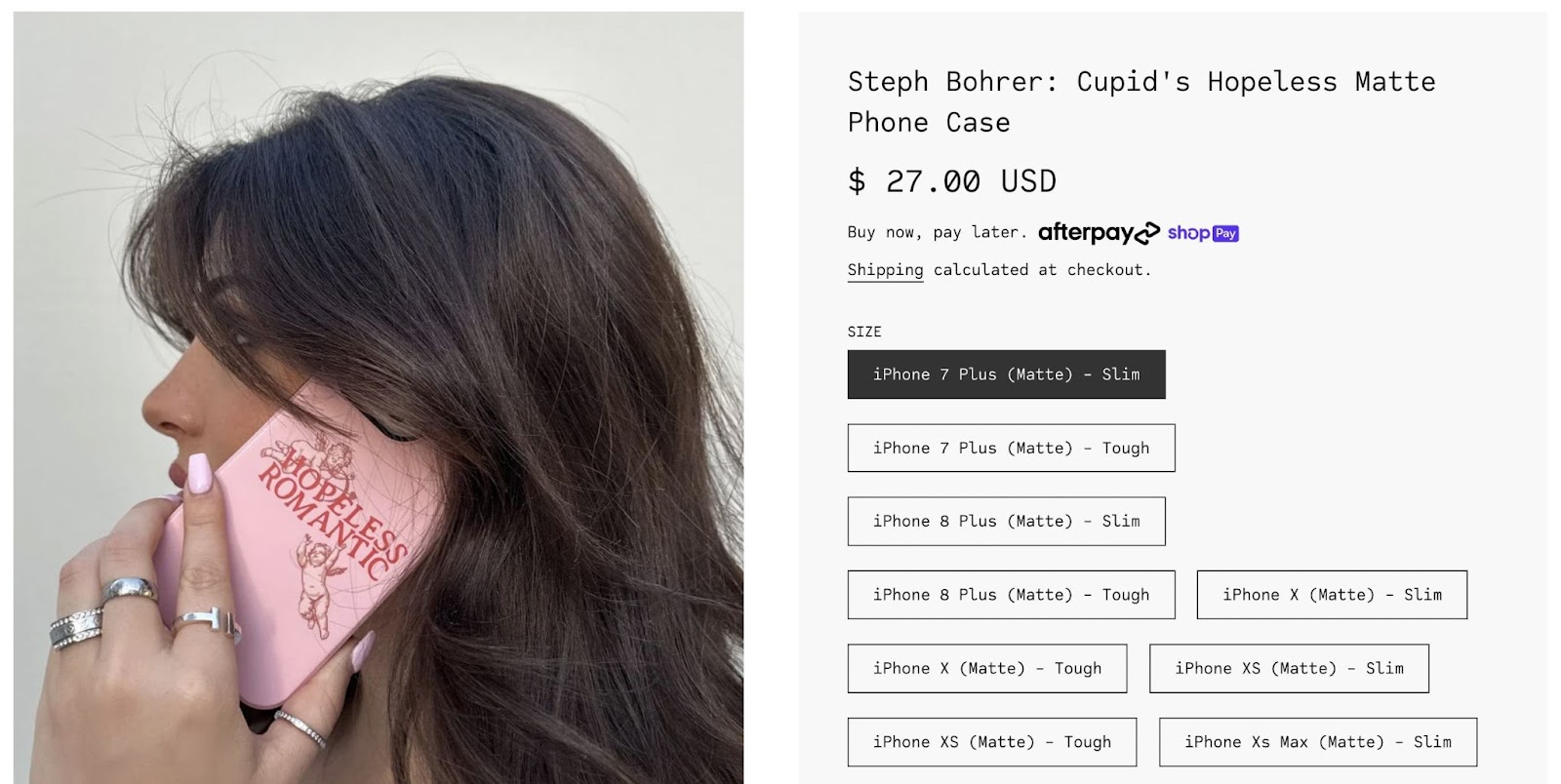 You can get started with WooCommerce if you want to turn your site into an e-commerce store. Then, you're able to use the handy Printful Integration for WooCommerce.
This enables you to create a swag shop, choosing from an inventory of over 220 items. Better yet, some of these items can be customized by your followers. Plus, Printful will even ship items to your customers and help you set your prices.
17. Create a Dropshipping Store
Dropshipping is a relatively new but highly popular way to make money through your website. It's a great way to test out ideas without having to invest in actual products yourself. This makes it a low-risk business venture.
So, what do we mean by that? Dropshipping enables you to sell products without actually having them in stock. Instead, you'll purchase the items from a third-party site like Amazon. Then, the third-party site delivers the items to your customer. Essentially, you're the middleman that facilitates the sale while making a profit.
You can use a tool like Oberlo to find the right products to sell. However, it's best to go into dropshipping with an open-mind and a flexible approach. For instance, you might find that your preferred niche is too competitive. Or, perhaps your products aren't in demand. In this instance, you can move onto another niche or product that sells better.
18. Deliver Premium Content to Your Email List
So far, we've looked at website-based monetization strategies. But, there are plenty of channels you can make use of. For instance, you can build your own mailing list and deliver premium content to your subscribers:

Like a membership website, this method works best with a loyal audience since members need to be willing to pay to access your content. Once your mailing list is set up, you can connect with readers in all sorts of ways. You might send newsletters, articles, or discounts for your products (or for your affiliate partners).
But, for those who have a membership to your site, you can also send premium content straight to their inboxes. Typically, you'll need to include a signup form on your pages using a plugin like WPForms. Then, you can integrate your form with an email marketing provider like MailChimp.
19. Monetize Your Media Gallery
If you have a website with lots of original images, you can monetize your Media Gallery to generate an income. For instance, you might run a photography portfolio site or perhaps you design your own illustrations.
This way, you can sell your images straight from your Media Gallery in WordPress. All you need is the NextGEN Pro's eCommerce System: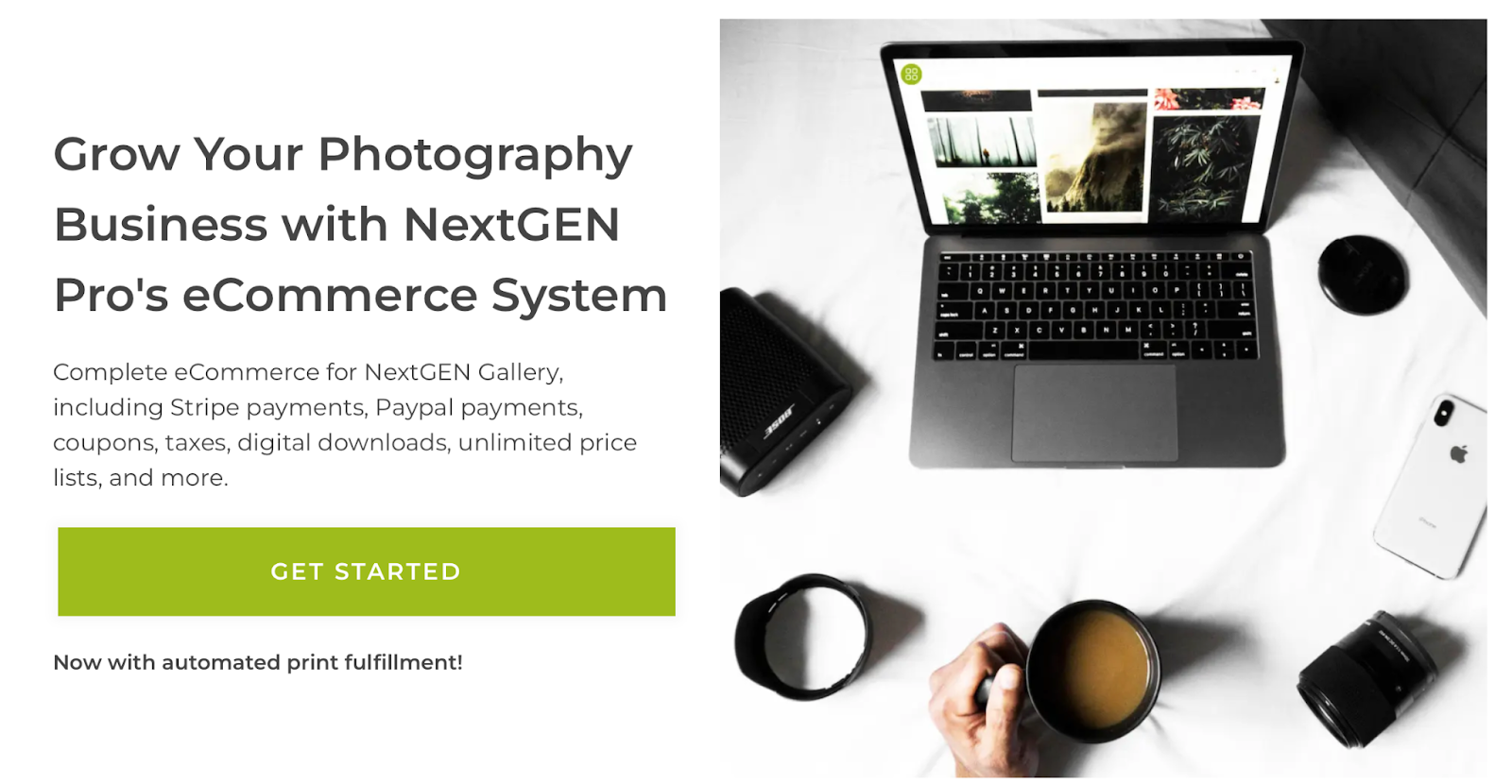 Once it's installed, users will see a shopping cart appear beside each of your images. Then, when a visitor clicks on one of your images, they're able to view your pricing information. What's more, with NextGen Gallery, you can create an unlimited number of price lists, customize your gallery, and adjust the way your images display.
20. Flip Your Website
This method is slightly different from other options on this list. Rather than monetizing your existing website, you can sell your website in exchange for a price.
It works in the same way that you'd flip a house. You create and do up the site to make it more valuable. Then, you sell it to the highest bidder.
However, in order to attract bidders, you'll need to design an impressive website with quality content. Therefore, this strategy works best if you possess some technical skills since you're able to do development and design work fairly quickly, without outsourcing the job.
Empire Flippers is a marketplace for businesses, so it's a great place to find opportunities. It's also important to note that while you can flip your website, you're also able to sell business names and domain names separately which can result in higher earnings.
21. Set Up a Directory
Throughout this post, we've mentioned directories quite a bit. There are podcast directories, advertising directories, business directories, and more. Typically, they're used by individuals and companies to connect with others to form mutually beneficial relationships: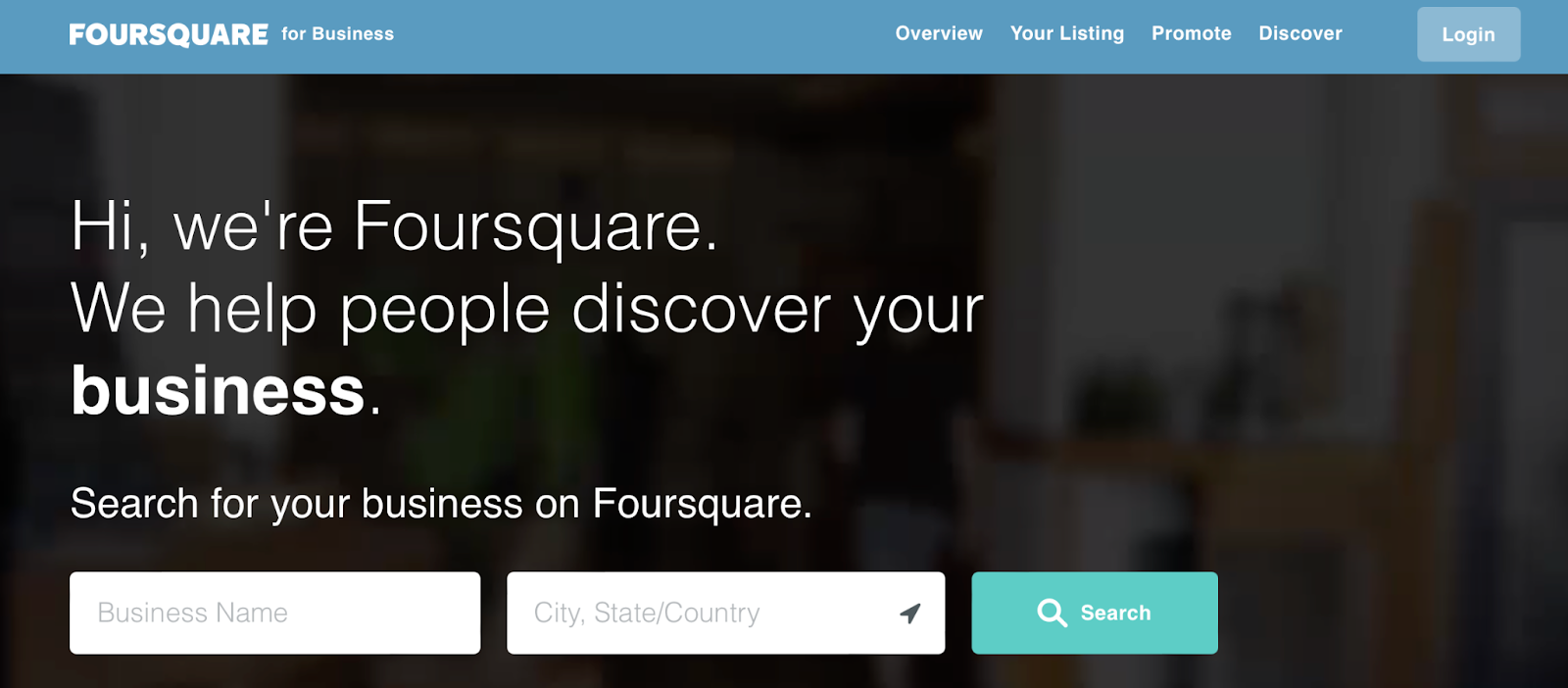 Since one (or both) of these parties pays to access the directory (or pay a commission), this can be another great way to monetize your website. You can charge a monthly or annual listing fee. But, you can also make money in other ways.
For instance, you can give businesses the option to pay more for premium listings. Plus, you can leverage your advertising space, and charge extra for users to make bookings and reservations.
It's best to stick to a clear, focused niche in order to make your directory stand out. You might choose to create a podcast directory or a job directory. Then, you can determine your price based on your website's traffic level.
Turn Your Website Into Cash Flow Today
Quitting your day job might seem like a pipe dream. However, there are ways to monetize your website so that it can become a reality. Or, at the very least, generate a significant bonus income.
For example, when you already run a high-traffic site, you can get started with affiliate marketing. Or, if your website has a loyal following, you might create a membership site or set up a swag shop. Plus, you can find even simpler methods such as monetizing your Media Gallery, selling digital products, or accepting donations.
If affiliate marketing sounds appealing, check out our DreamHost affiliate program. This is one of the quickest ways to start making money from your site. With DreamHost, you can earn up to $200 per referral!
Become a DreamHost Affiliate
Join the DreamHost Affiliate Program to get cash quickly. Earn up to $200 per referral!