Introducing ChartMogul CRM | ChartMogul
Today is an exciting day for us at ChartMogul; we're launching a CRM, tailor-made for B2B SaaS companies. And we're excited for you to try it.
A CRM designed for B2B SaaS companies
We've spent the past eight years helping SaaS companies analyze their recurring revenue using our Subscription Analytics Platform. From calculating MRR movements, to enabling cohort analysis, we've helped our customers deeply understand the dynamics of their subscription businesses. 
But for a while we've been thinking that we could provide more prescriptive insights for our customers by combining data from the pre-purchase lead journey, with the subscription history that's already being analyzed in ChartMogul.
We noticed that our users have been doing more and more CRM-like activities in their ChartMogul accounts. They add custom attributes and tags to customer profiles, and save custom customer lists.
So we got to thinking, what would it mean if we built a CRM in ChartMogul? We could combine subscription data with sales opportunities and customer communication in one place. We could build powerful analytics that show performance across the entire customer journey. And we could enable people to answer questions in one platform like "what's the difference in Net Revenue Retention between sales-assisted vs. customers who self-serve?" We figured that if we were able to put all this information in one system, not only would it be more convenient for users (one less SaaS platform to maintain), but we could enable some really helpful insights which aren't possible with any other CRM. 

Naturally, most of our customers already have a CRM, but those CRMs weren't built with the needs of product-first B2B SaaS companies in mind. They don't really handle subscription data at all. So to get the full picture of how much revenue you're generating from sales activity, you need to gather data from a bunch of different places. 
So, we built the CRM that we want to use ourselves. 
A CRM backed by powerful subscription analytics 
ChartMogul can now combine your lead, trial, opportunity, and subscription data together in a single platform, allowing you to analyze your entire funnel in a way no other CRM can. 
We've included many of the standard CRM features you're used to. Your account execs can create opportunities, and manage those deals through custom sales pipelines.
Track all communication with prospects from a single view and use simple workflow features like call logs, notes, and email templates to keep deals moving through deal-stages.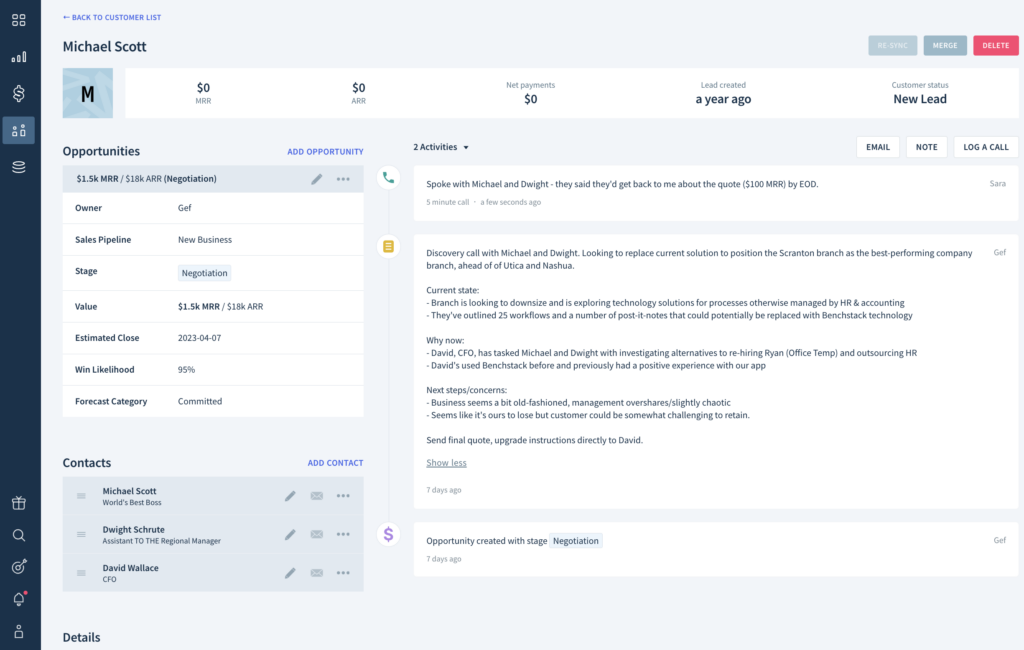 Leaders can get a bird's-eye-view over the current sales-led pipeline and can run forecast calls easily with the whole team. Because we built ChartMogul CRM with SaaS businesses in mind, you can also see self-service revenue and adjust the funnel stages to fit how you think about your customer journey.
The Deal Stage Probability Forecast and Forecast Category Report help managers keep an eye on the current state of the pipeline to see if the team is on track to reach its targets. 
With the Pipeline Funnel Analysis you can measure the rate at which leads become opportunities and see where deals might have stalled. You can see how much of your self-serve business contributes to ARR and how that has changed over time.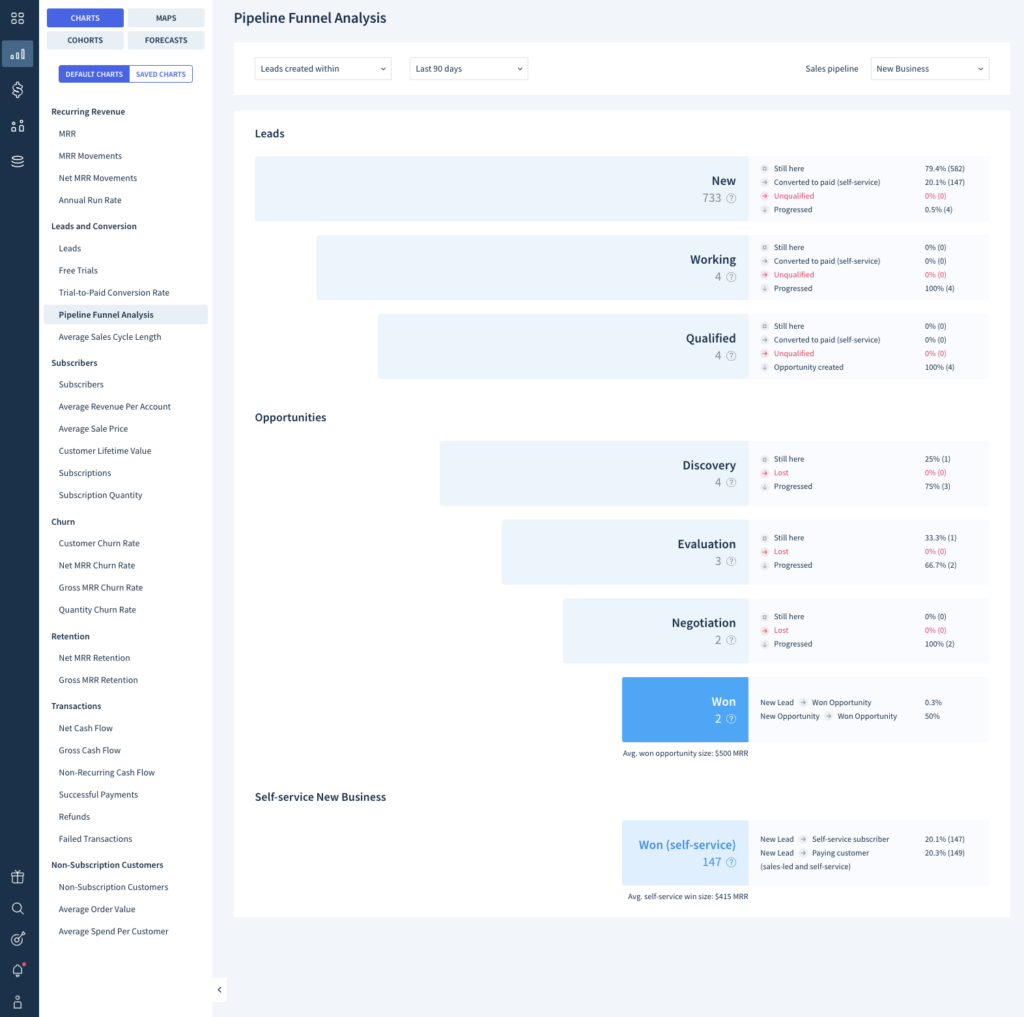 If you'd like to get a personalized tour of ChartMogul CRM and learn more about how it could work for your early-stage start up, book time with us.
Get started today, for free 
Best of all, you can use it right now for free. All ChartMogul customers can assign three CRM seats for free. If you need more than three seats you can upgrade to CRM PRO through your billing page.
Once you've been assigned a seat, you will have access to a suite of new features. Check out the CRM help center section if you need help getting started. 
ChartMogul CRM is a natural extension of our existing product, and a big step forwards in fulfilling our mission of helping more B2B SaaS companies succeed.
There's so much more to come. We'll continue the rapid pace of innovation in Subscription Analytics while also building out the best CRM in the world for B2B SaaS companies like you.