Inventory Counting: Challenges, Best Practices, Software
Editor's note: Serge shares his ideas on how to optimize the inventory counting processes and how modern software can help effectively cope with the task. If you are looking for expert assistance to organize and manage your inventory efficiently, ScienceSoft offers inventory system development, implementation, and evolution.
Inventory counting is an essential process in warehousing: it provides a clear picture of items on hand, helps to keep optimal inventory levels, and facilitates data-driven inventory forecasting. If performed manually, inventory counting is a labor-intensive process fraught with mistakes. Some of the common problems that the customers who come to us for inventory counting automation face include:
Modern technology-based approaches to inventory counting use automation to boost the counting speed and inventory accuracy and ease the burden of doing it manually. The following technologies are commonly used in inventory counting solutions:
Barcodes or QR codes manually scanned with a special scanner or a mobile device provide a fast and efficient way of obtaining inventory data. The scanned information is used to automatically update inventory levels, saving employees' time and effort. This technology's efficiency, though, is limited by the need to scan items one by one.
RFID (radio-frequency identification) tags placed on items contain inventory data that can be captured by RFID readers. Such readers can be hand-held as well as mounted and need no line of sight to count multiple items at once. This technology increases the speed of counting even more and facilitates accuracy.
Drones or robots can be equipped with cameras and readers, enabling them to read barcodes, QR codes, RFID tags, and text to perform real-time counting. They are autonomous devices that can move fast and/or climb at great heights, thus reducing the need for manpower, minimizing health and safety risks, and enabling counting during peak hours.
Inventory counting software streamlines the counting process by collecting, processing, and analyzing inventory data obtained by the abovementioned technologies. Such software not only stores the inventory information, but also interprets it, spotting discrepancies or pointing out long-term trends in inventory levels.
A robust inventory counting solution can help define the optimal inventory level, validate it against the actual on-shelf data, and make differences visible to counters. With real-time inventory status updates, counters can promptly identify the causes of emerging problems and resolve them before they cause any major business disruptions.
Real-time visibility. Inventory counting software provides a real-time picture of inventory range, quantity, location, and condition to ensure seamless warehousing operations.
Accuracy. By reducing the number of manual count procedures, inventory counting software drives counting precision, reduces human error, and improves inventory management discipline.
Shrinkage reduction. Automated inventory tracking helps identify shrinkage caused by errors, theft, or losses and take appropriate measures to eliminate the problem.
Inventory optimization. Up-to-date information provided by inventory counting software is essential for optimizing inventory levels to prevent stockouts or overstocking and avoid unnecessary storage and handling expenses.
Smooth document flow. When integrated with other corporate systems such as accounting and procurement solutions, inventory counting software contributes to generating accurate balance sheets and financial reports in a timely manner.
Customer satisfaction depends directly on a company's ability to fulfill orders on time and in full. Inventory counting software can help achieve sufficient inventory levels and wise inventory planning.
Inventory counting software helps obtain accurate data that affects all company activities: warehousing, order processing, accounting, etc. Modern solutions enable precise inventory planning, help reduce storage costs, save time, and enhance warehouse performance, thus ensuring higher customer satisfaction and boosting profitability. If you need a state-of-the-art system to achieve up to x15 faster stock counting and 25%+ reduction in labor costs, do not hesitate to get ScienceSoft's experts on your project.
Choose service model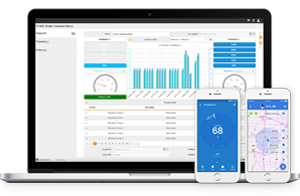 IoT Services by ScienceSoft
From strategy development to support and evolution – we will lead your IoT initiative from 'How?' to 'Wow!'