IoT for Banking and Finance: Trends, Benefits, Use Cases
Editor's note: In this article, Boris describes the role and advantages of IoT for banking and finance and provides examples of how companies adopt IoT solutions to advance their banking services. ScienceSoft's Internet of Things (IoT) team will help you discover and customize numerous IoT opportunities for your business, just let us know.
The Internet of Things (IoT) is an advanced technology that enables networks of connected devices (e.g., sensors, cameras, smart gadgets) to collect real-time data, transfer it to the cloud for processing and analysis, and react to events in real time. IoT plays an important role in banking and finance, ensuring efficient data collection and processing and supporting digital automation of key processes. With IoT-enabled solutions, BFSI companies can optimize their services and operations, enhance the security of transactions, and offer cutting-edge customer experience.
Improved customer view & personalized customer experience. IoT solutions collect and process customer data (regular payment locations, consumer preferences, driving behavior, etc.) that help BFSI businesses learn more about their clients and identify their needs and risks. With detailed and up-to-date customer profiles, BFSI companies can personalize customer interaction, offer targeted services, and provide relevant financial assistance.
Automation. IoT-powered systems can automatically perform certain operations: process requests, open bank accounts, disable credit cards, etc., thus minimizing human intervention and, as a consequence, human errors.
Enhanced security. IoT helps connect and remotely control CCTV cameras, smart alarm systems, vehicle telematics, and other monitoring technologies to ensure 24/7 security of property and equipment (offices, ATMs, CIT vehicles, etc.) and send alerts in case of malicious activity. IoT is also a driver of cybersecurity: wearable devices enable user authentication via fingerprints, retinal scan, and face ID when customers make payments via mobile apps.
Fraud detection. IoT coupled with AI-powered analytics helps identify fraud and hacker attacks by collecting and analyzing user account data. If suspicious activities are detected, the user can be promptly alerted, and their account – temporarily disabled.
One-touch payments. Thanks to the integration of banking IoT solutions and wearables, users can make payments without using their credit or debit cards directly. NFC-powered devices, such as smartphones and smart watches, enable contactless payments for seamless financial transactions.
Smart branch. IoT solutions for smart branches optimize customer experience by monitoring queues and informing customers of their waiting time or directing them to a free counter. Smart branches can share user data to improve their workflows and minimize the involvement of staff. For instance, Virgin Money's Studio B in London leverages Amazon's voice assistant Alexa, which allows customers to ask simple questions about financial matters using voice recognition technology. The branch is also equipped with facial detection to monitor how customers interact with the space.
ATMs. IoT-enabled data flow helps banks track customer activity, define ATM usage patterns, and make demand-based ATM installation decisions. Data on ATM site environment (room temperature, light, motion, etc.) from IoT sensors is essential in switching to cost-cutting operation modes: adjusting HVAC and lighting to ATM site foot traffic makes it possible to lower power consumption. By ensuring real-time monitoring of ATM operations and cash levels, IoT solutions also contribute to managing incidents such as the use of skimming devices, card reader malfunctions, cash shortages, etc. IoT can also drive enhanced credit card experience when it comes to ATM usage: the US-based Citibank authenticates their clients and provides cardless entry into its IoT-enabled ATM lobbies after hours via wearables with Bluetooth beacons (e.g., smartphones).
Trade finance. For banks involved in trade financing, IoT ensures the visibility of physical flows they are financing and enables decision making based on real-time information. IoT-generated data helps the banks better assess the risks throughout the trade life cycle, allocate funds more efficiently, and scale up finance strategies. For instance, Austria's Erste Group Bank AG offers cutting-edge IoT-enabled inventory finance to its large corporate clients. The data collected via monitoring the movements of goods with IoT sensors helps enhance the visibility and security of the assets and facilitates prompt recognition of those assets on the balance sheets of Erste's clients.
Insurance. IoT devices monitor the state of insured objects and alert the insurers of any abnormalities so that they can intervene and take proper measures to reduce risks. Insurers also leverage IoT-generated data to take on a preventive approach and predict incidents. For example, an insurer can detect an asset failure and warn a policyholder before it's damaged. This approach helps decrease the number of insurance claims as well as prevent insurance fraud.
A more specific case of the above is usage-based insurance that is being actively adopted by auto insurance providers across the globe. A combination of IoT and telematics (GPS tracking, on-board car diagnostics) helps insurers collect the data on the vehicle condition and driver behavior to provide personalized insurance plans. For example, Progressive, a US car insurer, launched a telematics-based auto insurance program called Snapshot. Telematics devices transmit personalized driving data to the insurance provider, and safe driving behavior is rewarded by lower insurance rates.
Another interesting example is analytics-focused ColdCover by Parsyl Inc., a cargo insurance suite for perishable goods that uses IoT sensors and data analytics to track shipments in real time, monitor temperature fluctuations in containers, assess risks, and send alarms in case of temperature breaches and spoilage at any point in the supply chain. With advanced visibility and analytics, Parsyl can investigate claims and make payouts to shippers within 72 hours.
Accounting and audit. IoT-enabled communication of the clients' payment systems and the CPAs' software ensures quick and secure data exchange and facilitates the automation of routine bookkeeping processes such as data entry, reconciliation, invoicing, etc. With IoT, accountants can track financial data in real time and gain accurate insights into a company's operations to better perform advisory functions. IoT also makes a difference in auditing by boosting transparency and automation: CPAs can monitor transactions and control audit trails on the fly to quickly reveal data inconsistencies and prevent fraud.
Banking and Finance on the Way to Technological Advancement
IoT offers a range of digitalization benefits to BFSI: from 360-degree customer view to enhanced financial security, fraud detection, advanced insurance strategies, and more. IoT-enabled advancements help banking and finance companies meet their clients' expectations and offer a better customer experience. If you want to expand the capabilities of your business with IoT, reach out to ScienceSoft: our experienced team knows how to make IoT work for you.
See what we offer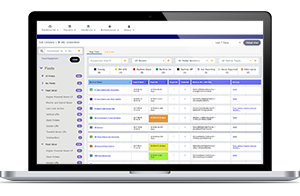 Industrial IoT (IIoT) solutions by ScienceSoft
Are you starting an industrial digital transformation and looking for a reliable and cost-effective IIoT solution? Check out our offer!