Key Advantages & Top 3 Solutions
Editor's note: Sergey describes what an employee intranet is, outlines its key benefits, and reviews the top 3 software solutions. Feel free to contact ScienceSoft and learn more about our SharePoint intranet solutions if you are looking to build a modern and secure digital workplace.
An employee intranet is a corporate web platform used exclusively for internal communication, information sharing, and document management. It provides a single point of access to business-critical data and improves the efficiency of information exchange and team collaboration. A company intranet gives the management visibility into company workflows, promotes corporate culture, and creates a better employee experience.
7 Reasons Your Company Needs an Employee Intranet
Enhanced knowledge management. An intranet portal centralizes all business-critical data and promotes independent knowledge sharing, management, and search via process checklists, FAQs, discussion forums, knowledge bases, etc.
Improved employee self-service. An intranet platform enables employees to digitally submit and receive approval for routine requests, reports, and other paperwork. It streamlines administrative workflows and encourages employee self-service.
On-the-job employee training. Workplace-based e-learning via an employee intranet is a cost-effective and flexible way for employees to develop and upgrade their competencies without disrupting their regular workflows.
Simplified feedback. A company intranet is a perfect way to engage with employees and get their feedback on various company-related issues through surveys, polls, and questionnaires.
Efficient onboarding. An employee intranet helps new team members connect with their colleagues quicker and makes the onboarding smoother by streamlining access to company policies, instructions, etc.
Improved corporate awareness. With direct messaging, news feeds, company bulletins, and other community features, an employee intranet is the best and fastest way to share information and keep employees up to date on the latest company events and developments.
Improved personal relationships. Whether it is a well-deserved promotion, a prestigious award, or a personal event to celebrate, an intranet portal provides a way to share employee achievements and encourage colleagues to recognize the success of their teammates, creating stronger personal bonds.
Top 3 Employee Intranet Software
Microsoft SharePoint
Best for: organizations looking for a solution with rich enterprise content management capabilities.
Key features:
Easy-to-navigate document libraries.
Employee profiles.
Team sites for interdepartmental collaboration on projects.
Event scheduling and management.
Surveys for employee feedback.
Discussion forums, direct messaging, video calls, and online conferencing.
Role-based user authorization to control access to sensitive information.
More about Microsoft SharePoint intranets
Happeo
Best for: large or quickly growing companies that need a scalable intranet portal to keep their teams aligned.
Key features:
A centralized information hub with Google Workspace and Microsoft 365 integrations.
Pre-built layouts, drag-and-drop blocks, and customizable templates to easily create intranet pages.
News channels to keep up with company or competitor news, review product updates, etc.
Instant messaging and announcements with reading confirmations.
Possibility for employees to set their own language preferences.
Digital communities around shared interests or hobbies to foster team spirit.
Tracking and analysis of user search patterns and behavior to measure employee engagement and refine internal communications strategy.
More about Happeo
Simpplr
Best for: companies looking for a responsive platform with AI-powered features to create a digital space for content management and interaction.
Key features:
Digital workplace for hybrid workforce to gather and communicate.
Automatically updated org chart and data-rich employee profiles.
Customizable onboarding workflows.
Anonymous employee feedback on announcements, policy changes, and events.
Simpplr AI to personalize user experience with targeted content and customizable search.
Auto-Governance Engine to automatically audit intranet content and delete or archive outdated content.
AI-backed analytics with insights into trending topics and user connections to understand employee engagement and behavior.
More about Simpplr
Build a Close-Knit Corporate Community with an Intranet Portal
If you need a centralized software solution that will streamline teamwork, increase employee productivity, and promote corporate culture, implement a corporate intranet. The experts at ScienceSoft are ready to help you choose and fine-tune an intranet portal that best fits your company's specific needs. Just drop us a line.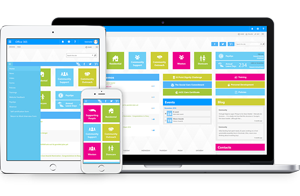 SharePoint Consulting Services by ScienceSoft
Do you face any SharePoint or Office 365 challenges? We are always ready to help and share our hands-on expertise with you.