Key Benefits and Top 3 Solutions
Editor's note: Andrew defines investor CRM software, describes its benefits, and reviews the 3 best solutions for investor relationship management. If you want to implement the right software to better manage your investor relations and close more deals, you are welcome to use ScienceSoft's CRM consulting services.
Investor relationship management software is a CRM with industry-specific features designed specifically for startups and businesses that rely on investor capital, investor relations firms, or institutional investors. As the name suggests, such software helps manage investor engagement, facilitate and track investor interaction, and identify new fundraising opportunities.
Major Benefits of Investor Relationship Management Software
Investor data centralization. Investor relationship management software provides a way to track and organize prospect and investor data such as contact information, bank details, invested capital, deal flows, investment-related documents, etc. in one place. Data centralization helps IR team members to have instant access to all investor records through one convenient source, improving the speed and quality of communication with investors.
Communication management. Investor relationship software helps schedule, manage, and keep records of every investor engagement, including emails, calls, mailouts, and online and offline meetings, providing an efficient way to personalize interactions with investors.
Streamlined workflows. An investor CRM helps optimize routine administrative processes through automated reminders, newsletter templates, capital calls, document creation and submission with e-signatures, etc. to save time and reduce IR teams' manual efforts.
Investor targeting. Top investor relationship management solutions offer targeting tools that help process company profiles and the available public disclosure data and identify the most promising investment opportunities to focus on.
Reporting. Investor relationship software can turn investor-related data into structured reports on investor engagement, investment trends, IR team performance, and more. This data helps facilitate investor outreach and ensure that the fundraising goals are met.
Top 3 Investor Relationship Management Solutions
Microsoft Dynamics 365 CRM
Best for: investment managers that need a suite of highly customizable software products that can be tailored to their business strategies.
Investor information management to store the investor-related data, keep track of investor interactions, tasks, and appointments, and centralize this data for convenient access.
Event management to plan, manage, and follow up on events and fundraising initiatives to attract new investors and improve collaboration with the existing investors.
Dealflow management to capture key information about the ongoing negotiations, deal advancement thought the investment pipeline, and the cash flows.
Reporting with dashboards and real-time data visualization to gain a better understanding of the investment pipeline, fund fulfillment, etc.
Automation to streamline routine workflows with the help of rule-based reminders, customizable document templates, automated emails and investor onboarding processes.
Integrations with other Microsoft solutions, including Outlook, Teams, SharePoint, Power BI, as well as multiple Dynamics 365 modules (Sales, Business Central, Finance, HR, Marketing, and more) to eliminate departmental data silos and ensure smooth business operations across the company.
More about Microsoft Dynamics 365
Irwin
Best for: small and mid-sized investor relations businesses looking for workflow automation and powerful analytics functionality.
Shareholder monitoring with access to a global security ownership database and weekly updates from an investment analyst to get a 360-degree view of the shareholder base.
Investor targeting with a proprietary Fit Score targeting algorithm and access to a global database of institutional investors to quickly find the right targets.
Investor CRM with event management, email marketing, workflow automation capabilities, and a library of pre-built reports to keep track of all investor interactions and gain insights into the most effective investor relations strategies.
Irwin IQ Website Intelligence identifies the potential investors and business partners visiting your website and turns the visits data into valuable insights into your company's areas of risk and opportunity.
Access to top analysts' research and estimates to gain better understanding of the state of your stock and monitor industry trends.
More about Irwin
Dynamo
Best for: institutional investors and alternative asset managers who need a powerful solution to navigate their investor network.
Investor onboarding with secure web forms and DocuSign integration to easily collect investor data and documents and seamlessly onboard new clients.
Investor profiles to efficiently organize the data on investor identity, location, preferences, and engagement details and gain investor transparency.
Investor portal to share performance data, news, and marketing materials with investors, receive investor inquiries, and provide authorized access to historical data and documents.
Mailing campaigns to better connect with prospects and clients by sending personalized mass emails based on their engagement levels.
Automated reporting to generate comprehensive reports on IR team performance, client engagement, etc., and adjust communications strategy accordingly.
Integration with Microsoft Office suite to import/export documents and emails to and from Dynamo and ensure data consistency.
More about Dynamo
Take Your Investor Relations to a New Level
With investor relationship management software, you can foster relations with the current and potential investors, maximize the IR teams' productivity, and build a reputation as a trusted partner. Feel free to contact ScienceSoft if you are looking for an effective tool to enhance your investor relationship management strategy. Our experienced consultants and software developers will help you choose and implement the most fitting solution for your specific case.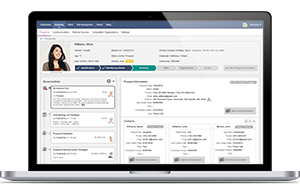 CRM Consulting Services by ScienceSoft
A CRM consulting vendor with 11 years of experience, we will help you choose and implement a CRM that suits your business best.