Key Features, Benefits, Top 3 Solutions
Editor's note: Andrew outlines the unique advantages of nonprofit CRM software and provides an overview of top CRM solutions for nonprofit initiatives. If you are looking for a specialized CRM to streamline communication with your donors, don't hesitate to contact ScienceSoft for our expert CRM consulting services.
A nonprofit CRM is a system that helps nonprofit organizations nurture their relationships with donors and supporters, arrange and fine-tune fundraising initiatives, and improve mission outcomes. CRM software stores and manages mission-specific data and provides a comprehensive view of donors, volunteers, beneficiaries, and other NPO stakeholders to build strong donor-centric connections that will result in higher fundraising efficiency.
Data centralization. Nonprofit CRM software helps collect, store, and update key stakeholder data, track and record donor interaction, donation history, etc. to better understand the donors' preferences and build personalized communication.
Fundraising campaign management. A CRM can help manage and optimize fundraising campaigns by leveraging such features as donor segmentation, communication (e-mails, calls, appointments) monitoring, donation tracking, campaign efficiency tracking, etc.
Event management. A CRM for nonprofits may provide easily customizable templates to create an event web page, manage event registration, ticketing, and attendees, assign tasks to event volunteers, keep record of donated items, and more.
Donation management. Nonprofit CRMs can track and process donations, automatically capture the data on each donor and sort it by donor segments, fundraising initiatives, etc. to gain a 360-degree view of the supporters' motivation and donation habits, campaign success, etc.
Workflow automation. Nonprofit CRMs can streamline routine administrative tasks like emailing, billing, or reporting with the help built-in templates, reminders, and more.
Reporting. Data-powered reports and configurable dashboards help monitor and analyze donor performance, event attendance, fundraising campaign progress, and other mission-specific metrics.
Integrations with accounting software, payment systems, email marketing services, social media, business intelligence software, etc. are needed to facilitate smooth data exchange between NPO systems, which helps eliminate data silos and save employee time and efforts.
Personalized communication. Understanding your donors' and supporters' donation habits and giving trends helps shape targeted outreach strategies with a personal touch to make every donor feel included and appreciated.
Efficient donor cultivation. With the data collected and analyzed by a nonprofit CRM, you can identify prospects with the biggest potential and develop effective cultivation strategies to inspire loyalty and convert them into donors.
Improved donor retention. A nonprofit CRM allows you to build long-term relationships with donors by analyzing their giving experience, keeping track of their engagement rates, and providing insights into their donation lifecycle.
Increased fundraising efficiency. A CRM solution helps you monitor your fundraising initiatives and analyze their success rate to adjust your fundraising strategies accordingly.
Improved volunteer engagement. You can easily engage and manage volunteers with all the key information about their skills, experience, and availability tracked by a CRM.
Microsoft Dynamics 365 & Nonprofit Accelerator
Best for: midsize and large nonprofits looking to build complex and agile fundraising processes.
Donor management with comprehensive donor profiles for individuals and organizations to have all necessary data, incl. personal details, communication methods, preferences, and donations, in one place.
Donation management via a donation dashboard to keep track of individuals' and organizations' gifts and pledges, in-kind gifts, and grant allocations.
Grant management from initial application to award with request processing, award recommendations, reviews, and reports.
Mission success evaluation to measure mission results by aligning beneficiaries and funds received with the pre-established mission objectives.
Impact tracking via visual data dashboards to have a holistic view of missions, funding raised, stakeholders served, and objectives achieved.
More about Microsoft Dynamics 365
Bloomerang
Best for: nonprofits looking for an easy-to-use community-focused donor management system.
Donor database with interactive dashboards, engagement meters, and data segmentation to monitor and manage donor history, interaction, and engagement.
Communication tools with email templates and scheduling, donor surveys, and communication auditing tools to create personalized email campaigns and increase donor satisfaction.
Online fundraising, incl. event landing pages and forms, ticketing tools, and responsive donation buttons to easily attract and process donations online.
Reporting and analytics with report templates and scheduling to learn more about donors, understand their giving trends, and look into potential factors of influence.
Integrations with popular third-party services such as QuickBooks or Mailchimp to manage consolidated data in one place.
More about Bloomerang
Network for Good
Best for: small and growing nonprofits in need of an all-in-one platform to advance their mission.
Donor data management with built-in filters and duplicate contact prevention to effectively manage contacts and gain a 360-degree view of every donor.
Donor engagement, incl. video messaging, built-in appeal templates and fundraising campaigns, automated donation receipts, and more to increase donor loyalty and get more recurring donations.
Online fundraising with giving page templates, marketing campaign tools, feedback to donors with automated thank-you emails, and campaign results tracking.
Event management with registration, ticketing, live streaming, and online auction capabilities to host online, offline, or hybrid events and auctions.
Mission performance tracking and measurement with real-time visual dashboards and easy-to-build custom reports to monitor campaign progress, spot early fundraising opportunities, and share the key metrics with the team.
More about Network for Good
Maximize your donor engagement and mission results
With a purpose-built CRM, your nonprofit team will develop and maintain long-term donor relationships, host events, arrange promotions, and accelerate mission outcomes. Need expert assistance to implement a fitting solution? ScienceSoft's CRM specialists are ready to help you choose, customize, or fully develop a specialized CRM to power your fundraising initiatives. Just let us know!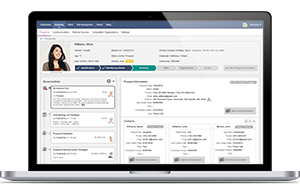 CRM Consulting Services by ScienceSoft
A CRM consulting vendor with 11 years of experience, we will help you choose and implement a CRM that suits your business best.