SEO and Social Media Marketing
Photo by Jeremy Bezanfer on Unsplash
Social media is no longer an online place where you can virtually connect with your friends or family. They are now involved to become powerful channels for brands to showcase their products and generate more sales. Viral content, inspiring stories, product hacks, tutorials, you can find anything on those platforms.
Guess what? A well-thought social media strategy also effectively boosts your SEO rank.
It's a battle for eyeballs in the digital world out there. You have to have a solid digital marketing plan to build a strong online presence before you can expect an increase in conversions. And SEO and social media marketing can help you achieve that.
When we talk about SEO, we often talk about those well-optimized websites and long-form articles. In fact, you can also leverage social media platforms to add an extra spice to your overall SEO practices.
Now, the burning question is, "how can I use social media strategy to improve my SEO results?"
Let's find out!
How Can Social Media Influence SEO?
Before we get into the details, we need to understand how social media works to boost your SEO ranking.
The debate about the influence of social media on SEO rank is long-standing. Many believe that social media does not directly contribute to your SEO ranking, but those platforms correlate with an element that influences SEO rank.
It means that they can add up to your SEO practices with the number of content contributions. They make your brand and content more accessible and shareable, after all.
In other words, social media strategies help you increase your brand's visibility. This way, more people will find you and your content. So, those platforms generate social signals that indicate that your brand is engaging for your target audience.
Remember that Google and other search engines love it when a brand provides what their audiences really want and prioritize their website to sit on the top of the search results page.
How SEO and Social Media Marketing Can Help in Ranking Higher
Now we know that although you can't rely solely on social media to improve your SEO rank, it can help you create social signals that can lead to an increase in brand awareness and even sales.
That said, simply creating social media accounts and just being there won't cut it. You need to make an extra effort to take the strategy to the next level. Below are some essential tips on how to improve SEO rank with social media strategy.
#1. Optimize Your Social Media Profiles
Social media users only interact with brands that are legit and look professional. And to show that you're one of them is to optimize your social media profiles.
Make sure that your profile is complete, including your website address, business description, and contact information. Also, use high-quality images for your profile and cover photo.
In addition, make sure to link all of your social media platforms together so users can easily navigate from one platform to another. This also helps Google crawl and index those pages.
Lastly, use the same branding across all social media platforms. This will create a unified and recognizable brand presence online.
#2. Invest in High-Quality Content
Your audiences will get attracted and stay for your content. AI-powered content marketing tools make the science part of content marketing a breeze. It's always better to take the time to research your materials and create in-depth content that your audiences really want to see. Don't be in a hurry to come up with mediocre, overused content every single day.
Providing what your audiences need means you give yourself a higher chance to get your content shared across social media platforms. From all of those shares and interactions, you tell search engine crawlers that you're a credible, authoritative brand that deserves to be on the top pages of SERPs.
If you have those underperforming content, you can give them a face-lift by using the skyscraper technique where you add more relevant information, including the latest trends, or identify content gaps from your competitors.
#3. Make the Content Shareable
All those shares, comments, backlinks, can give search engines social signals that your content is valuable and helpful for your audiences. But, if you don't make it shareable in the first place, then how can they even share it?
Besides making sure that your social media content adds value to your audiences, you also make it much easier for them to share it. You can use engaging visuals to make your content highly shareable, such as infographics, videos, images, GIFs, etc.
If you plan to create videos, here's a complete video marketing checklist to ensure you create well-performing social video content: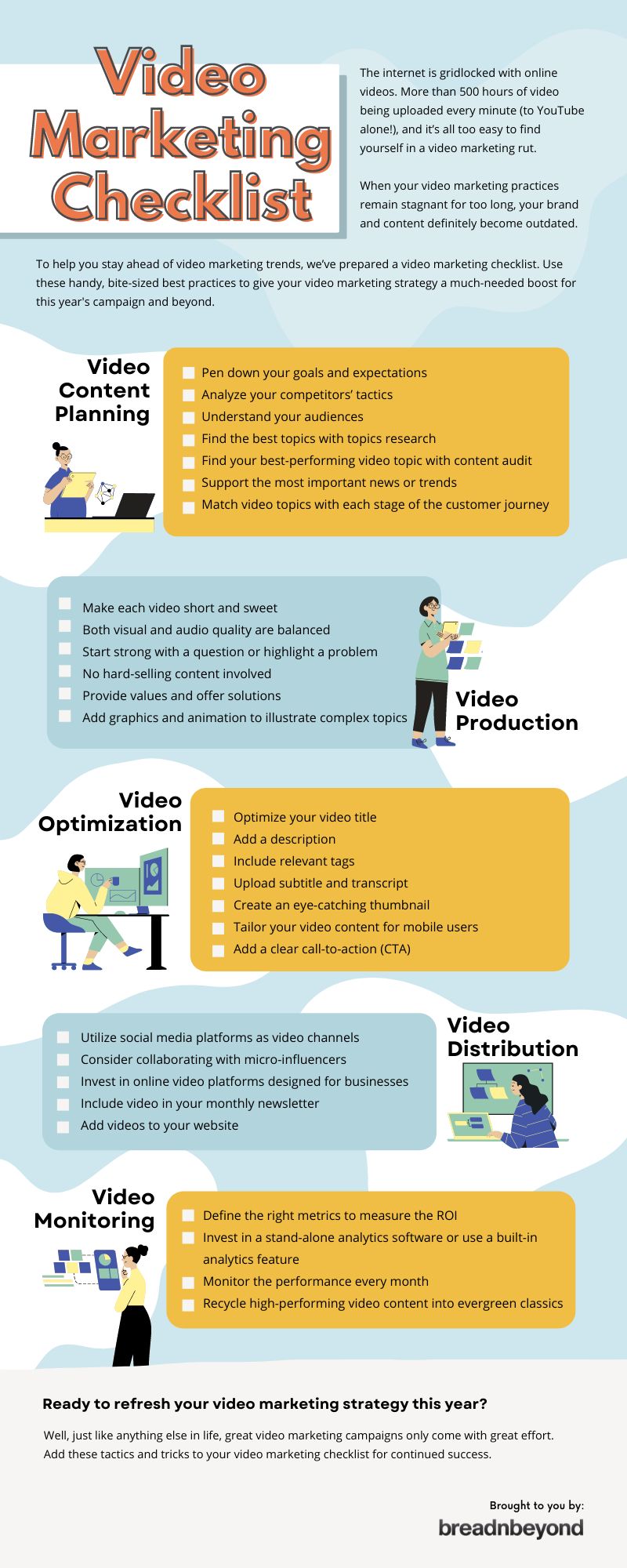 Courtesy of: Breadnbeyond
When your audiences can share your content hassle-free at their fingertips, your message will reach a broader audience and boost brand publicity.
#4. Use Social Media Tools to Monitor Your Brand
As we mentioned earlier, social media platforms are great channels for creating social signals. But, if you're not actively monitoring your brand and its performance on those channels, then you're missing out on a lot of opportunities.
Luckily, there are various social media tools that can help you automate and monitor your brand's social media performance, including Hootsuite, Buffer, CoSchedule, etc.
These tools can help you in a number of ways, from helping you publish content at the best time to providing insights on your social media analytics. By using these tools, you can quickly identify what works and what doesn't for your brand on social media, and make the necessary changes.
#5. Engage with Your Audiences
Your audiences are the core of your social media presence. If you don't engage with them, then you can't expect to get anything from those platforms. This is why you need to build relationships with them through active conversation and engagement.
Make sure to respond to all comments and messages, whether it's positive or negative. Show that you care about your audiences and their needs by being responsive. If possible, try to go the extra mile by providing helpful solutions or answering their questions.
Doing this will help increase brand loyalty and encourage them to keep interacting with your brand on social media.
Wrapping Up
By following these simple tips, you can create a strong and effective social media presence that will help improve your SEO ranking. Not only does this increase brand visibility, but it also helps you reach your target audiences more effectively.
One thing you need to bear in mind here is that social media is a long-term game. You need to be patient and consistent with your effort to see any result. So, make sure you are consistent with your strategies and keep on experimenting until you find the right recipe for success.
Have you ever planned to use social media platforms to boost your SEO ranking? Let us know in the comment below!