Top 13 Best Sales Enablement Platforms for Teams in 2023
Sales enablement platforms are to feed sales representatives with productive content and give them opportunities to sell.
It has become a necessity for sales enablement apps to be implemented in a business. Companies that do use sales enablement software have seen their sales increase by 6% to 20%.  Sales enablement software acts warehouse for marketing collateral and sales playbooks.
Sales enablement tools allow any sales representative can pick the correct content, turn it in to the prospective customer, and track the engagement that is happening within that particular content. Unfortunately, salespeople spend 66% of their day on administrative work.
Sales enablement software must be used with CRM software, which helps increase the sales ecosystem with other software. The various platforms include sales performance management, email tracking, outbound call tracking, and more.
The Best Sales Enablement Software in 2023

First on our list of sales enablement platforms is Spring Learn. This is a learning management software designed to facilitate all learning initiatives for teams, professionals, and organizations.
iSpring Learn is perfect for your sales enablement program if you're looking to onboard, enable, and assess sales professionals.
With this sales training platform, you can automate onboarding, deliver training, supply role-play simulations, create sales repositories for files and documentation, and more.
For training your sales staff, the iSpring LMS provides real-time progress tracking. Any courses, assessments, quizzes, assignments, or learning material that your sales staff is required to complete, the LMS provides visibility on each member's progress.
Key Features
Design the perfect online interactive training session for your entire sales team and new hires
Effortlessly onboard new sales team members with completely automated onboarding capabilities
Montior progress of your sales team with their training programs and ensure completion of required training at every level
Maintain an updated central file repository for your sales team to leverage when supplying customers/clients with collateral
Ensure brand consistency at every level of the sales enablement program with all your Sales-related files kept in one place
Provide 24/7 access to all training, learning material, and files to all your sales team members
Pricing
With the iSpring Learn sales enablement tool, you can get a free trial that lasts for up to 14 days. Thereafter, three team sizes are available for you to choose from:
100 users
300 users
500 users
Any of the team sizes mentioned above have the following pricing plans available:
Basic – includes only the iSpring Learn LMS
100 users: at $3.27/user/year
300 users: costs $2.87/user/year
500 users: available at $2.67/user/year
Advanced – includes iSpring Learn LMS as well as the iSpring Suite 
100 users: at $3.66/user/year
300 users: costs $3.00/user/year
500 users: available at $2.82/user/year
Pro – includes iSpring LMS + Suite, content library, team collaboration features, and text-to-speech
100 users: at $4.08/user/year
300 users: costs $3.14/user/year
500 users: available at $2.99/user/year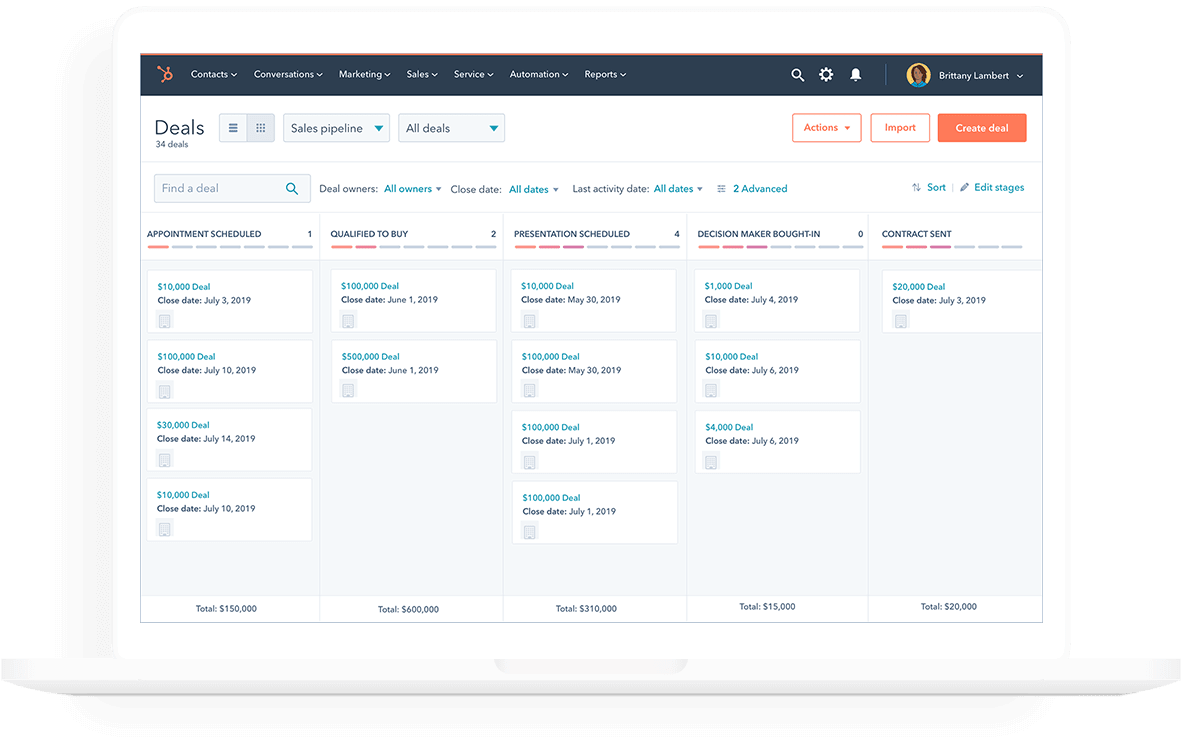 One of the best sales enablement platforms, HubSpot Sales Hub is one of the powerful sales CRM software. Its purpose is to manage team pipelines more effectively, by helping them close deals and strengthen their relationships. It is a one-stop sales enablement software solution.
Sales Hub smoothens the process by shaping all the tools and data on a simple yet robust platform. This allows the team to focus on the customers, and make sure that the services are up and running quickly, with the help of a personalized onboarding plan.
Results are maximized with the implementation of premium training, ongoing consulting, and technical services. Hubspot also provides online courses, comprehensive certifications, and even blog articles to help educate its users and the whole team. However, there are no free online courses.
There is a customer support service that is available at all hours. The award-winning customer support team can be connected via live chat, email, or phone, which depends on the package plan that is purchased.
Key Features
Sales Hub has created email templates to save time by turning best-performing sales emails into templates to be shared with the team. Data can be personalized from the CRM, and be sent.
An important feature, which is email tracking, allows the user to immediately know when a sales lead has opened an email. This lets them follow up immediately and solidify the deal.
The document management & tracking build feature is a library that is filled with helpful sales content for the entire team. Documents can be shared directly from Gmail or Outlook inbox, and the user can see which content closes the deal.
There is an AI-powered insight feature that can get details from every call to gain a deeper knowledge of team performance. It is called conversation intelligence automatically.
Use call tracking & recording to help plan and prioritize day sales calls. Calls can be made and recorded directly from the browser, and instantly logs them in the CRM for efficiency.
There is a contact management & customer profile feature, which gives access to context about the people and companies that are being emailed. All within HubSpot CRM, Gmail, or Outlook inbox.
3. Seismic – Powerful Sales Enablement Software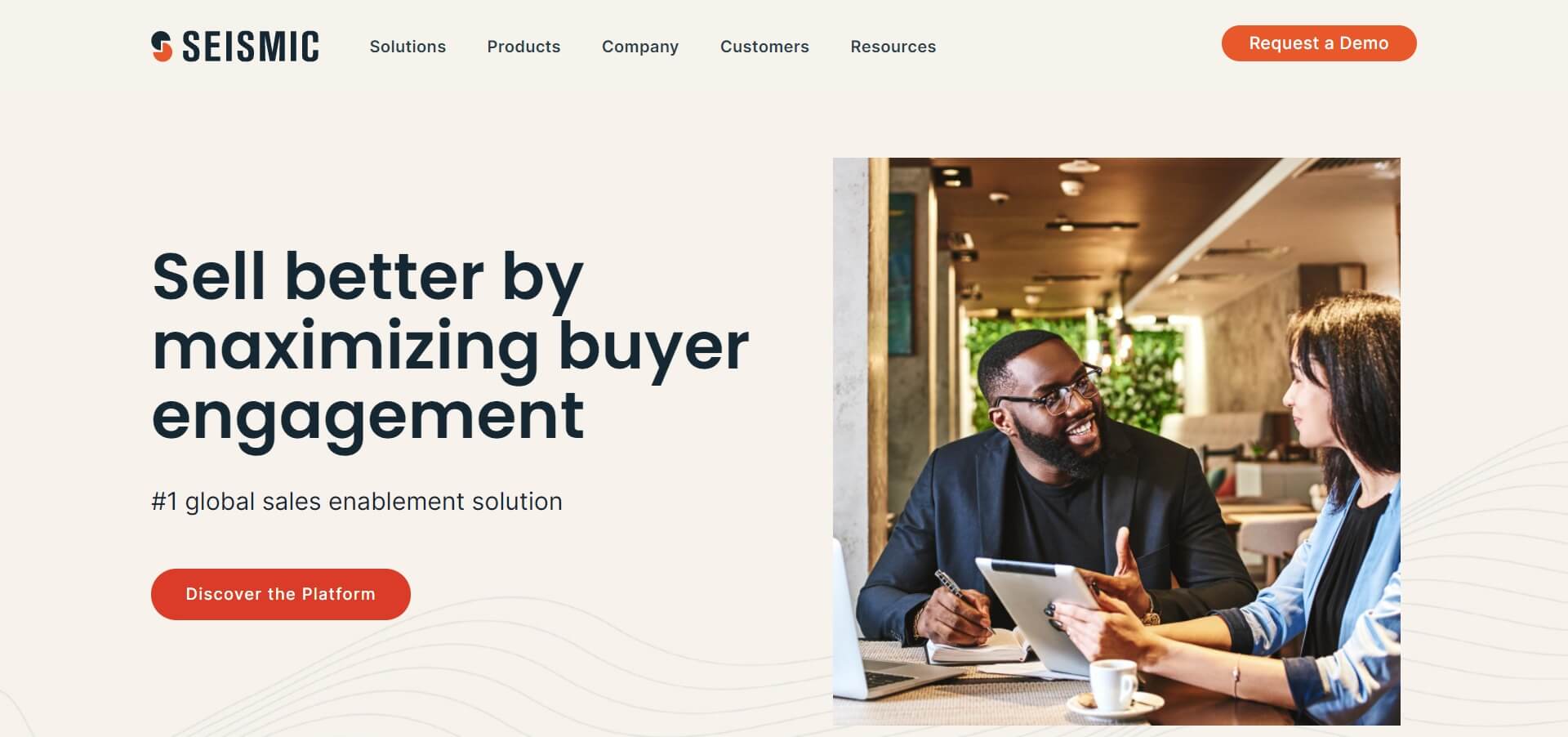 Seismic is one of the best Sales enablement apps, especially for modern buyers. They receive a personalized experience, which is reinforced by being backed by relevant content.
As one of the top sales enablement platforms, Seismic aligns the team with the technology to increase efficiency.
Deeming themselves as one of the world's most powerful and comprehensive storytelling platforms, Seismic effectively delivers on the promise by enabling the sellers to move faster and win.
The purpose is to deliver industry-leading tools to organize an engaging experience for buyers.
In the industry, market leaders recognize Seismic as a sales enablement software solution, which leads to big-wig analyst reports like Aragon, Gartner, and Forrester. Seismic has received hundreds of awards and has been included in the Forbes Cloud 100.
Key Features
Revenue and growth can be accelerated revenue, and sellers are empowered to stand out with realistic content and accurate insights that lead to buyer engagement.
High-impact teams can be led by unlocking important metrics that are needed to push the sales department to another level and keep track of what the top performers are doing.
It makes it easy for sellers to execute their sales with the right type of content for their potential buyers. Since they are given access to the particular content that is needed, they have more than enough time to nab their potential customer.
Engagement with buyers can be personalized by creating sales collateral and amplifying 3rd-party content across various distribution channels.
Brand equity can be easily protected through the best-in-class compliance and risk management tools, which makes it one of the best sales enablement tools.
The CRM can be enhanced through the CRM Leverage predictive content recommendations, which lets the user deliver the right message on time.
Sales cycles can be measured and optimized by understanding which content has increased engagement with buyers to push them to buy.
4. Highspot – Sales Enablement Platform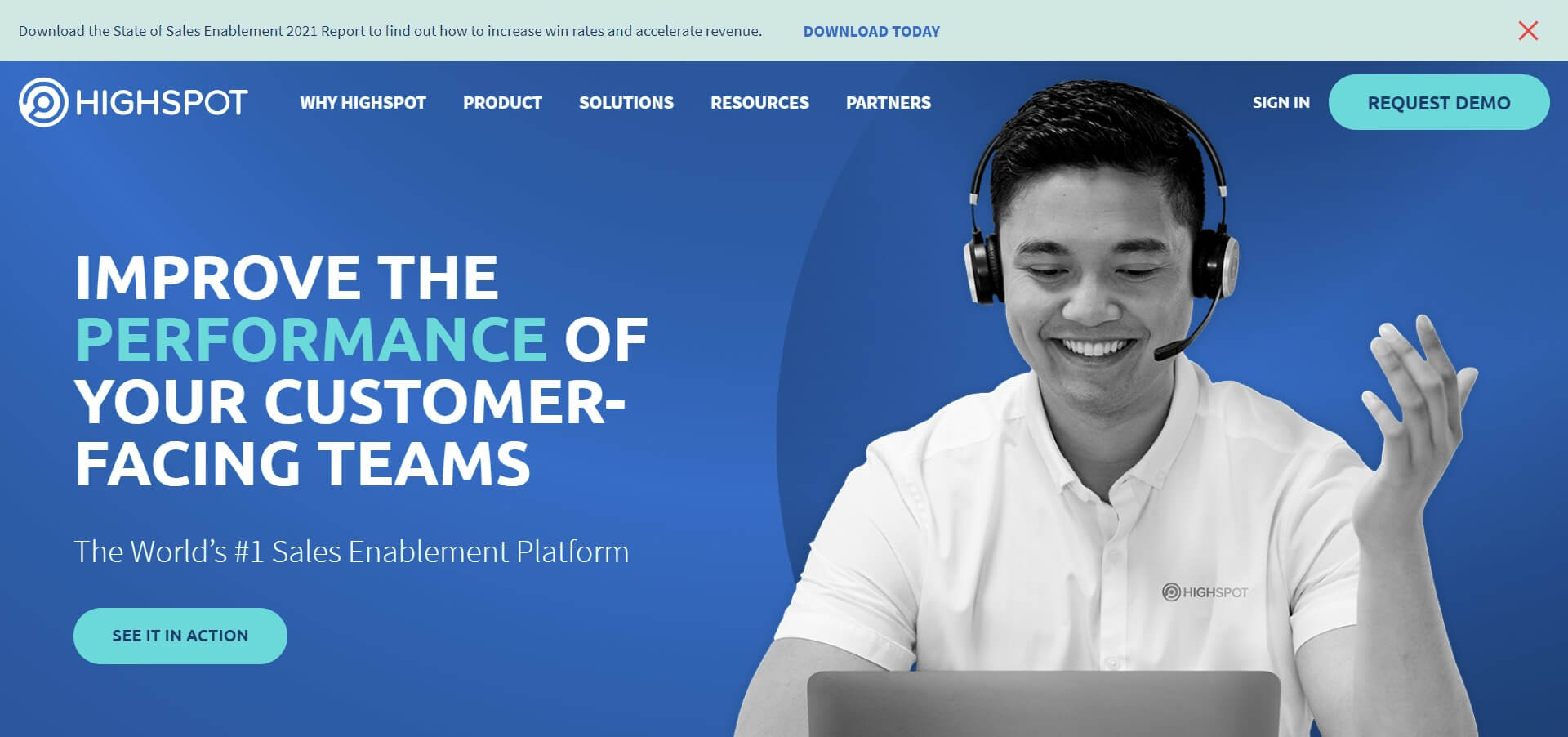 Highspot is one of the best sales enablement platforms since it tries to execute strategy, optimize performance, and speed up growth. It is one of the sales enablement software solutions that close the gap between strategy and execution.
This helps in fully equipping, training, and coaching the sales team.
Its sales enablement tools help companies build a revenue engine that is manageable and predictable. Highspot has guides to strategize, improve skills, and engage its customers.
It also coaches the sales team to increase their performance, and derive content metrics and analytics to make informed decisions. It also pushes leaders to execute the strategy to increase revenue with the help of the sales team.
Like a few of the sales enablement platforms, Highspot provides educational information to help teams to become experts. They give courses and lessons, and training that will empower them.
They also provide AI-driven recommendations and dynamic playbooks to help your sales team with tricky conversations.
Key Features
Behaviors can easily be pinpointed to derive what helps to win or lose. These can be acquired, rated, and shared across the sales department, and even allow to give the sales rep constructive feedback to drive success.
Sales reps can be given the best content and create value via email, custom micro-portals, web conferencing, and much more.
Highspot is built with experts to provide its users with top-notch security and privacy to protect its data. It is delivered on an enterprise-grade platform with the best security certifications.
One of the reasons is it one of the best sales enablement apps is because it is integrated with more than 70 certified integrations, such as Microsoft, Gmail, Outlook, etc.
Highspot has a semantic search that has AI-powered search algorithms, which delivers accurate results and time-sensitive relevant content.
Top-quality insights are given to track usage & engagement about the type of content being used by individuals and content sales teams, which assesses the types of responses used.
5. Klue – Sales Competitive Analysis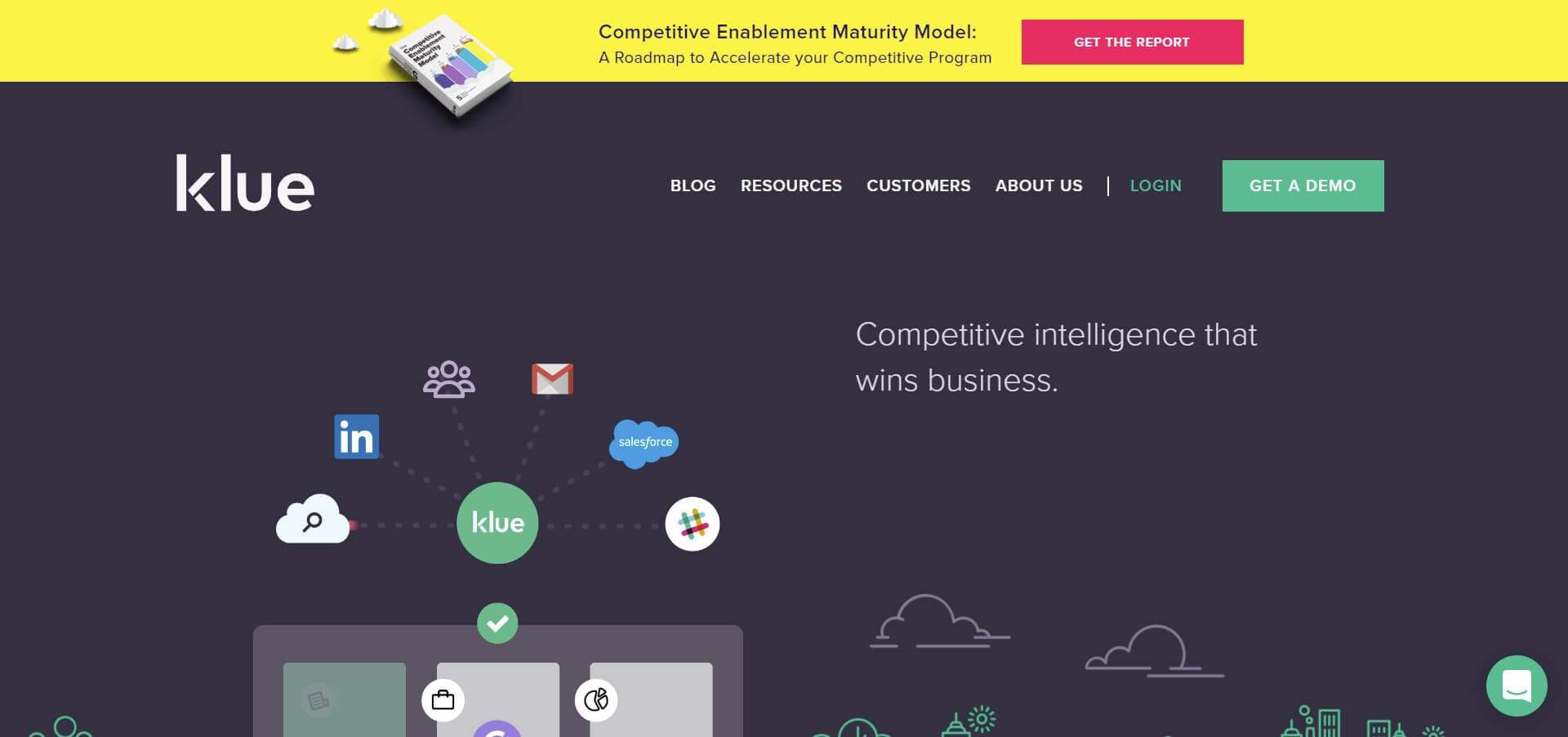 One of the best sales enablement platforms, Klue, gives its users eye-opening information regarding their competitors. Klue has sales enablement tools that are always updating and evaluating to bring in more business.
Klue has developed a new way to get a hold of and manage market insights from the web and communicate them across the company's various platforms being used.
As a sales enablement software, it has been created to gather, systemize and deliver the market competitive analysis.
One of the best things about this sales enablement software is that it has been shaped to collect scattered competitive data throughout the company.
This data can be collected via emails, chats, docs, and powerpoints, and the web in digital footprints left by companies and their employees.
Key Features
Klue allows its users to track competitors and stay ahead of the race. This includes getting ahold of up-to-date news, and data, and with the use of internal sources a deeper competitive intelligence for sales enablement platforms are created.
Competitive content is centralized by Klue, which means: that sales battle cards are updated with ease, seamless collaboration and the sales enablement tools help deliver competitive strategies every day.
Sales performances can be improved after modifying sales strategies to become effective when closing a deal. The sales battle cards provide approaches to handle objections, deposition competitors and strengthen leverage.
Enhanced team collaboration. It is easier to collect data, organize it and then deliver it across to various teams. It can be done via email, web, mobile, or Salesforce.
Access to all competitor marketplace coverage. From competitor website changes, product or feature updates, customer reviews, data from Slack, email, and Salesforce combined with external data provides deep competitive market knowledge.
Sales enablement tools that make it easy to deliver results throughout the organization. It helps you organize sales battle cards, and update them with ease.
6. Mediafly – Sales Media and Content Management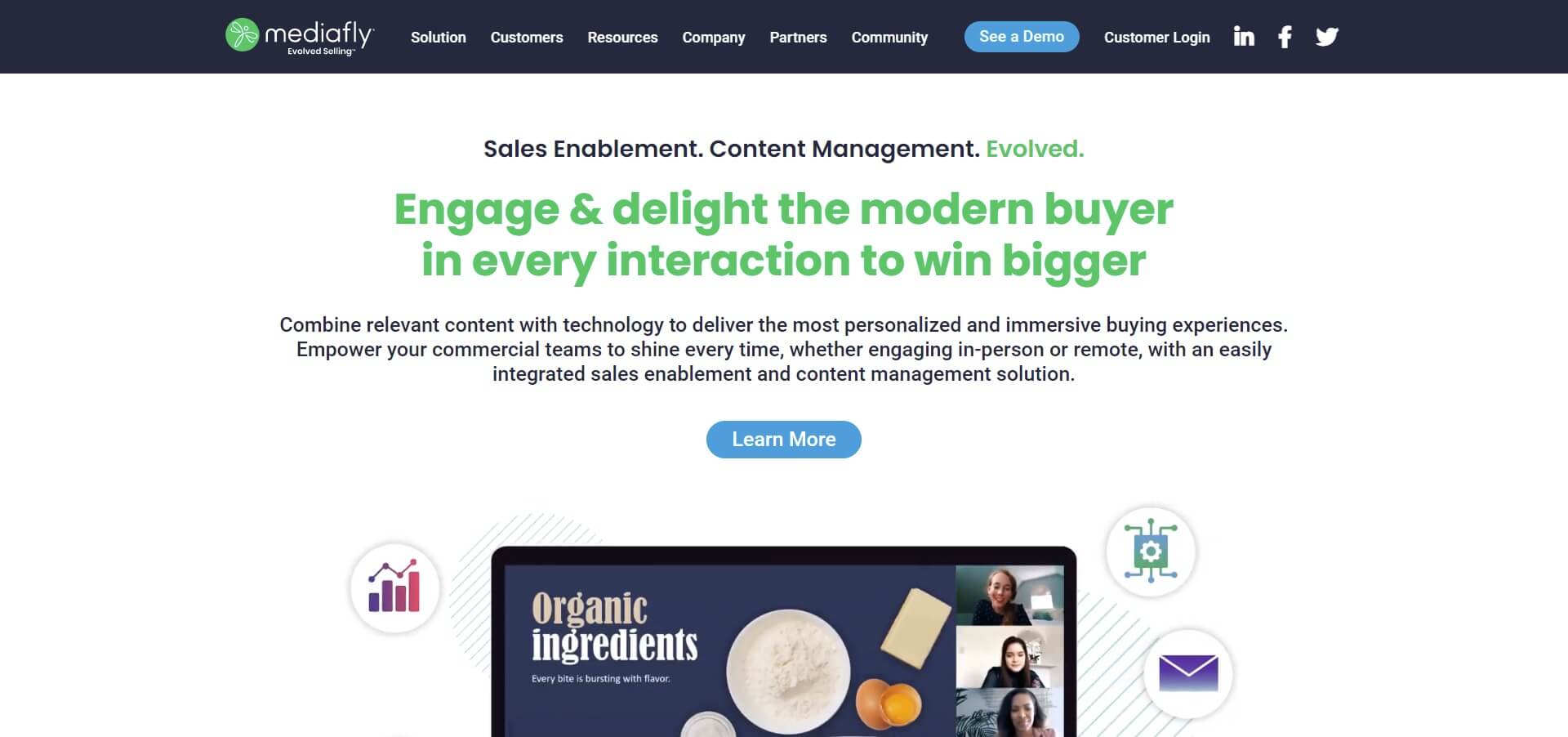 Mediafly is one of the top evolved sales enablement platforms. They try to engage with modern buyers and charm them with their combination of technology and relevant content. This combination is built to develop and deliver personalized content, which leads to an immersive buying experience.
Mediafly makes sure that commercial teams feel confident using this sales enablement software, and it shows whether they are engaging face-to-face or remotely. Mediafly is an integrated sales enablement and content management solution that gives an end-to-end sales solution for all customer-facing teams.
As one of the seamless sales enablement apps, it gives sellers, marketers, and account teams an easy and impactful way to develop content. It also gives them access, shares, and tracks engaging sales content all from one place, which has proven to close solid deals.
Key Features
It is easy to develop engaging content, which proves to be interactive for any buyer dealings.
Content is shared with ease, which gives sales reps and customers immediate access to all of the latest strategized content. Sales content distribution is done seamlessly.
Conduct training and coaching sessions for new or onboard sellers, and make them confident and credible with the technique to close the deal and increase sales.
Mediafly allows the user to find a different solution by conveying and quantifying the derived value, all with its selling tools.
Presentation is a big deal, especially in sales. This sales enablement software helps the user captivate their audience, and conduct customer-centric meetings that close larger deals.
With the help of insights and actionable data, content and customer engagement can be vastly improved, and it can also help the user identify the closing content.
7. LevelJump – Sales Productivity Enablement Tool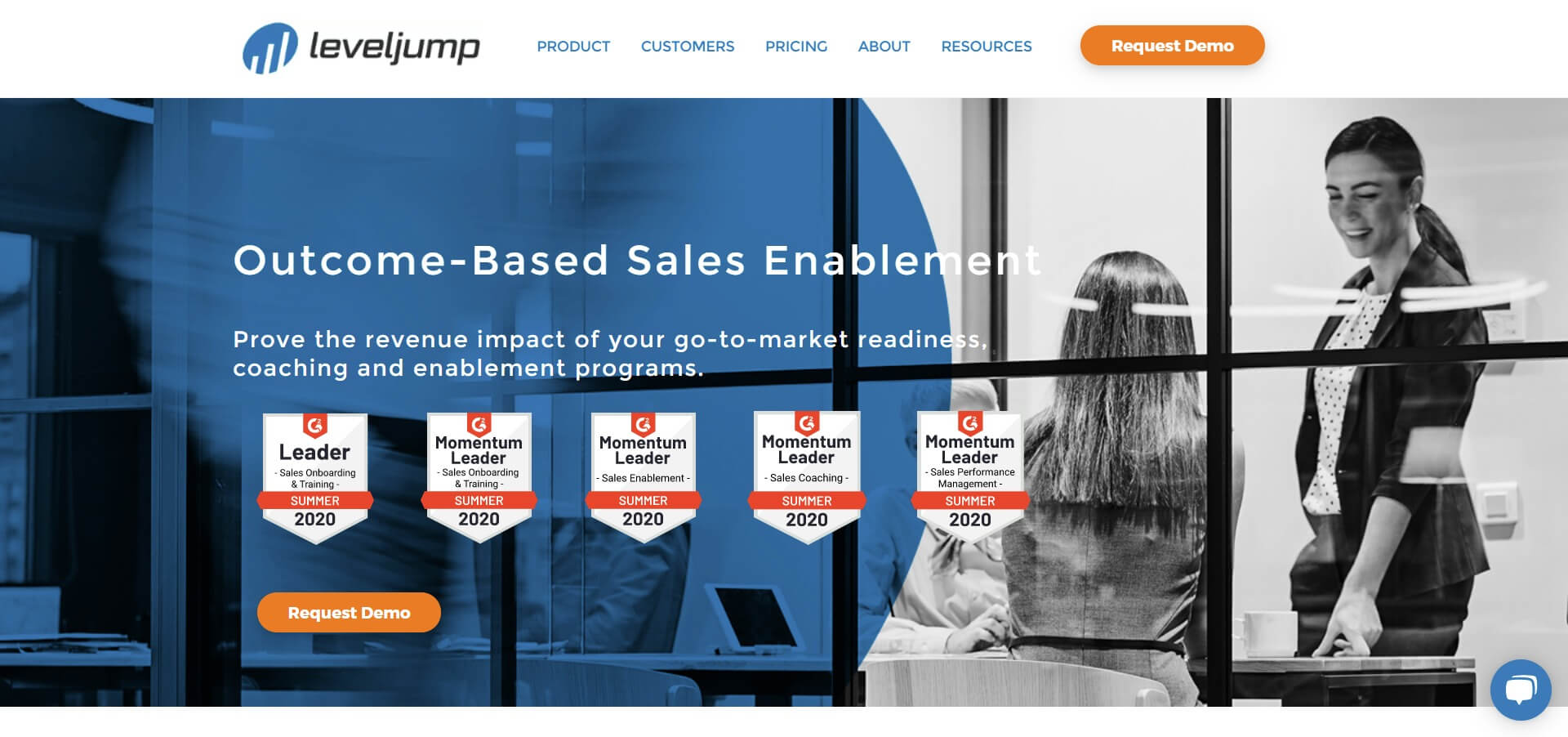 LevelJump is one of the best sales enablement tools that increases revenue impact. This sales enablement software is built 100% on Salesforce, and it gives its users the power to lock in sales performance to coaching, training, and programs that are "go-to-market" readiness.
By using LevelJump, it is easy for companies to centralize sales readiness that is centered on outcome-based training and coaching, and milestones set for automated sales & revenue.
LevelJump also ties enablement to revenue impact, which is used to encompass sales productivity.
LevelJump is one of the sales enablement tools that is used by companies to centralize programs and preset milestone achievement, and they use it to find insights to boost revenue impact.
The companies that use LevelJump are Compass, Hudl, Shopify, and TELUS. LevelJump is known as one of the top CRMs.
Key Features
Optimize the Salesforce workflow by centralizing sales readiness, which delivers enablement based on the outcome.
Milestones can be automated and tracked. They can also validate with Google tag manager (GTM) activities can change behavior, to get better performance and boost productivity.
Receiving insights can help verify the revenue impact enablement attribute, and training to reach KPIs and revenue metrics.
To boost the sales team goals, embed milestones and automate them to amplify their achievements, which also links the performance to business-critical metrics.
LevelJump has made it easy to track the seller performance impact and its enablement over time, using a single dataset. This can be done by implementing revenue attribution metrics.
The outcome analytics helps discover the patterns of success and allows the user to visualize the milestone achievements and improve revenue KPIs.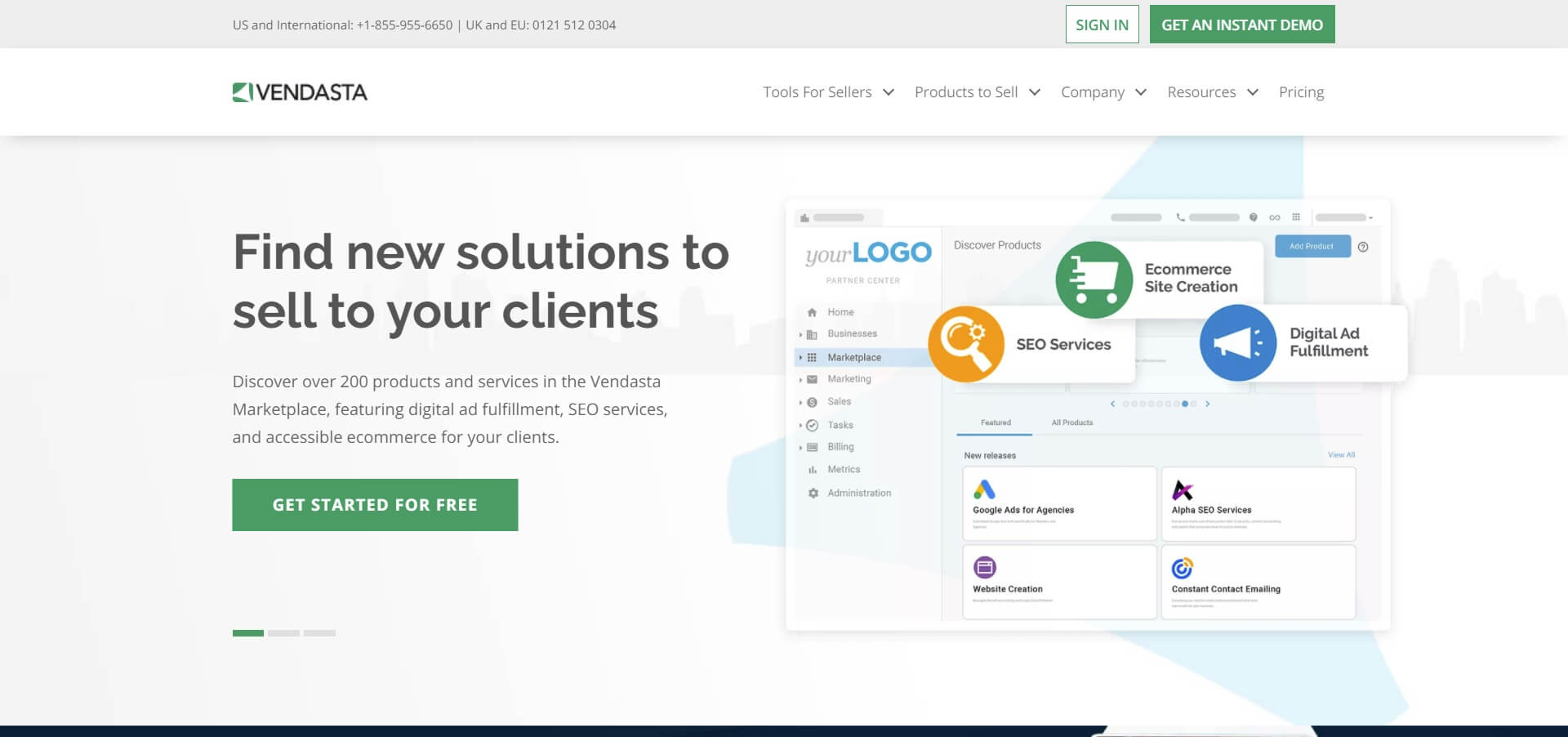 As one of the top sales enablement platforms, Vendasta, is known as a white-label platform to build a brand. It helps develop a brand in such a way that a sense of trust between the brand and customers is defined.
As a B2B e-commerce platform, it brings the sales team together for small & medium businesses.
Vendasta is great as one of the free sales enablement tools, it helps find new customers automatically by conducting a needs analysis to engage business owners. It also gives the user a free set of personalized tools to make their digital presence grow. It helps build trust, then sell, and get the reward.
Vendasta acts as a one-stop solution, by allowing the user to save time and money and connecting the team from one platform via a complete end-to-end solution in one subscription.
This not only saves time and money but also increases revenue. Vendasta helps boost productivity and efficiency.
Key Features
It is easy to manage and assess a client's digital presence and amplify it with positivity.
There is a listings builder, which provides the correct online listings in several locations.
Vendasta even has central social marketing multiplatform for social posting.
To solidify the bond between a buyer and a seller, Vendasta has a cross-functional communication tool for clients so the customer's voice can be heard.
Ecommerce is a much-needed solution for businesses today, especially from a sales point of view. With the Website Pro Fast feature, the user can easily create an e-commerce site.
Create "your brand" through a platform that automates sales & marketing under the brand equity.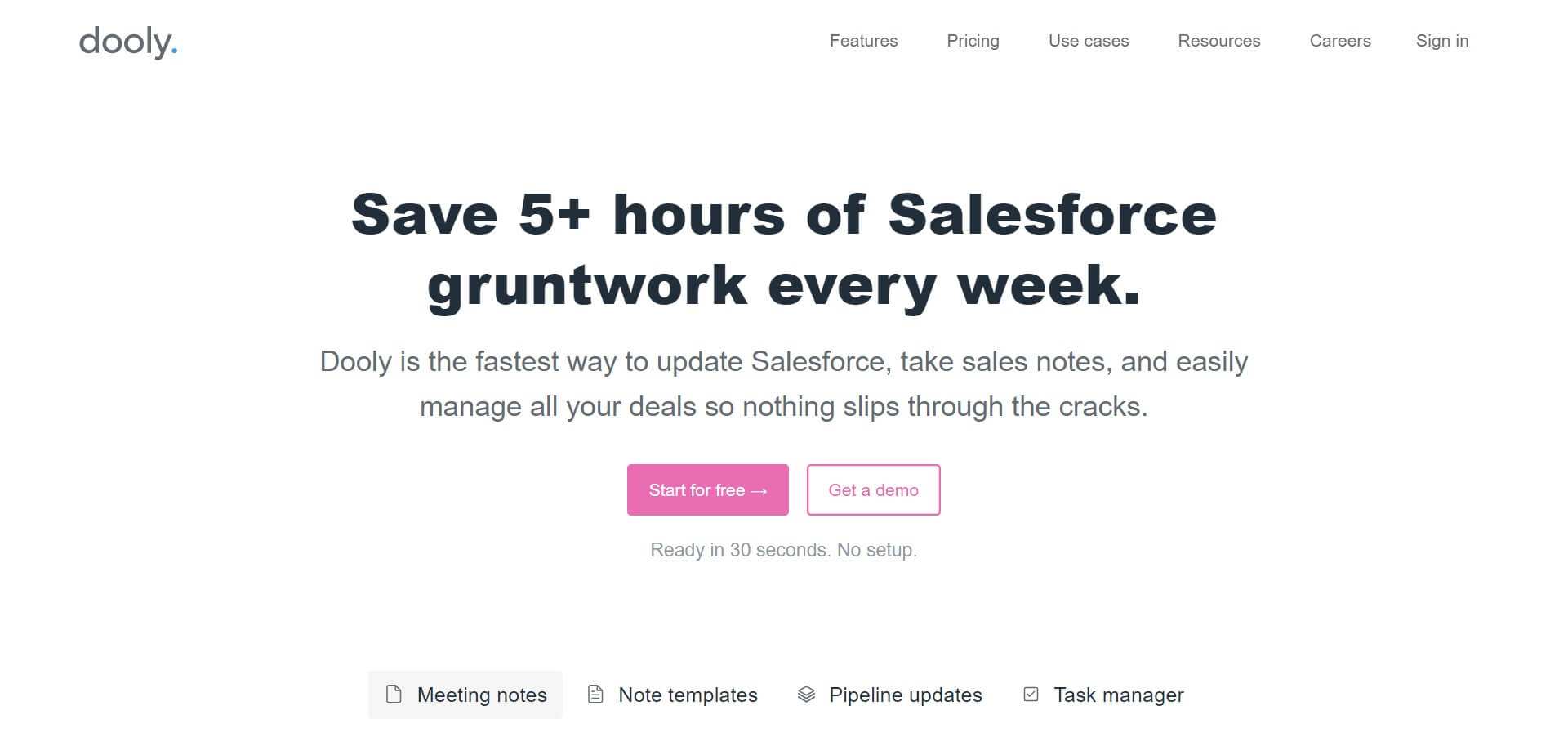 Dooly is one of the best sales enablement apps. It enables the user to sell smartly and since daily CRM updates are not needed, it also saves time. This software is designed by a sales team for just that, sales.
Dooly doesn't require a painstaking setup that takes up time and effort. It is easy to use, installed, and set up in minutes. This app automates the Salesforce updates, thereby decreasing the admin work and increasing sales.
It takes notes that sync everything with Salesforce, and it updates the pipeline within one to two clicks. By using Dooly, more deals can be closed by using AI-powered playbooks. It manages all the deals with ease, and it can be started for free, no setup or credit card is required.
Key Features
Notes can be updated on Salesforce, by adding Salesforce fields to the notes and they can be updated like text.
There is a feature called Smart Sync that puts the admin on autopilot. Everything is synced to Salesforce in real-time, such as notes, fields, activities, and much more.
Dooly has made its templates for sales and content to sell faster, and they can be added to the Salesforce fields and can be shared with the team.
There is a feature called Quick Contacts by Dooly and it immediately identifies new contacts for the user and they can be added to Salesforce with one click.
Dooly had made it easy to collaborate with anyone, and share notes with ease. Permission settings can be changed and the user gets to choose who gets access to view certain items.
Slack can be used with Dooly, and action deals can keep the chosen people in the loop. Teammates can be @mentioned to create private Slack deal channels.
Calendar synchronization can happen, and a note can be created for the right account and launched straight to the user's calendar with one click.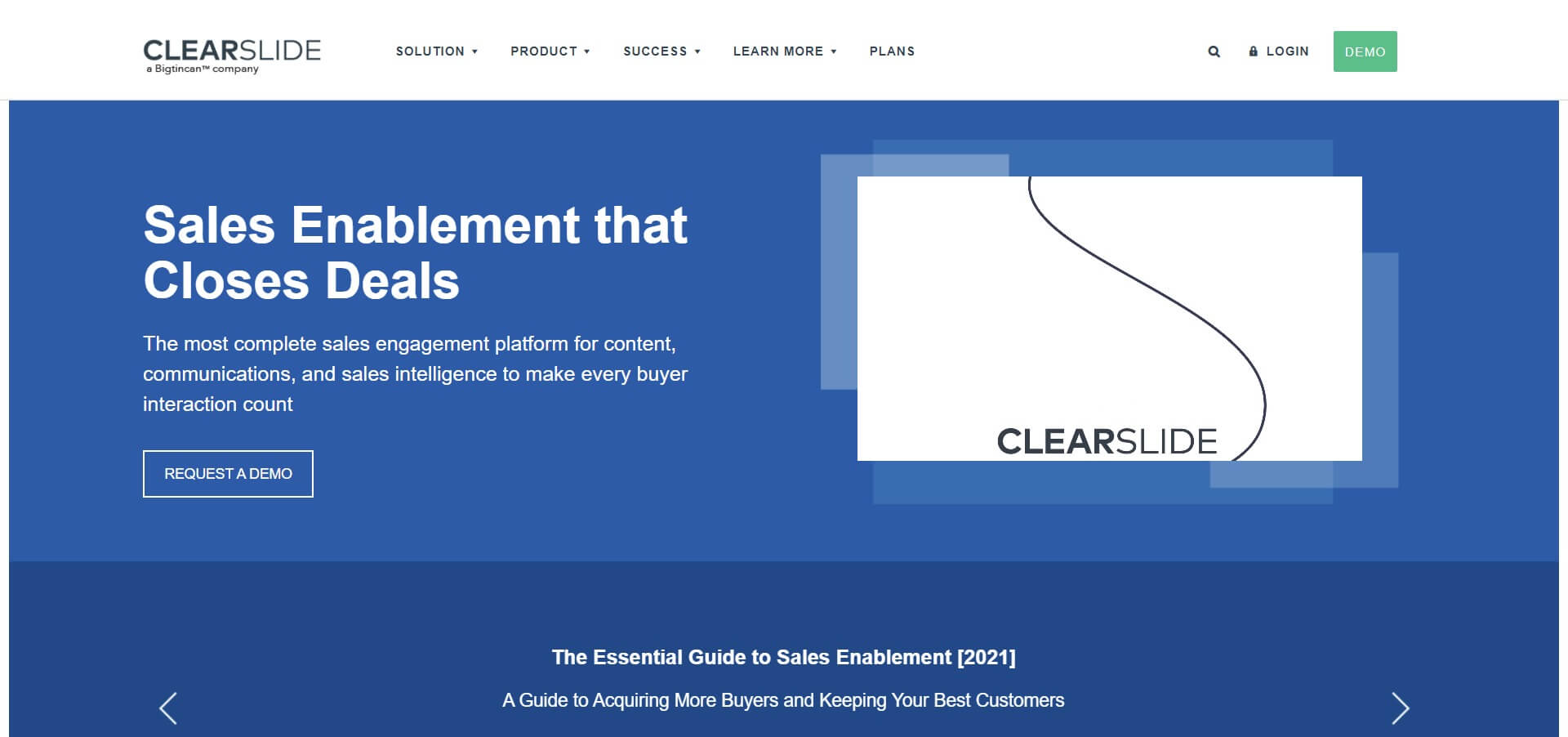 ClearSlide is one of the top sales enablement tools that aims to make all customer interactions a success. Their Sales enablement platforms provide intuitive, integrated content and communications, which provide insights that can be acted upon and increase business.
This sales enablement software is great for both marketers and sales teams because the content management is really strong and immediate access is given to the sellers. The engagement analytics is robust, which helps improve content and productivity.
The best part about ClearSlide is that as a sales enablement software it gets updated regularly. That means they provide a next-generation sales system for managing prospects, teams, and even single reps based on the customer engagement data they received.
Key Features
There is a sales & marketing content hub, which organizes the suggested content and team collections, and makes it easier to create and personalize the up-to-date content.
Every customer has access to integrated communications, which can be done via online, email, mobile, screen share, and face-to-face communication.
ClearSlide provides real-time engagement analytics, which allows the user to have a look into every customer interaction, and engagement insights that drive business decisions.
There is a feature that guides sellers to pick the right content, at the CRM stage that matches it. This helps boost the sales process and improve productivity.
ClearSlide gives coaching for best practices. There are replay recordings and performance dashboards, which support training and can look into meetings, presentations, and slides.
To increase productivity and efficiency, apps are integrated with other apps, such as Salesforce, Dynamics, Outlook and Gmail, Slack, and mobile.
11. Showell – Best Sales Enablement App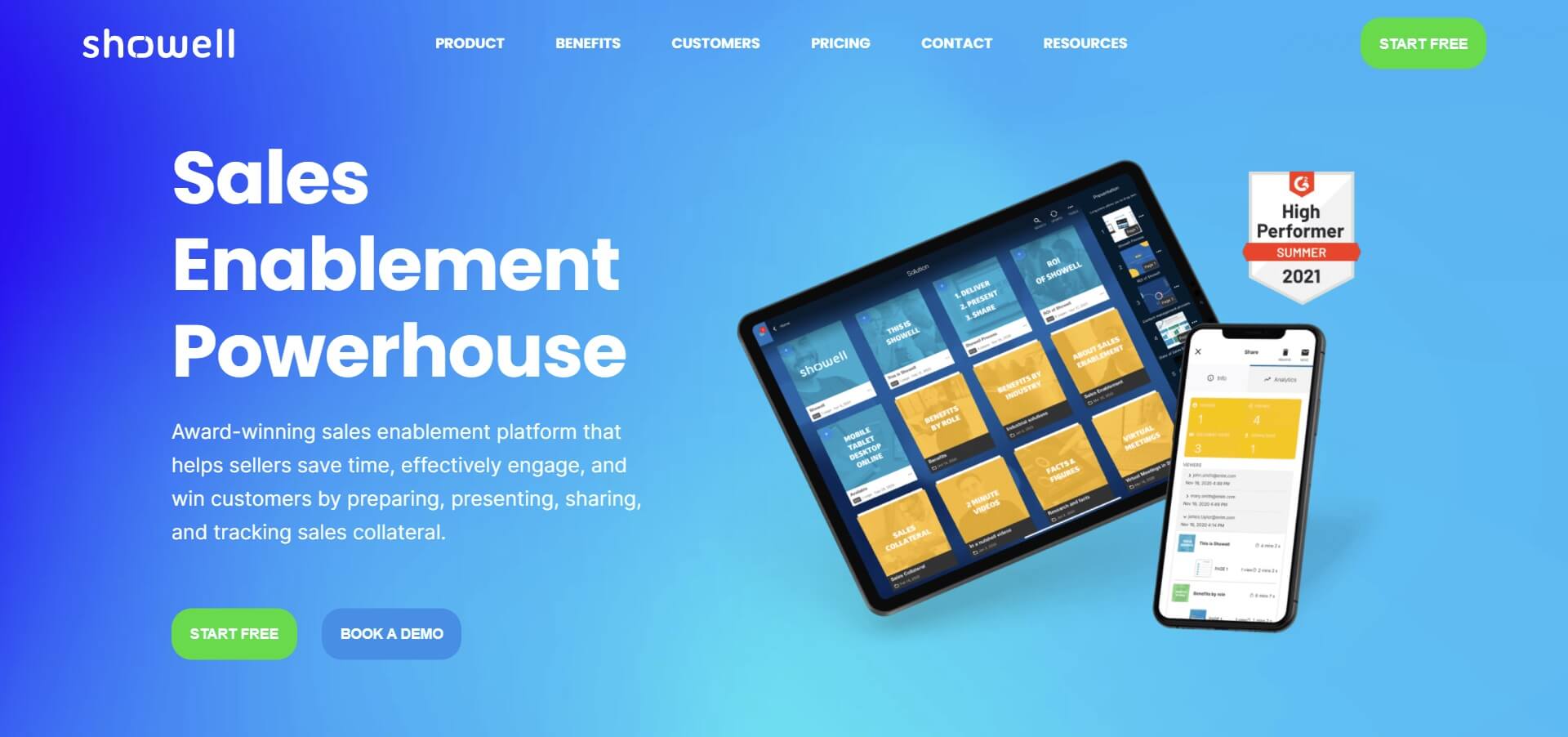 Showell happens to be one of the top-notch award-winning Sales enablement platforms. It effectively helps sellers save time, engage, and gain customers by preparing, presenting, sharing, and tracking any sales information.
This Sales enablement software has launched the first free sales enablement platform, which brings together all of the sales productivity necessities. Showell is built for hybrid sales work.
We feel that Showell is one of the most intuitive sales enablement platforms. It is great for finding, presenting, and sharing the latest sales material. They claim that they ensure brands can use Showell for their product or service to shine, face to face, online, or in virtual meetings.
Key Features
Showell amplifies time management by reducing back-office work and increasing selling time.
Whether the team member is an executive or a salesperson, Showell makes sure all of the processes are unified.
As one of the best sales enablement tools, Showell is great for training, because it helps create a ramp-up of new sales six times faster.
Content is easy and fun to make with Showell since it works on streamlining delivery with smart and easy-to-use tools that manage and deliver content.
Showell has considered one of the best sales enablement platforms because it makes sure that the brand is consistent with its story throughout the whole buying and selling process.
Showell is particular about using data to drive sales enablement software. It tells the user who, what and how the content is being used to help make better decisions.
It increases engagement during face-to-face or virtual meetings, by using the most up-to-date content and excellent graphics. This amplifies the overall atmosphere of the presentation.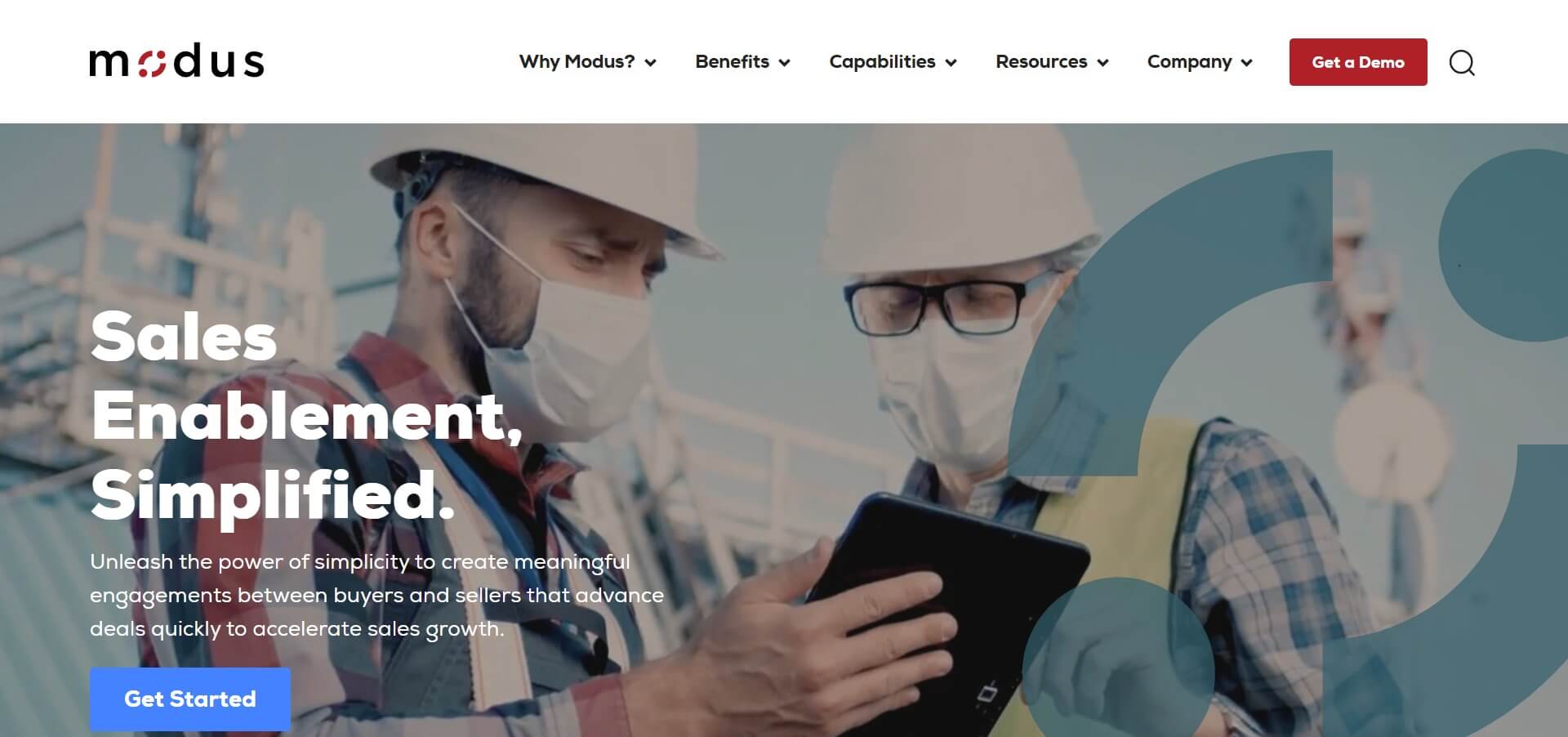 As one of the top sales enablement tools, Modus has simple and easy-to-use features, which enable measurable impact when the user to issues, consumes and shares content. The best part is that it simplifies sales enablement which allows a healthy drive for sales growth.
There is no doubt that for every organization, the growth engine is sales. Modus provides access to tools, content, and educational information so the sales reps can create meaningful engagements with the buyers to close deals.
The main aim of Modus is to create wonderful chemistry between the buyer and the seller, and the outcome is a meaningful engagement. They manage to achieve this by building sales enablement software that is completely customer-centric.
Key Features
Modus has created software and tools, which are easy to use and aesthetically pleasing.
User experience has both a modern feel and yet a familiar user interactive function.
The sales team has access to all the information they need for any problem, they have a solution ready for them for any situation.
The setup for Modus is simple, with easy configuration and it is not high-maintenance at all. Even a rookie can use it.
Tracking and visibility are provided through value-based analytics to measure content effectiveness and buyer engagement
The sales enablement software provides the highest value-to-cost ratio after they have been compared to other choices.
Modus provides accurate insights, which help teams gain efficiency and prioritize their tasks accordingly.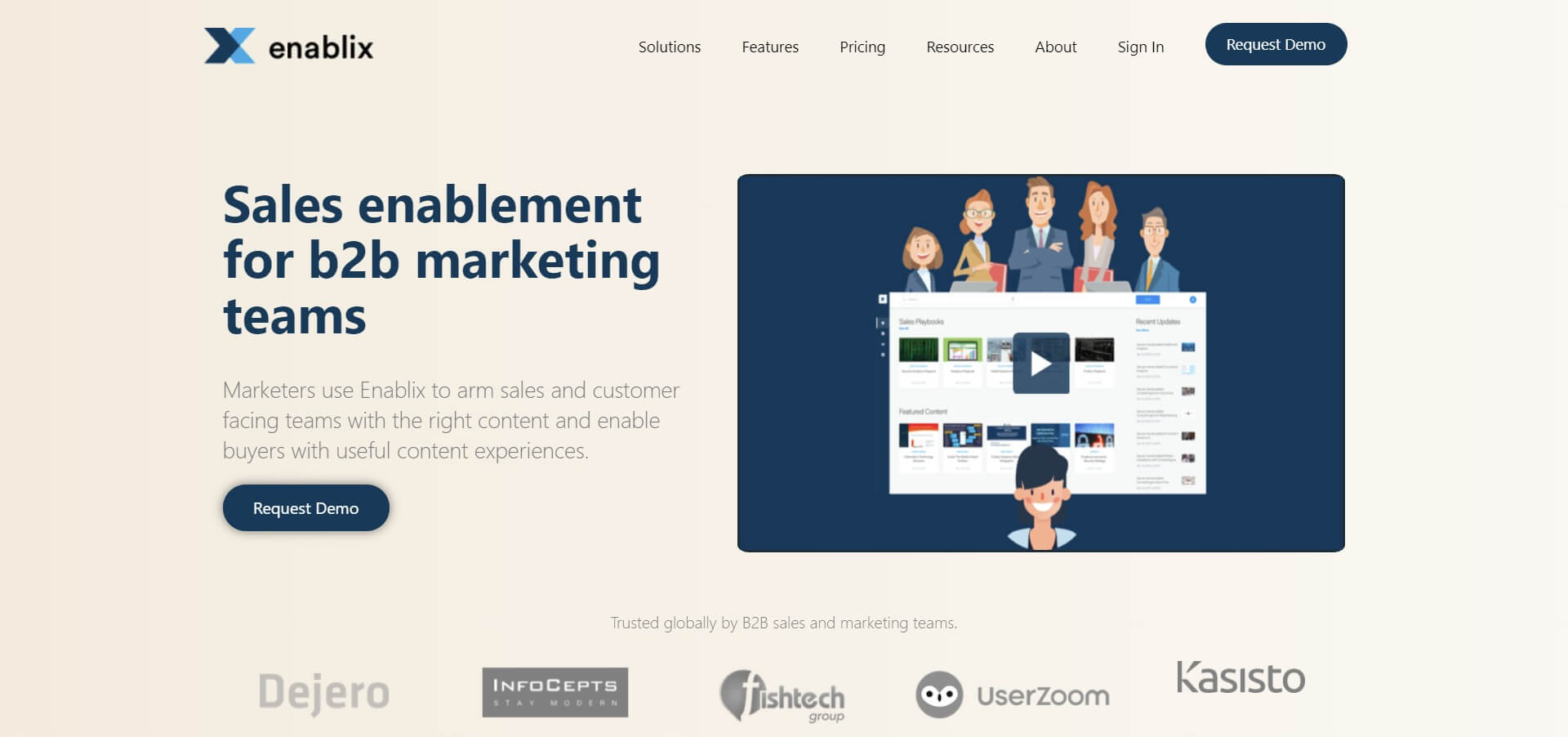 As a B2B sales enablement software solution, Enablix, has been created for marketers and customer-centric sales teams. Enablix has the main focus on content enablement, which makes it possible for marketing teams to enable sales via the right type of content throughout the sales process.
Not only does this constant help from the app gives the right content to the sales teams whenever they need it, but it also increases efficiency and productivity. Enablix helps both marketing and the sales teams get on the same page, with the help of sales-marketing alignment.
Enablix has built content portals, aided in gaining necessary insights, and helped teams leverage existing content correctly. The sales process with Enablix is easy and simple to understand, and there are also post-sale regular check-ins to get all the help the teams may need.
Key Features
Content management has been made easier and more efficient by giving access to it from one place.
The sales team receives insights and data from one place, granting no confusion in understanding the information, and making deliverables easier.
Content is available whenever the sales team needs it, they don't have to face any delays and receive the content immediately.
Teams have been given the authorization to shed light on sales content adoption and engagement.
Since all required information is coming from one place, it is easier to make data-driven decisions.
There is a heatmap feature, which shows what personas, features, and in what stages the assets we have can be used in the buyer journey.
Frequently Asked Questions – Sales Enablement Platforms
🌟 What Is Sales Enablement?
Sales enablement is a repetitive process where a business is providing the sales team with the resources they need to close additional deals.
The resources that are normally found in sales enablement platforms are content, tools, knowledge, and information to effectively service customers or sell a product.
Sales enablement is the application of strategy to use people, processes, and tech to increase sales productivity, and boost revenue. It is more likely that teams will complete tasks effectively and efficiently because they have a vast amount of resources at their disposal.
🌟 What Is a Sales Enablement Strategy?
A sales enablement strategy is based on the method or approach that a business takes to make sales happen and the resources they require to be able to sell well.
However, only a personalized strategy can be applied to a sales team. They can see who their target audience is and close deals accordingly.
Sales enablement strategies normally include an analysis of resources that would be needed. This includes tools, content, and information that are provided to sales.
🌟 How Do You Implement a Sales Enablement Strategy?
To implement a sales enablement strategy is to start from scratch or refine the mechanics of the strategy. This process every time starts with asking some questions. Some of these common questions are below.
How well are the sales and marketing working together? Are they giving enough feedback?
Have the reps started speeding up to the expected timeframe or will they be taking longer?
Are the clients interacting and engaging with our content?
Do we need to personalize the buying experiences more to drive conversions?
Are the sales reps selling efficiently and effectively?
Are the sales reps growing personally or professionally?
Is the data accurate to drive decision-making?
Some of you might not have a solid response for each answer. However, they will help you pinpoint the problem areas and develop a sales enablement strategy.
🌟 What Is the Difference Between Sales Enablement and Sales Operations?
Sales enablement is stemmed from a comprehensive strategy that aims to guide both marketing and sales. The purpose of sales enablement is to help with content creation, analytics, discovery, sales speed, and much more.
Sales operations are intentional premeditated position, which helps sales in an organization run seamlessly and efficiently. The purpose of the sales operations is to help enable sales and present an overall report of all the efforts.
🌟 What Are Sales Enablement Tools?
A sales enablement tool is a program that gives visible access to what is happening in the lifecycle of sales content. It allows a robust search, scoring, and synchronization. The sales enablement tool closes the gap that is between marketing and sales, and their customers.
The beauty of a sales enablement tool is that it helps teams keep a check on how the published content is performing, and pitch it accordingly to the audience.
Analytics is also used in the tool to help businesses track the effectiveness of content, through engagement, execution, and overall effectiveness.
🌟 Who Is Responsible for Sales Enablement?
There isn't just one department that is responsible for sales enablement, both sales and marketing are responsible for sales enablement. Below are some pointers to help you understand the dynamics both teams have to work for in sales enablement.
They need to collaborate to see what resources are needed for the platform. Both sales and marketing have common resource necessities, such as content, conversation guides, and sales training.
Creating the large bulk of this information is usually the marketing department's responsibility.
Training the sales organization is mostly marketing's responsibility.
It is important how sales operations conduct themselves when collecting information for the sales enablement program.
The sales management team needs to take responsibility to make sure that the sales enablement program is being practiced with due diligence.
Marketing is known to be a better creator, and sales are known to be a better enforcer for sales enablement platforms.
Conclusion
When it comes to sales enablement platforms, there was this misconception that marketing and sales are two different mediums. The truth is marketing is the fuel that drives sales, and every business needs both.
If you were to start using Sales enablement tools for your teams, which one would you choose? Share your thoughts with us in the comments below.
Other SaaSy goodness on All That SaaS:
30 Best To-do List Apps in 2023: Manage Your Tasks Effectively
14 Amazing Budgeting Software for Personal and Business Finance in 2023
19 Email Clients for Maximum Email Productivity in 2023
16 Powerful Video Conferencing Software & Apps to Use in 2023
39 Awesome Project Management Software in 2023
25 Powerful CRM Software for Small Businesses/Startups in 2023