What is White Label Web Hosting?
The first step after developing a website is to choose a good, reliable web hosting provider with excellent uptime and required support 24x7x365 days. Finding a good web hosting provider is hard, and we fall into a big giant's marketing trap. There are thousands of web hosting providers across the US, specifically who are doing really well! But, most of them don't offer you the solution of white label, and you could notice their branding everywhere, from the Login Page to Accessing the File Manager. That's where White Label web hosting comes into play.
What is White Label Web Hosting?
As its name states, it's a web hosting type with no branding. How's that? Wait, wait, let me tell you. Did you notice a big logo on the top-right corner of cPanel? Of course, you could have already! That's called branding! Now think, you are a web developer and took a web hosting from ABCXYZ Host, and you don't want to expose the web hosting service provider ABCXYZ name to your end customer; that's when White Label Hosting will help you.
White Label web hosting providers offer web hosting services without their branding. You could notice that there shouldn't be any branding on control panels, webmail panels, hostname, etc. Instead, they will use some dummy host names. For example, at KnownHost, we use privatesystems . net dummy domain to offer complete 100% white label web hosting services. So, you can share the control panel details with your customer without hesitation in revealing the web hosting provider's name. Isn't that amazing?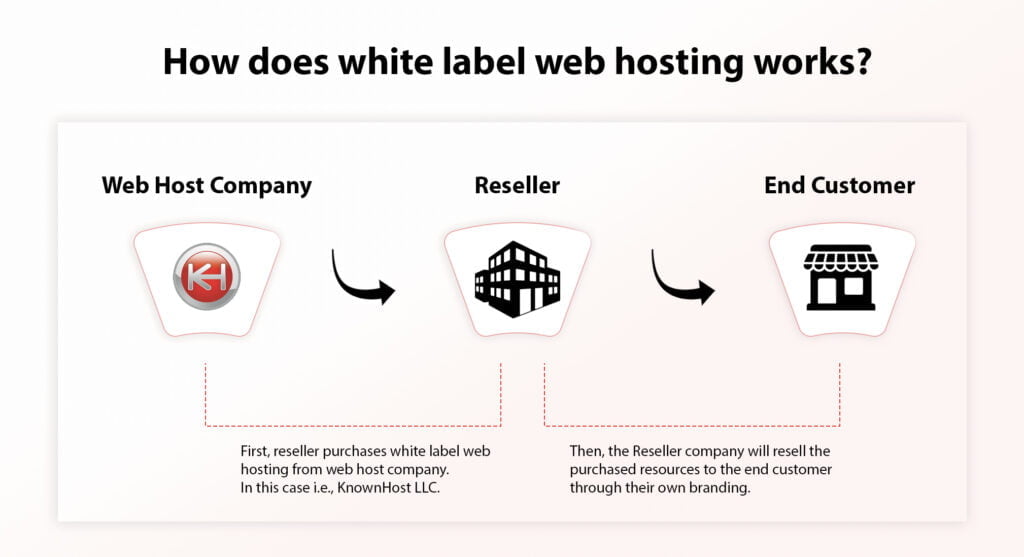 Benefits of White Label Web Hosting
Complete Control Over Branding
The primary focus of having white-labeled web hosting is that you have zero branding from a web host. Moreover, if you have purchased a white labeled Reseller Hosting from a web host like KnownHost, you have complete control over branding. How? KnownHost's Reseller Hosting comes with the Branding option under the Reseller panel. With a few simple clicks, you can simply customize the cPanel's and DirectAdmin's interface logos, favicon icon, and Webmail interface logo. Next time, when your customers log into the cPanel or Directadmin, they can see your brand's logo at the top-right corner of the panel.
Custom & White Labeled Nameservers
White-labeled web hosting providers generally offer white-labeled nameservers that you can share with your customers to configure into the domain's DNS setting. Also, if you have a white labeled reseller hosting, you can set up the nameservers such as ns1.yourdomain.com, ns2.yourdomain.com, and the same you can use for your customer's domain name pointing.
White Labeled Hostname
The hostname is the configured common name for the web server. Generally, web hosting providers use their branded names for hostnames. For example, server11.lillyhostsummer.com, node.lillyhostwinter.com, panel.lillyhostnature.com. The most significant disadvantage of having branded hostnames is that it indirectly exposes the web hosting provider's details to the end customer. Here at KnownHost, we use privatesystems.net, a dedicated white-labeled domain name for hostnames and the nameservers. So, if you're taking a standard shared hosting or reseller hosting, you don't have to worry about the fear of exposing the web host details to the end customer.
Extra Side Income
Who doesn't want to earn some extra income with their fixed salary? Of course, everyone does like it. The same you can achieve with the white label web hosting services. Without the branding of the actual host, you can set up your small website listing hosting packages accordingly and resell those under your brand name. We don't have actual figures, but ~30% of the low-end web hosting providers are just the resellers who are reselling the services of others. KnownHost as a partner not only encourages those resellers but connects with the resellers and helps them with any technical server-end problems 24×7.
Free 24x7x365 Server Level Support
When it comes to the technical part, most of you might be so techy to handle every time at your level. That's when white label hosts guide you through the solution. You don't have to go through the documentation every time or rely on your technical support team to handle the server-level queries. Instead, have white-labeled shared hosting or Reseller hosting and let your host manage the server, and you focus on the sales and growth of your company! Sounds sweet, right?
Who requires White Labeled Web Hosting?
White-labeled web hosting is designed in such a way that everyone can opt for it. If you are one of the people looking to start their own web hosting firm but do not have enough capital, human resources, or finance, purchase a white-labeled Reseller from KnwonHost and get started! Or on the other hand, if you are a web designer, web developer, small business, or entrepreneur who would like to earn some extra income, you can also opt for the white labaled web hosting.
We also noticed a separate group of web designers, web developers, and companies who don't want the tension of handling servers and want their company branding to go with the white-labeled web hosting solution.
Conclusion
The web hosting sector is continuously demanding to work and invest in. Everyone can not afford to invest the capital at the first stage, and those can start their journey as a web hosting provider with white label web hosting services. Also, Web developers, designers, entrepreneurs, and businesses looking to offer web hosting services to their customers under their own branding can opt for the white label web hosting solution.
KnownHost offers their customers 100% white labeled Shared hosting and Reseller hosting. Also, KnownHost offers 365 days a year, 24 hours a day, all 7 days of the week, best-in-class technical support with Un-managed and Managed Dedicated Hosting. A dedicated team is ready to help you with requests should you need our assistance. Are you not using KnownHost for the best web hosting experience? Well, why not? Check with our Sales team to see what KnownHost can do for you in improving your web hosting experience.