WordCamp Phoenix 2023 – Recap
WordCamp Phoenix 2023 was a fantastic camp! The location was perfect, the camp was very well attended, and the organizers, speakers, and volunteers were awesome.  I am so lucky to have been able to attend!
Arriving for WordCamp Phoenix 2023
My one-hour flight from LA was very smooth. For those of you who have flown to Phoenix before, you would know that on most days, it is windy and it could be a little scary to land there. But I was lucky, and everything went great.
After checking in at the hotel, I went down to the lobby to meet with Ericka Barboza whom I had not seen since WordCamp US in 2022, and we gave each other a big hug.
We then had a bite to eat at Barrel & Bushel located in the lobby of the hotel and we got caught up on work and camp stuff.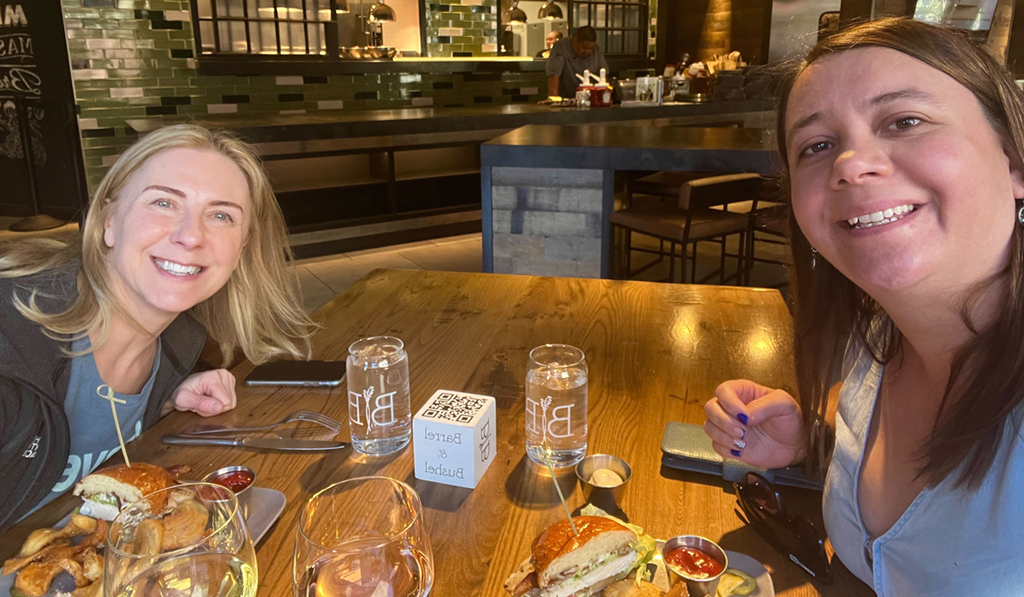 Speaker-Sponsor Event
Thursday night was the Speaker-Sponsor event at Arizona Wilderness Brewing Co. located in Downtown Phoenix, a few blocks from the hotel where we were staying.
As we walked to the location, we realized how hustling and bustling the area has become. Quite a difference from the last time I was there in 2020.
As we walked in, we recognized the group of WordCampers and we could not wait to say hi to everyone.
We ran into James Tyron from Easily Amused. Ericka and I had not seen James since WordCamp US in 2022 and we got caught up on new projects he is working on with his company.
While trying some of the local beer, we got a big hug from Adam Warner from GoDaddy and chatted with Dave Ryan with Bluehost and Newfold Digital.
I have known Dave for a long time, from many camps ago. Dave lives in Phoenix and is also one of the organizers of the camp and he told me he had been very busy working on the camp.
He had a cast on his arm as he had fallen and injured himself, but he said he was doing great and was in very good spirits.
I then spotted Kathy Zant of KadenceWP. Kathy and I had known each other for many years and used to run into each other the night before each camp while checking into hotels with bell carts loaded with swag.
I had promised her a big hug, and I gave her a really big one and I hugged her many times during the camp.
What can I say, I am a big hugger!
After people had been enjoying local tacos, Raquel Landefelt, the camp Sponsor Wrangler, went on stage, gave gifts to each speaker, and thanked all the sponsors.
Matthew Clancy, the Lead Organizer, also came on stage to introduce himself and say his thank yous. We all know that nothing would happen without the incredible work and passion of the organizers.
As the evening went on, we met a lot of old and new friends, such as Maddy Osman from the Blogsmith, and Jessica Spart, also part of the organizing team. And we went on having great conversations with everyone.
First Day of Camp
WordCamp Phoenix 2023 was held at Events on Jackson, a large and beautifully-restored former fruits and vegetable warehouse built in the 1930s within walking distance of Downtown Phoenix.
I loved this venue in 2020 and I still think it is a perfect location for this camp.
Getting Prepped
Ericka and I walked in and got our registration badges. The first thing we did was stop by the swag table to get our WordCamp Phoenix swag and to thank the volunteers who were there for all the work they do at these camps.
We spotted Michelle Frechette, Director of Community Engagement at StellarWP. Earlier, Michelle had tweeted that if you took a pic with her and retweeted it with a particular tag, there would be a donation made to BigOrangeHeart whose focus is supporting and promoting positive well-being and mental health within remote working communities.
So, the first thing I did was take that picture with her and post it on social media, as many of the other people in the camp did as well.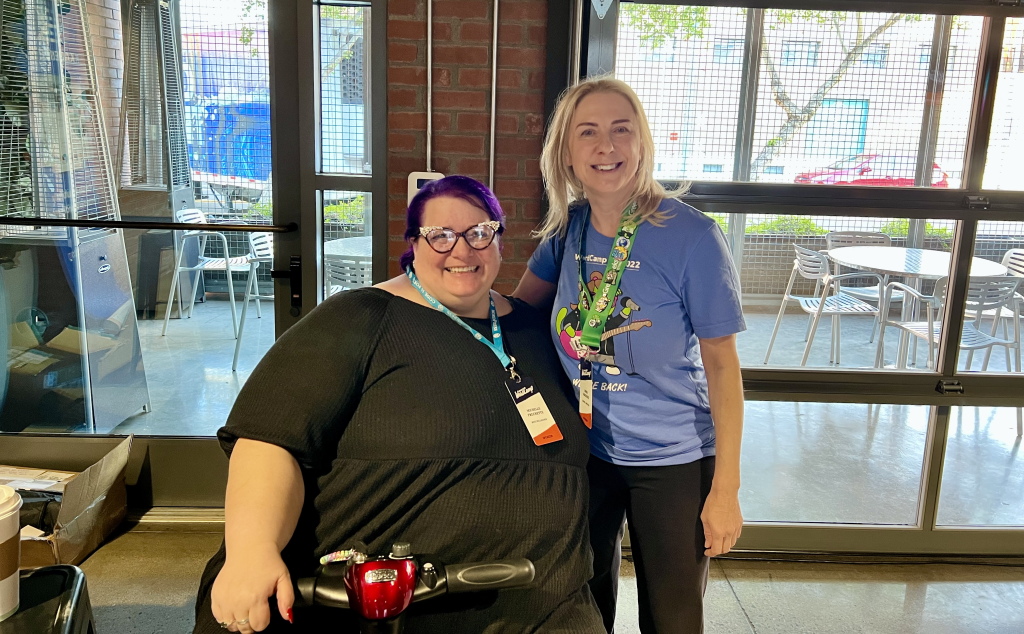 Kathy Zant was standing and the Kadence booth, which was the first booth at the entrance of the venue, and of course, we hugged again!
Someone had posted on Twitter that if you were at the camp, you had to say hi to Chad Beatty with Rocket.net, who is also one of the sponsors, so I looked for the table and I did just that.
I also met with Baljinder Singh with wpspins.com who told me he knows our very own Marco Berrocal. He was helping out at the Happiness Bar and we chatted a little bit.
While waiting for the camp to start, I ran into Alex Vasquez whom I met at WordCamp Long Beach in 2019 where he was on the organizing team, and Matt Kopala with SiteDistrict, whose travels I follow on social media. I also said hi to Devin Sears from Bluehost. I have known Devin since my very first WordCamps in 2019 and have always had a great deal of respect for him.
It was nice to see them again and catch up.
Starting Day One
On day one, I was able to attend a few presentations. "Social Media and Growing Your Audience" by Darreyl Davis was very interesting to me.
Darreyl is an Ohio native who has lived in Arizona for 15 years. In his presentation, he talked about how to create engaging content for social media, optimize your website for maximum visibility, and measure the success of marketing campaigns.
He also invited a surprise guest speaker on the stage, Maddison Gaffney, a social entrepreneur, community builder, and educator with over 100K followers on social media who shared her experience and how she got where she is while answering questions from the attendees.
Before the lunch break, I also watched "Make The Impossible Possible: Create a Lasting Impact on your Community by Doing Work Worth Doing" by Keely O'Connor. It was an inspirational presentation that left the attendees with the following idea: "Take action, believe in yourself, you are the director and producer of your life".
Lunchtime
At lunchtime, we enjoyed taco bowls in the outdoor area of the event space. We sat around the round tables and chatted with everyone. The Arizona sun was nice and warm, although we were sitting in the shade.
It was a great setting for lunch!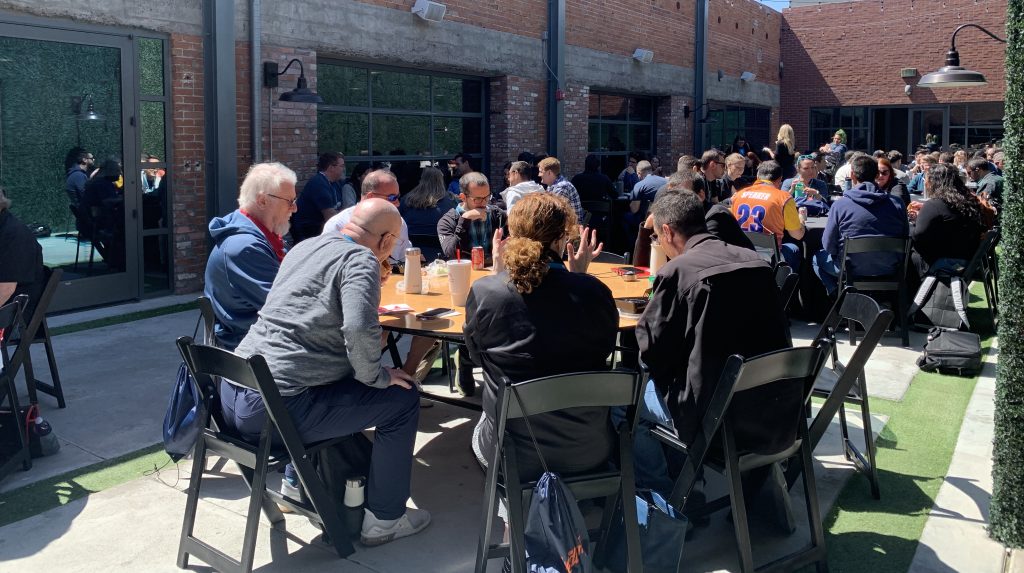 In the afternoon, we followed Cheryl Marquez, who discussed a very interesting and hot topic which is "Blogging in the age of AI: How to Stay Relevant and Competitive."
She discussed various AI tools and the limitations of those tools. I found it to be a very interesting presentation.
After day one of the camp was over, Ericka and I treated ourselves to dinner at The Compass. It's a revolving restaurant located on the very top floor of the Hyatt Regency in downtown Phoenix.
Dinner was delicious as was the wine, and the views of Downtown Phoenix were awesome. But the best part was sharing personal stories between us.
We became much closer that night.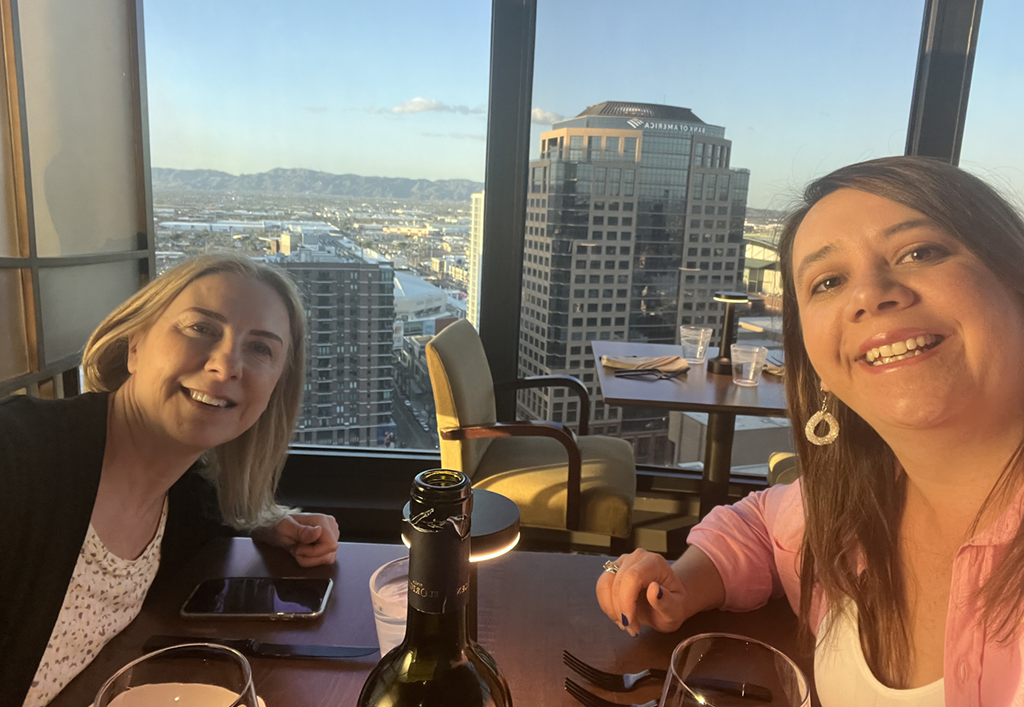 Day Two of Camp
On Day Two of WordCamp Phoenix, Ericka and I attended a lot of the presentations.
In the morning, I watched Alicia St. Rose who is part of my local Meetup. She talked about the block editor in her presentation "You're Invited to a Block Party."
Alicia was very informative, and she also had party music at some points of her presentation which made for a fun hour.
After that, we listened to James Tyron talk about the new Site Editor in "Shooting Hoops with WordPress's New Site Editor: Tips and Tricks for Elevating your Site-Building Game."
Before lunch, we watched Maddy Osman talk about Content UX in "Content UX: How to Create a Great Reader Experience." I liked it when she said, "A good user experience is almost invisible".
I agree 100% with that.
Lunchtime at the Camp on Day Two
Lunchtime arrived and it seemed like the morning went so fast. We sat in the outdoor space again and chatted with people sitting at our table, including Maddy Osman, Christina Hills of WebsiteWorkshopCreation.com, Cheryl Marquez, and Donald Luke who is part of my local Santa Clarita Meetup.
I have been on so many Zoom Meetups as we both attended virtually in the last few years. It was nice to meet in person for a change and chat about things happening in the community.
In the afternoon, we watched a few more presentations, Femi Lewis in "Build your Online Presence: Brainstorming Exercises to Develop your Content Strategy", Robert Windisch in "How to Scale WordPress/WooCommerce", and Subh Sahal in "Securing your WordPress Website: Best Practices and Tips for Beginners".
All the presentations were really interesting!
And just like that, it was already time for closing remarks. Matthew Clancy invited all the volunteers to come to the stage to give them a special thank you for their work. Volunteers are an integral part of camps and they truly deserved our appreciation.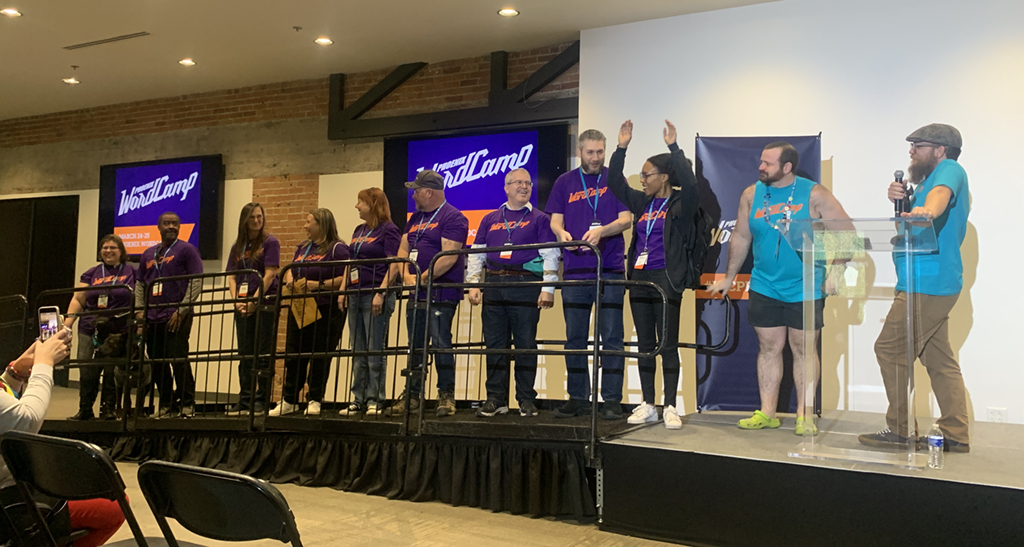 The After Party
The After Party was also held at Arizona Wilderness Brewing Co. in the same outdoor heated covered patio where the Speaker-Sponsor event was held the night before.
It was a really nice evening, and the Arizona weather was perfect. We were all excited and tired from the two days of camp but ready to party.
We had drinks and food and talked to a lot of people including Carol Stambaugh and Jessica Spart from the organizing team. Then we met some of the attendees whom we had not met at the Sponsor and Speaker dinner such as Tammy White and William Bay.
Before we knew it, the clock struck midnight and we had to head back to the hotel and get some rest, especially Ericka who was going on a long trip back to Costa Rica the next day.
Sadly, it was time to say goodbye to Ericka. We hugged many times in the hotel lobby fighting back tears. I will miss Ericka very much and hope to see her again at a camp soon.
The next day, I headed to the airport to catch my return flight to LA. I took a picture of the downtown area from the hotel room floor and said goodbye (or see you later) to Phoenix.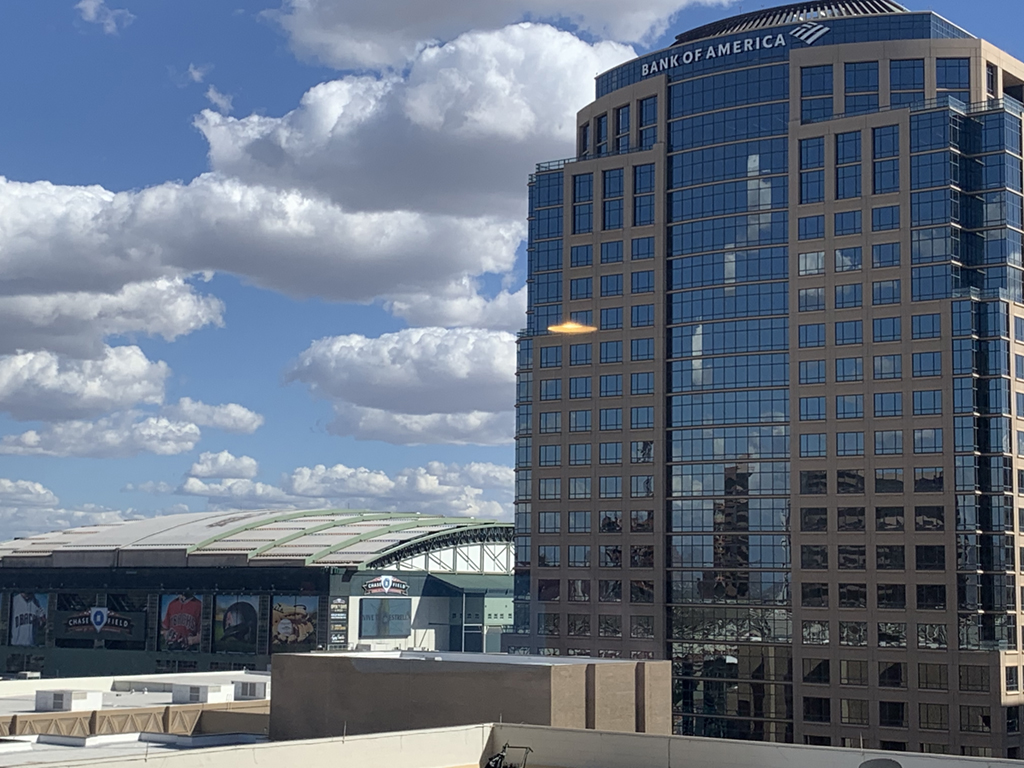 Another WordCamp Phoenix is in the books!
A huge thank you to the organizers, speakers, sponsors, volunteers, and of course, the Phoenix WordPress community.
Until next year!